A petition has been launched to save a memorial dedicated to an Irish-born US Marine who was killed while on a training mission.
Liam Flynn, from Clane, Co Kildrare, emigrated to the US in 2002 and enlisted in the Marines in 2006. In 2015, he was killed with 10 others in a Black Hawk helicopter crash during a training exercise off the Florida coast, the Irish Times reports.
Flynn was 33 years old at the time and married with a daughter. He is buried in Arlington national cemetery near Washington DC. A year after his death, a memorial for Flynn was created in Donadea Forest Park in Co Kildare.
After receiving complaints from the public,  the Irish government's forestry company Coillte wants to remove the memorial, which is comprised of a cherry blossom tree and a plaque surrounded by flagstones and a track into the forest.
Read More: Irish-born US Marine fighter's memorial to be removed by Irish authorities
Benny Langan, a childhood friend of Liam, started the petition to save the memorial. He told the Irish Independent that removing the memorial would be "devastating."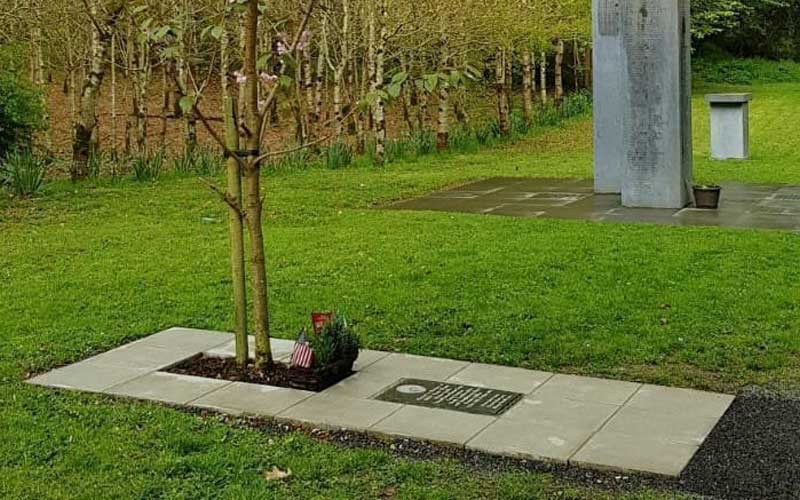 2
"It would be devastating to take it up. No-one has ever commented on it in the opposite direction, the family are baffled," he said.
"It's a bit baffling, it's not taking up much space at all, it's a small little plaque."
"It was just the tree and the track originally," said Benny.
"The area got muddy as people were going to see it so flagstones were put on it."
Coillte spokesperson said in a statement that earlier this year it received complaints from members of the public in relation to works carried out at the memorial.
"Coillte did not carry out nor give permission for these works to proceed. Our local forest manager has been in touch with the family members behind the memorial and has made them aware of our policy on this matter," the statement reads.
"Naturally, due to the sensitivity of the issue involved we are consulting carefully with the family to agree an alternative solution and we will work closely with them to achieve this."
Remembering Irish US Marine, Kildare dad Liam Flynn. Read wife's tribute: https://t.co/nxbIhp2OTO @USMC #honorthem pic.twitter.com/gXsEgCKGnU

— Gary Meneely (@gmeneely) September 26, 2016
The company said that "is not responsible for the upkeep of existing memorials on legacy sites."
"Naturally, over the years, there have been many memorials installed but with management changes, there is little knowledge of the dedicators of these. Some memorials have been installed without any knowledge of or consent from Coillte," the statement adds.
"We do understand this can be upsetting for dedicators, and we sympathise greatly with the families, but Coillte cannot be responsible for managing or overseeing memorial sites."
Read More: Irish American Marine who survived two mass shootings prepares to deploy
Benny said:"Everyone knew the memorial was there."
"[Coillte] said the issue is that there is no planning [permission] on it. The real issue is that someone complained. It's a disgrace, it's like a grave," he added.
So far, the Change.org petition has garnered over 2,700 signatures.