Patsy Dan Rodgers, known as the last king of Ireland, has died at the age of 74, RTÉ reports.
Patsy Dan Rodgers (or Peatsaí Dan Mac Ruairí in Gaelic) was born at Westland Row in Dublin in 1944. At the age of four, he was adopted by a family from Tory Island.
Tory (Toraigh) is a three mile long island which lies nine miles off the Donegal coast. People on the island mainly speak Irish, and Rodgers, who only spoke English when he was adopted, had to learn the language when he arrived. He would later became a great advocate for the Irish language and culture.
An artist whose work featured mostly island scenes, his work was exhibited nationally and internationally. His last exhibition was held this summer in Donegal and celebrated his 50th year as an artist.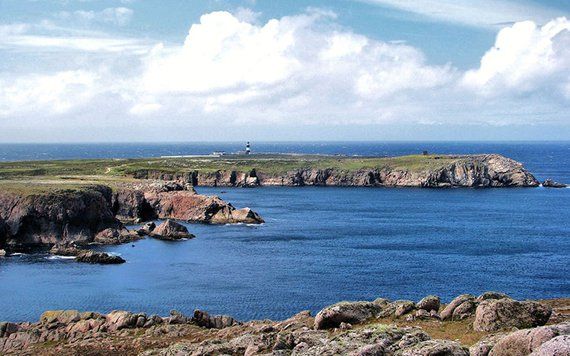 2
Rodgers was also a musician and was awarded an honorary Master's degree by the University of Ulster in 1997.
In the 1970s and 1908s, he campaigned against proposals to relocate islanders to the mainland.
Read More: Tory Island: A rugged beauty with a pirate past (PHOTOS)
He became King of Toraigh (Tory) in the 1990s when the children of the last king, Padraig Óg Rodgers, asked him to become King.
The position was created in the 6th century by a visiting saint to give the islanders a unifying figure to rally around when pirates attacked.
The pirates now long gone, one of Rodgers' main duties was to welcome visitors off the ferry to the island, a practice he did for 20 years.
"People come from various parts of the world to greet me and see me on the island and talk to me," he once told filmmakers.
When he accepted many years ago what he calls, "the simple honor of the King," he never knew quite how "serious" the position would come to be.
Read More: A Scotsman crowned last High King of Ireland 700 years ago
Rodgers also fought for better transport links to Toraigh and for further development to promote employment and tourism, RTÉ reports.
In the book Rí Thoraí - From City to Crag by Dr Art Hughes, Rodgers said that he was very happy deep down that he came to the island and he "thanked one thousand times over the people of Tory for being so kind to me and for the recognition they afforded me in nominating me as King of Tory."
He is survived by his wife Caitlin and their four children.