The Paloger Collection of JFK memorabilia "will take your breath away"
An extensive collection of President John F. Kennedy memorabilia and photography assembled by Ronnie Paloger is set to go up for auction through the Boston-based RR Auction.
Read More: Read the letter JFK wrote to his lover a month before he died
Bob Eaton, CEO and Founder of RR Auction, says "the enormity and span combined with the high level of significant and unique artifacts in the collection will take your breath away."
"The Paloger Collection will be the first major JFK collection to be offered intact, which was Ronnie Paloger's intention when he started assembling this collection as a 'tribute' to the life and times of JFK," says the auction house.
70-year-old private collector Paloger is hoping that the entire collection, consisting of 72 lots, will be sold as a single unit and donated to a museum. If the collection does not fetch the $1.5 million price tag, it will be broken down with pieces auctioned off individually.
Featured in the massive auction's Lot #19 are two handwritten postcards that Kennedy sent to his secretary Grace Burke during his brief visit to Ireland in 1955, before he was president.
Kennedy signed the postcards three times: "J," "Best Jack," and "To Congressman John Kennedy."
Displaying his characteristic wit, Kennedy writes in one: "Have stopped here for a few hours. It is a great place—Ireland—but in January—It is as cold as an Irish landlord's heart:"
3
In the other, Kennedy wrote: "Met a lot of your cousins. They are all Protestants:"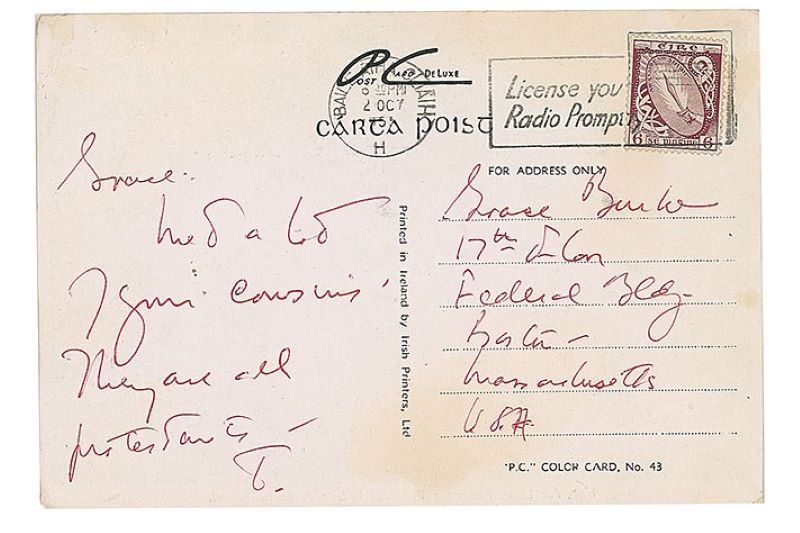 3
Read More: Amazing photos from early Kennedy family trips to Ireland
In June 1963, just months before his tragic assassination, Irish American Kennedy famously went on to become the first sitting US President to visit Ireland.
Elsewhere in the massive auction are textbooks from Kennedy's time spent at Choate boarding school, handwritten manuscripts from his election campaigns, his former back brace, a lock of his hair, neckties, and a cigar box.
RR Auction Vice President Robert Livingston told The Associated Press: "This collection as a whole tells his life story.
"It's like a curated museum exhibit in one auction. The whole is greater than the sum of the parts."
Bidding for the collection, which is being housed at RR Auction's office in New Hampshire and is available for viewing by appointment, is open from January 17 - 23. You can view all the items in The Paloger Collection in this online catalog.
Read More: Inauguration telegram from JFK among items in John Steinbeck auction