U2's world tour is coming to an end. The band played two sold-out shows in Belfast last weekend and will resume with their final four in Dublin starting on Monday.
There's also a make-up show in Berlin on the 13th which was added when Bono's vocal difficulties prevented him from performing on the original September 1 date.
Back on home turf, Bono had lots to say about the current state of political affairs in Europe and the U.K. Brexit mess which will wreak havoc on Ireland if the ongoing negotiations fail to produce a deal.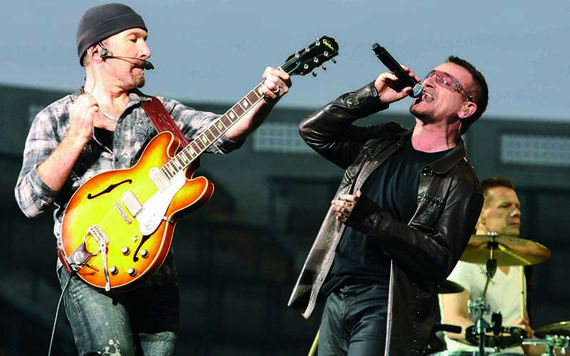 2
"Belfast, still a great European city... always and forever.  Whatever happens, whether there's a hard or soft or no border at all, more than ever, we need to trust each other on this small island in the North Atlantic Ocean. It looks like some rough weather ahead but it'll be a lot less rough if we navigate it together," Bono told the audience on Saturday night.
"We must be smart, strategic and work together."
Read more: Could this be the end of U2 after 40 years?
Experience some of the fun for yourself here:
Bono also paid tribute to John Hume, one of the primary architects of the peace deal in the North.  Hume, 81, is seriously ill.
"From Fitzroy Avenue to Cyprus Avenue; Palestine Street to Jerusalem Street. Blessed are the peacemakers. I remember John Hume and his vision. Let's sing for him tonight," he said.