The Fair City is the setting for the riveting new crime drama Dublin Murders, starring some of the most accomplished Irish actors currently working
Let me be among the first to tell you, when Dublin Murders hits the small screen on the STARZ network soon you're going to be hooked from the first frame.
Based on the best selling Murder Squad series of novels by celebrated Irish American author Tana French, the gripping new TV series stars Ireland's Killian Scott (best known for his turn in "Love/Hate"), Sarah Green (best known for "Penny Dreadful"), and multiple award-winning Irish actor Tom Vaughan-Lawlor (best known for "Avengers Endgame") among many others.
Simply put, it's the best police procedural to come down the pike since the sensational "Broadchurch," and is actually miles better.
Set in the very last year of the just about to burst Celtic Tiger in 2006, right from the first scene it will pin you to your seat with a story that combines film noir with dark fairy tale fable and all of it as unsettling as the two bestselling French books the show is based on.
Read more: Chris O'Dowd, Game of Thrones, Chernobyl among 2019 Creative Arts Emmy winners
Opening with the disappearance and murder of a 13-year-old Katy Devlin, detectives Rob Reilly (Scott) and Cassie Maddox (Green) find the young victim has been ritually draped across an ancient Irish alter site deep in woods.
Later a coroner determines the girl's skull has been fractured and that she has been suffocated. It's the start of a murder investigation that Maddox decides almost immediately is just too much for her.
6
The emotional wallop of the child murder, the unnerving circumstances that surround it and the very dark places that her thoughts are already taking her to tip her off that she might not be able to handle what's coming next.
Green is predictably pitch-perfect in the role, playing a hardbitten gumshoe who keeps it all in, but she also lets us see the woman underneath in little unforgettable moments that signal just how much is really at stake for this gifted young detective.
With his soulful good looks Killian Scott (real name Killian Murphy, but he changed it to avoid inevitably being confused with his more established fellow Irish actor) is a new film star in the making, the kind who can telegraph his inner thoughts with a simple look, making his onscreen performance hypnotic from start to finish.
Dublin Murders flashes forward and backward through time from 2006 to an August afternoon in 1985 when three young friends vanish in a wood outside Dublin, but only one survives to tell the tale.
6
The boy named Adam can't remember what happened or what he saw, infuriating the parents of the other two missing children who simply can't accept his fatally flawed version of events.
But in episode one of "Dublin Murders," we learn that young Adam is now the adult Detective Reilly and the alarming similarities of the case with his own horrific childhood experience convince his beat partner Maddox that they are both out of their depth.
It's a thing to celebrate when a big or small screen drama is every bit as involving as the books that inspired them as this is absolutely the case with this flawlessly directed and acted show. Featuring a very welcome "Love/Hate" reunion of actors, the show ratchets up the tension from its opening frame and just never lets go.
Fellow Irish actor Moe Dunford also rounds out the cast as murder squad investigator and thoroughly decent skin Sam O'Neill. Sam is a straight-talking foil to the far more calculating Reilly, setting up a tension between the pair from the outset that helps kick this drama into gear.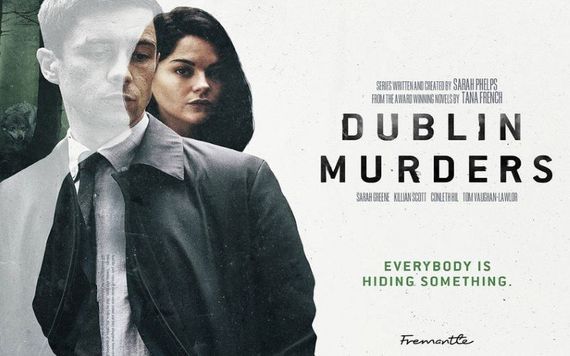 6
But "Dublin Murders" has far more on its mind than a simple whodunnit in the Fair City. It's also a deep dive into how trauma can shape and sometimes mask memory, with a lot to say along the way about the shallowness and insincerity of Celtic Tiger Ireland when it comes to confrontations with its own dark past.
Reilly is a kind of broken Irish everyman, a stray stuck between worlds and versions of himself (is he English, is he Irish?) in a way that a writer like Brian Friel would recognize. That means that French is delving into story and myth to tell a tale that contains a warning for our own times.
"The Celtic Tiger has some influence but I wasn't that conscious of it when we were filming because we were focusing on the investigation, but then when I got to see the first two episodes recently I noticed more how that has an impact on the story and the desperation of a couple of the central characters which is related to the financial crash that was coming," Scott told the press recently.
6
"This is a psychological thriller. There's some action in there as well but it's a very taut, tense exploration of the darker side of human nature, the past and memory and identity and how the pressures of this particular job fall on the shoulders of these two individuals."
That's an understatement. Dublin has rarely looked as atmospheric or gorgeous as it appears in this captivating spine-tingler. Director Saul Gibbs, supported by John Hayes and Rebecca Gatward, has made the city another character in the drama, creating a moody backdrop to the series.
Adding to this crew of stellar Irish actors taking part is Conleth Hill (best known for his role as Lord Varys in "Game of Thrones") playing the seen it all Superintendent O'Kelly who's a sexist throwback who likes to lock horns with Maddox and usually loses.
French's novels have made the transition to the screen with rare economy, buoyed by the central performances. Vaughan Lawlor, as undercover man Frank Mackey, is particularly electric in a show that's already heavy with compelling content.
What "Dublin Murders" has in spades is that rare thing, genuine mystery.
6
Reilly grapples with what happened to him as a child and can't unravel the secret that saw his two friends vanish into thin air never to be seen again. Nor does he know who or what ripped his t-shirt or filled his shoes with blood on the August night in 1985 when he was still a boy.
Now, fully grown and going by his second name instead of his first, he's pulled back into the orbit of his own childhood trauma by a case that in some ways closely resembles his own. In this way, French sets up a series of extraordinarily evocative mystery that puts not just suspects but Ireland itself under the microscope.
Having lived in Ireland for 25 years, French knows that the cultural context is every bit as key as the crime scene, so the about-to-burst Irish property bubble of 2006 put a deep strain on the relationships in the show that mirrors the struggles of her characters to make sense of their lives and their society.
As it progresses "Dublin Murders" becomes that rare thing, a must-watch TV show that looks like a classic in the making. Expect it to become the go-to crime series of the autumn schedule and settle in when it broadcasts in November, you're going to be captivated by this who or what dunnit till the final frame.
Read more: Irish actor to star in Ron Howard's latest TV project '68 Whiskey'