Hoboken 3-24 Tipperary 4-18 - This year's senior hurling final saw a rematch of 2018's where Hoboken held off Tipperary to claim their first senior hurling title.
Tipperary came into this season hoping to avenge that defeat and beefed up its roster by adding Waterford inter-county star Austin Gleeson who would help Tipp go undefeated through the regular season.
Hoboken could've been suffering from championship hangover when they met Tipperary earlier in the season as they could only manage 12 points to Tipp's 3-19. The scoring happened early and often in this tilt as Hoboken's Jack Fitzpatrick got the fireworks underway with a long score from inside his own half straight from the throw-in.
Keep up-to-date with IrishCentral's GAA news here
Kevin Buffin responded almost immediately with the bare hand grab before turning and pucking a wonderful score. Seconds later Gleeson got his name on the sheet to make it 0-1 to 0-2 for Tipp.
It became apparent early that Hoboken's deadly weapon would be Evan Niland. The diminutive forward in the number 11 shirt started to put on a clinic in the second minute and continued with five points by the 11th minute to make it 0-6 to 0-3.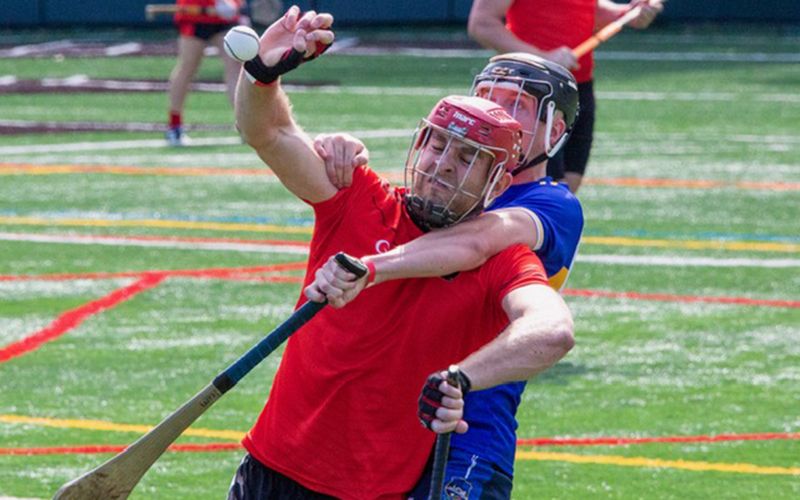 3
Jack Prendergast, the man of the match the last time the sides met, did well in the 14th minute to work himself out of no man's land near the corner flag. His point got the game back to within two points but Johnny Glynn, the former Galway, and All-Ireland winning hurler grabbed a goal a minute later. Big Glynn in the number 12 jersey for Hoboken rose above all just outside the square for a sensational barehanded grab and turned inside before tapping his shot beyond Patrick Gill in the Tipperary goal. Tipperary's managerial staff would've been happy with the response from their side as John O'Neill, Brendan O'Brien, Gleeson, and Michael Sheedy hit four consecutive points to get it back to 1-6 to 0-8 by the 23rd minute.
Momentum would swing on that investable pendulum high above the Gaelic Park grounds back and forth for much of the first half and when Hoboken latched back onto it, Paul Gordon and Niland would hit four more points before Jarlath Mannion made sure of his strike to give Hoboken its second goal of the half, Gordon the supplier after causing chaos in and around the Tipperary square.
Niland would pull out the moves just before halftime – a spin-o-rama through and around a few Tipperary defenders as they couldn't even get a whack at the slipper center forward.  Niland pointed with seconds to go in the half to make it 2-12 to 0-10 at the break.
Sheedy got us going in the second half with two points – one from a free to make it 2-13 to 0-12. Gordon continued his strong play and when the driving puc out from keeper Cillian McNamara found the bear claw of Gordon near the Tipp 45.
The Hoboken number 10 came down with all sorts of timber around him before pointing from an off-balanced position. Gordon might've had to leave his knuckles behind him, but he made sure his sights were firmly fixed on the Tipperary uprights.
At 2-14 to 0-12, it wasn't yet time to panic for Tipp, but the pressure was there to get things going. In the 36th minute, Sheedy tried a short, quick free to O'Neill who got every bit of that sliothar and firmly beat McNamara in the Hoboken goal but could not beat the post.
It was a let down for the blue and gold, but only a catalyst to Hoboken as they charged back down the pitch for 1-5 over the next four minutes.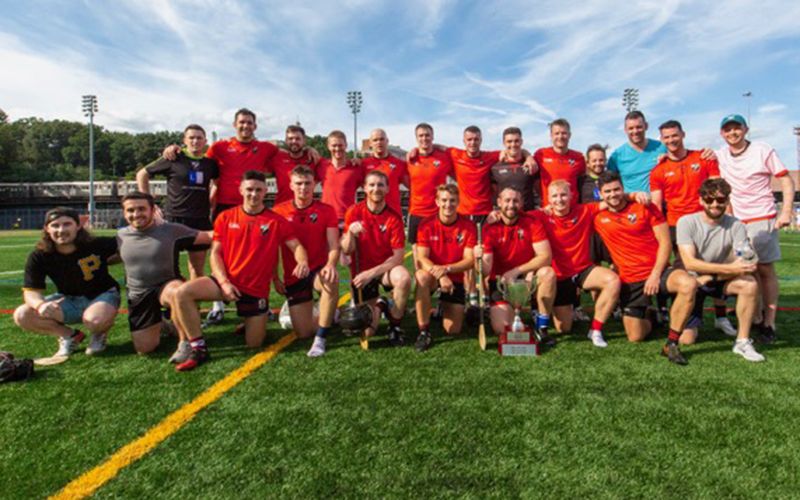 3
Glynn worked his way out of the corner to thumb his shot into the net while Niland continued to just not miss – from anywhere, including a surface to air rocket from deep in his own half that Pete Alonso would be proud of.
Gordon would hit another point in the 45th minute as he out-dueled two Tipperary men to corral the small ball enough to make his point from beyond the halfway line.
With 15 minutes to go and 16 points separating the sides, Tipperary needed a jolt and fast. They had been looking for goals from almost the onset of the second half and when the small ball was pumped back into the mixer near the Hoboken goal, O'Neill was the first to react to the jumping bean pinging and ponging off bodies in the square.
Prendergast made it 3-20 to 1-14 with a point in the 47th minute. Two minutes later referee Alan Gleeson was clearing the square for a Tipperary penalty after Wrestlemania broke out in front of goal. Gleeson stepped up and made no mistake – 3-20 to 2-14 – game truly on!
Tipperary was goal hunting right away with 10 minutes left on the clock, but when Sheedy rapped a shot across goal McNamara stretched his frame just enough to knock away the shot surely heading to the top corner of the net. Sheedy would have to settle for a free as Tipp were eventually fouled.
Tipp looked set to continue their onslaught of the Hoboken backline and broke in with numbers in the 52nd minute. When one too many passes were made, cornerback Eamon Glynn stepped up and intercepted and after taking a few steps to get within range, fired over a wonderful point to make it 3-21 to 2-15.
Gleeson would point from a free in the 53rd minute, and with five minutes to go would grab Tipp's third goal to turn this one into a 4 point game.
Hoboken were in trouble and when they got out of their half, they pushed hard into the Tipperary backline. Gleeson did well to get back to get in position to tackle, but a rush of blood to the head saw him use his hurl to high tackle the Hoboken forward.
Referee Gleeson was right on top of the play and branded the red to Austin – a disaster for Tipperary who had all the momentum.
Niland put frees over in the 56th and 57th minutes with Mannion pointing as well to make it 3-24 to 3-17.
Tipperary pushed into the Hoboken half for the final minutes of the game. They got forward enough and when a foul was committed on the 21-yard line, they had no choice but to go for goal.
O'Neill stepped up and drove the small ball into the back of the net -- 3-24 to 4-17 with 2 minutes to go.
Substitute Dylan Grace made it 4-18 for Tipp as time was winding down. Another foul was called near the 21-yard line as the clock's horn would sound.
It would be the last whack of the game for Tipperary with three points separating the teams. O'Neill would be tasked again to get Tipperary the much-needed goal with the goal line chucker blocked full of Hoboken backs.
O'Neill stepped up and hammered his shot high. It looked destined for to just knick under the crossbar for a goal, but the hurl of keeper McNamara pushed it away.
The last puc of the game and Hoboken held the fort for their second New York senior hurling title in a row. 
HOBOKEN: 1 C McNamara, 2 E Glynn, 3 D Hehir, 4 D Varley, 5 P Morrissey, 6 P Loughnane, 7 S Cooney, 8 J Fitzpatrick, 9 B Glynn, 10 P Gordon, 11 E Niland, 12 J Glynn, 13 S Power, 14 J Mannion, 15 D O'Connor. Subs: M Kane, G Flood, C Egan, S Burke, D Lewis, W Slattery, S Murphy, J Egan, P Egan.
TIPPERARY: 1 P Gill, 2 D Hynes, 3 G McPartland, 4 C Luttrell, 5 C Lyons, 6 M O'Neill, 7 T King, 8 K Buffin, 9 T Kavanagh, 10 A Gleeson, 11 J Prendergast, 12 D Pond, 13 J O'Neill, 14 B O'Brien, 15 M Sheedy. Subs: C Higgins, U O'Connor, E Curley, C Keane, D Grace, B Hickey, J Gardiner, L Donovan, S Slattery, N Corbett, E Hogan, G Kennedy.
Man of the Match: Evan Niland (Hoboken)