The Last Days of Magic
By Mark Tomkins
3
Ireland is the last bastion of real magic, its final outpost in the world, the only remaining home of the faeries and all other magical creatures, or so it appears in Mark Tompkins's spellbinding The Last Days of Magic.
A small island on the edge of Europe, it's standing strong in the face of Vatican's growing influence, armies, exorcists and its ruthless mercenaries. But the tense standoff begins to unravel with the breaking of an ancient treaty between the Celts and faeries.
Left vulnerable for the first time in the face of the ambitions of the medieval Roman Church, the very existence of the entire magical realm is suddenly under threat.
In this way Tompkins sets up his storyline, an epic battle between the wild but carefree pagan world and an aggressive religion bent on domination and control. From 14th century Ireland to the courts of France and on to the Vatican's inner chambers, it's a rollercoaster through pre Christian Irish mythology filled with complicated heroes and sinister villains.
St. Patrick looks like a charming amateur compared to the ambitions of the Church authorities in Tomkins tale. The Vatican doesn't want to convert pagans so much as eradicate magic and their miscalculation is to pick a commander who is as conflicted about the mission as he is about his own secret magical gifts.
This reads like the first in a planned series of adventure tales and the author, born in Texas of Irish ancestry, has plumbed the annals of his heritage to craft a story that's as epic as the ones that inspired it.
Penguin, $16.
An Irish Country Cookbook
By Patrick Taylor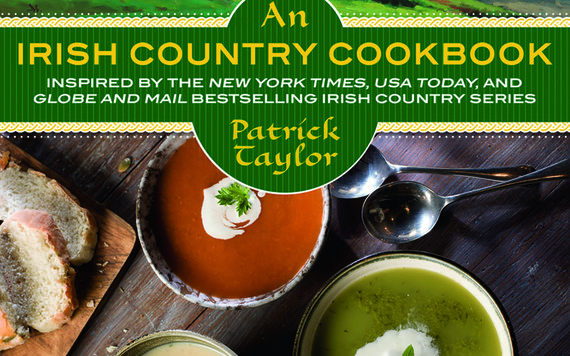 3
There are many important differences between the Irish outlook on life and those held by their altogether more direct Irish American cousins. Interestingly, it can be seen best – or at least first – in their respective and often contrasting cooking practices.
In An Irish Country Cookbook, bestselling author Patrick Taylor intersperses his famous tales of a quaint Irish village with more than 140 family recipes that echo the land of their origin with some unmistakable new world notes and flavors.
So it's a short story collection and a recipe book, and since both are warm and inviting the concept simply works.
But be prepared for American surprises. The colcannon recipe offered here is not as your Irish mother prepared it. For a start Taylor includes bacon and scallions, two things rarely seen in the Irish version.
Other notable blasphemies include pickles, unseen on Irish tables until the turn of this century and even then an event, and buttermilk pancakes – also rarely plated in an Irish home, where they are usually made with milk.
Raised in Bangor, Co. Down, Taylor knows Ireland and its people just as he knows the tastes of his adopted homeland in British Columbia, and so An Irish Country Cookbook serves up the best of both worlds.