Forget your Conor McGregors and Rory McIlroys, these are the Irish sports stars we should be getting behind. 
At this high time of year, when all sports captivate us so powerfully, we Irishmen should be so ashamed of ourselves that we rarely give enough recognition and respect to the sporting Irishwomen who consistently punch above their weight globally as we men regularly punch below it.
And I am not just thinking of the mighty world champion boxer Katie Taylor from Bray when I make the point. There is a whole raft of lady champions in various codes at the moment whose achievements far exceed male performances.
The depressing line in the media reports just now across the sporting scale is, "Best of the Irish...."
It reveals, as at the recent Irish Open golf championships in Donegal, that even the likes of Rory McIlroy and Shane Lowry and Padraig Harrington are so many strokes behind the leaders that they cannot win the title or titles involved in the battle.
Read more: Incredible images from the Tailteann Games, the ancient Irish predecessor to the Olympics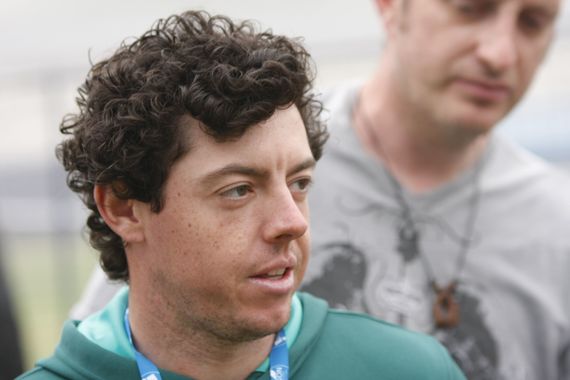 3
Seamus Cooney put it very well the other evening in Walsh's bar when he said that if we males performed half as well on the sporting fields as our womenfolk then the outlook would be much brighter for all concerned.
I have to agree strongly with Cooney because, for example, I had earlier been listening on RTÉ radio to the amazing Cora Staunton from Mayo concisely dissecting poor play in an important championship game. Cora, for sure, has an incredible record to date in not just ladies Gaelic football but also in soccer, rugby, and, would ye believe, the tough code of Australian Rules football Down Under.
She has more all-star awards on her sideboard already than the entire Dublin championship males, has won a cartload of ladies All-Ireland titles with Mayo ladies (whose males were knocked out of the championship race already this year), and has been a major star Down Under.
And would ye believe that though she is now well down her thirties—when males frequently call it a day—there is every chance that she will go Down Under again for another season in Sydney and probably return again to Mayo to assist her GAA colleagues towards yet another national title.
You can expect to hear a lot more about @irishathletics 100m and 200m record holder @philhealy2!

Great response to our piece on #OTBAM this morning, you can watch it back here ➡️https://t.co/CCYzFVpUeS pic.twitter.com/7UKU1Bnu1R

— Off The Ball (@offtheball) July 18, 2018
Maybe it is apt that Cora was bred and born close to the power base in Mayo of the equally incredible pirate queen of the West Gráinne O'Malley, better known now as Granuaile, who was tough enough to sail up the Thames in the 16th century to go eyeball to eyeball with the first and formidable Queen Elizabeth of England. And triumphantly sailed home having won all the points in the debate. That female spirit surely lives on to this day and we Irishmen could do with more of it.
The female list of our international stars is hugely impressive today and frankly under-reported. At the recent under-18 European athletics championships there was ample proof of that.  Dublin teenagers Sarah Healy (watch out for her future career) won gold in the 3,000 meters and Rhasidat Adikele took a second gold medal in a hotly contested 200-meter final.  
And in a triumph to warm the cockles of any Irish heart, a beaming 15-year old Sophie O'Sullivan, daughter of the peerless Sonia O'Sullivan, already our national girls champion, took the coveted silver medal, narrowly missing out on the gold. Another star in the making.
So, quite apart from Katie in the ring, and Cora, the modern Granuaile of Mayo, there are many other rapidly developing female stars on the world sporting stage.
3
When the Irish men golfers were again trailing the leaders recently at the Irish Open, what about the incredible feats of the Maguire twins, Lisa and Leona, who recently went pro on the American tour and are already making a significant name for themselves thereafter glittering amateur careers. And they are only 22 or 23 years old.
The Maguires are from Ballyconnell in Cavan and have already well and truly put Ballyconnell on their sporting map with, clearly, much more to come in the immediate future.
I gather from local sources that Cora grew up playing football against the schoolboys in her parish. Cooney said wryly the other evening that if the Mayo male footballers had played her as a flying forward in this year's championship, even in her late thirties, they probably would not have been knocked out of the race so early and sent home to lick their wounds. The man might well have a point.
I'm thinking now of the truth in the title of the great female traditional band led by Joanie Madden. It is Cherish the Ladies. We really should do that on a major scale from now on.
Have we missed out an Irish sportswoman we should be honoring? Tell us about them in the comments section, below.