Fianna Fail leader Micheal Martin has accused Taoiseach Leo Varadkar and his Fine Gael party of a massive lurch to the right and dividing Irish society.
Martin, once so scathing about former taoiseach and Fine Gael leader Enda Kenny, has said the change in leadership has made things worse.
Martin used his keynote leader's address at the Fianna Fail ard fheis to attack Varadkar and cast his own party as one that would never seek to divide Irish society.
Throughout the weekend conference several speakers claimed Fine Gael was a right-wing counterpoint to Fianna Fail's message of "fairness."
On the taoiseach's stated goal of representing those who get up early in the morning, Martin said, "Only an out-of-touch elite could have come up with the idea of trying to divide society into those who get up early in the morning and everyone else."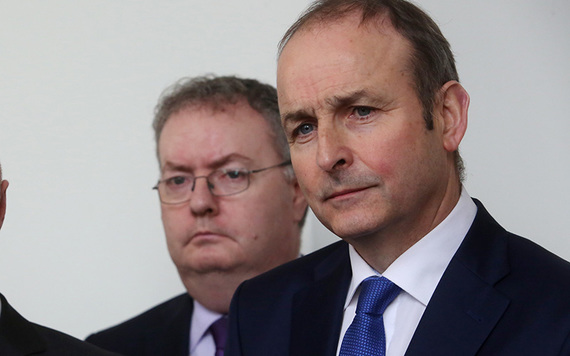 2
He claimed recent months had seen a "big move to the right by Fine Gael."  Martin added, "I'm sorry, but we will never accept labeling the sick, pensioners, children with special needs, people with disabilities or people looking for a home as being less entitled to society's support.
"The decision by Fine Gael to head off on this new divisive road is more about positioning for an election than trying to govern."
In the confidence-and-supply deal Fianna Fail agreed with Fine Gael, Martin claimed his party "stopped the worst of the unfair and regressive policies of Fine Gael".
The agreement allowed Fianna Fail to work for higher pension and social welfare payments, as well as cuts to the Universal Social Charge and investment in public services such as health, housing, and schools. Martin said he was not happy Fianna Fail could achieve anything close to its full program under the current leadership in government.
He argued that the change of leadership in Fine Gael had actually made things worse. As well as the alleged lurch to the right, there was now an emphasis on spin and communications to sell Varadkar's image, rather than investing in advice on health, or housing, or Brexit "or any other of the most urgent problems."
On Brexit, Martin said Ireland will not be following British Foreign Secretary Boris Johnson and his "self-obsessed Brexiteers" on a path of destruction.
He added, "We can only meet and overcome the threat of Brexit if we have clear leadership – and this is something we are not seeing."