The cranes are back on the Dublin skyline. And no, we don't mean the birds. We mean the giant metal arms you see towering over construction sites.  
From the glass walled Gravity Bar at the top of the Guinness Storehouse (not our usual bar, we were showing some visitors the city last weekend) you get a 360 degree bird's eye view of Dublin.  We were all struck by the number of cranes that were visible in every direction.  It was just like the old days when the boom was booming (or getting boomier, as Bertie Ahern once said).    
Two weeks ago, a few miles further out from where we live on the coastline north of Dublin, eager house hunters were camping out to be first in the queue to buy houses in a new development.  The papers and TV had pictures of couples who had camped out overnight in freezing weather and others who had slept in their cars at the site for two nights to be first in line.   
And the houses, nicely finished but modest in size, were not cheap. The three and four bedroom homes in the new development called St. Marnock's Bay in Portmarnock, Co. Dublin, ranged in price from €450,000 to €665,000.  Despite the name, it's not actually on the sea, which is some distance away, or near the town center, but it's on the Dart commuter train line and the coastal area is attractive.   
So, with cranes on the skyline and queues outside show houses in new developments, is the construction industry here waking up again after going into hibernation following the crash?  
Well, there is a lot of activity in the more favored areas around Dublin, with individual houses, infill developments, small estates and some apartment and office buildings under construction.  But the recovery is partial and patchy.
#StreetsofShame #Housingcrisis you'd never guess that there's a housing crisis happening in Ireland #HiddenHomeless pic.twitter.com/PrZnbAdmGg

— Erica Fleming (@EricaHome1) November 23, 2016
We need to be building around 25,000 new homes a year to meet demand, but the latest statistics show that we built less than half that number in 2016 -- and building is still increasing very cautiously, despite the pent-up demand.     
There are a number of reasons for this.  The days when the banks loaned the full cost of new developments to builders and then allowed them to roll over loans from one development to the next are long gone.
These days builders have to put up a sizable chunk of the finance themselves before the banks will support them.  And since many of them went bust in the crash, that's a problem.  
Would be buyers are also having problems. Because we're not building nearly enough homes to meet demand, the lack of supply has caused a mini price bubble in the Dublin market over the past few years.  
Prices have soared, particularly for the limited number of new homes that are being built in the so-called "better" areas.  So buyers have to stretch to their absolute limit to get in, and getting a mortgage is still much more difficult than it was during the boom, despite the recent easing of the lending rules.     
Over the past few years house prices climbed so quickly the Central Bank intervened to limit the amount people could borrow to 80 percent of the cost.  This led to pressure from younger buyers who said they were being shut out of the market.  As a result those restrictions have now been eased so that first time buyers with enough income can again borrow 90 percent of the cost.  
In practice, given the borrowing limit of 3.5 times joint income, many couples cannot borrow enough and must have a large cash sum themselves.  A couple with a joint income of €100,000 could borrow €350,000 under the income rule, so they would need €100,000 in cash/savings to buy the cheapest €450,000 house in the new Portmarnock estate mentioned above.  
For many young couples that means getting money from the bank of Mum and Dad.
The government has also intervened to give first time buyers a helping hand with the new Help to Buy Scheme, which gives them a tax rebate of up to €20,000.  To get this the buyers must have paid at least that much in tax over the past four years.   Which is not much use to returning emigrants, for example. 
It seems clear that prices at this level, even though they are still at least 30 percent off the highs they reached at the peak of the boom, are neither desirable nor sustainable. They are plunging people deep into debt.  If prices collapse again at some point in the future (and that is possible) there could be more people trapped in negative equity as a result.  
The only long-term answer to the housing problem in Ireland is to increase supply. Making it easier for buyers to borrow even more in the current market may win some votes, but it's making the situation worse rather than better.   
Minister for Housing Simon Coveney (one of the front runners to be the next taoiseach) knows this as well as the rest of us and in his first year in the job he has taken significant steps to try to tackle the supply problem.  In fact he has done far more than anyone else, not that there are any easy answers or quick fixes.  
Six months ago he developed and launched a major new government policy called Rebuilding Ireland.  This had five strands -- dealing with homelessness, increasing social housing, encouraging developers to build more private housing, stabilizing the rental sector and utilizing existing housing.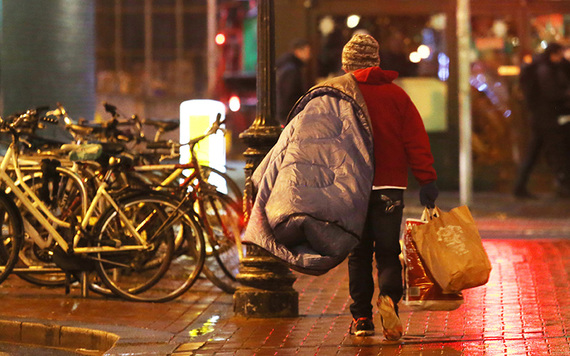 2
He has had some success in all these areas.  Extra hostel beds have been provided so there is no need for homeless people to sleep rough any longer.  He has put limits on how often rents can be hiked.
Over the next five years, almost 50,000 new social houses are to be built, and work has already begun on that.  Developers are being encouraged to build as many new private homes as quickly as possible.  An overall target of 25,000 new homes a year has been set.  Sites are being identified where quick starts of new housing schemes will be possible and planning and services bottlenecks are being tackled.  
All this is impressive, but inevitably (because this is a complicated business) progress is slow.  And not everyone is convinced that the government should be so involved in the housing market.  
It can be argued that the fastest way of making house prices more affordable would be to cut the heavy taxes that have fed off the market for years.  More than 20 percent of the cost of a new house still goes back to the government in levies and taxes of one kind or another, and that's before income tax from building workers or company tax on developers is included.      
Making it easier and cheaper for more people to buy their own homes would also lessen the burden of social housing on the state.  Our dependency culture has given too many people who could work to provide their own housing the expectation that the state will do it for them.  The poor will always need social housing but in recent years the high cost of private housing has pushed a lot of extra people -- people with jobs, cars, etc. -- on to the public housing lists.  
Since the crash, very little new social housing has been built.  But the impression many people have (because of homeless headlines) that Ireland lags way behind other countries on social housing is incorrect.  
Among the OECD's 33 rich and middle income member countries Ireland has the seventh highest level of social housing -- one in 12 of all homes here is provided by the state at below market rents.  (And even though these rents are often way below the going rate there is still a big problem with the number of social housing tenants who won't pay any rent at all.) 
The housing shortage has pushed up not only house prices, of course, but also private sector rents.  An ordinary three bedroom home in Dublin these days costs between €1,250 and €2,000 rent a month, depending on the area, with the average around €1,600.  Coveney's restriction on the scale and frequency of rent increases was probably necessary, but the reality is that many landlords (the majority have only one or two houses) are exiting the business.
Leitrim is the least expensive area in Ireland to rent.

Check out what the average rent is where you live → https://t.co/0YzClCjDJM pic.twitter.com/5EjzQRyEpf

— Daft.ie (@daftmedia) November 11, 2016
The reason again is tax.  Landlords can only claim one quarter of mortgage interest as a cost; capital costs (like fitting a new bathroom) which have to be paid up front can only be claimed as a business cost over eight years.  This means that almost all rent collected by the landlord is taxed as income (for most landlords at the marginal rate of around 50 percent) even though in reality half of the rent may gone on costs. 
Added to that is the hassle of dealing with "bad" tenants who wreck the house or don't pay rent.  The Tenancies Board (the state quango that is supposed to deal with such cases) can take a year or more to reach a decision and then enforcement can take far longer.  In the meantime all the landlord can do legally is stay away while his house may be trashed.  
To add to the misery, if the landlord sells a rented house any capital gain is taxed at 33 percent! It's no wonder landlords are getting out of the business.  
A far more enlightened approach would be to reduce the tax burden on landlords (most of whom are mom and pop types who bought as a way of having a pension) and offer them incentives to expand and do up older buildings to rent.  That would increase rental supply and stabilize rents instead of the reverse which is now happening.  
Overall, the housing problem here is multi-faceted and complex.  Any action always seems to have unintended consequences. Government intervention over the years has made things worse, so it's to be hoped that Coveney can reverse that trend.  
It's not going to be easy, given the stagnation that now exists in the market. One of the biggest housing websites here recently revealed that, despite the talk of a recovery in the market, the number of homes (new and existing) in Ireland sold in 2016 was down on 2015.  That says it all really.
Number of homes bought and sold in Ireland fell last year and around half what might be 'normal'. Housing market remains dysfunctional. pic.twitter.com/94BFO69TiF

— Dan O'Brien (@danobrien20) February 24, 2017