Clare County Council will rule on Doonbeg anti-erosion wall, at Trump International Golf Links and Hotel Ireland, on Dec 21
Donald Trump's proposal for his Irish wall, which he has been seeking to protect his luxury Doonbeg hotel and golf course from erosion, has won huge local approval as the decision day nears. Clare County Council will rule on December 21.
Erosion on the nearby beach has resulted in extensive flooding of the Trump International Golf Links and Hotel Ireland golf course and a sharp drop in revenue. However, conservation groups oppose the wall and says it will be "profoundly detrimental" to the sand dune habitats
Locals have rallied to Trump, saying up to 300 jobs could be at stake, according to the Clare Champion newspaper.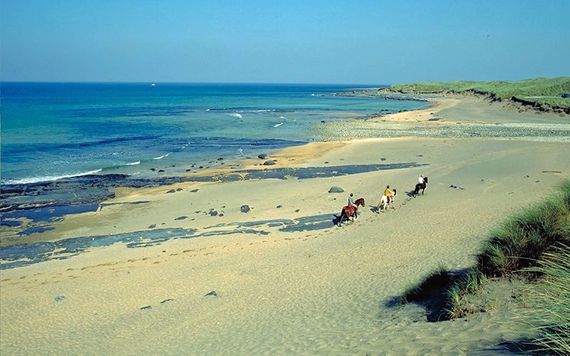 3
In April of this year, 300 people attended a public meeting in Doonbeg Hall, in support of Trump.
The meeting was attended by leading local politicians from the West Clare area. The gathering was organized by Doughmore Coastal Protection Group.
"It isn't just a Doonbeg or Doughmore problem. The whole of West Clare needs the business. It's a tourism area. Protection of the course is extremely necessary, and the positive attitude of the attendance was unbelievable," committee member Liam Ryan said.
"It's now time for the planning authority in Clare to make a decision and not to put it off and leave it in somebody else's hands. We need less negativity and more positivity. Rural Ireland has been forgotten. It's extremely important that people stand up.
"We're only 300 miles long and 150 miles wide. If the powers in Ireland can't make a decision to spread business around and keep our schools, post offices and businesses operating, there is something wrong with the country," Ryan added.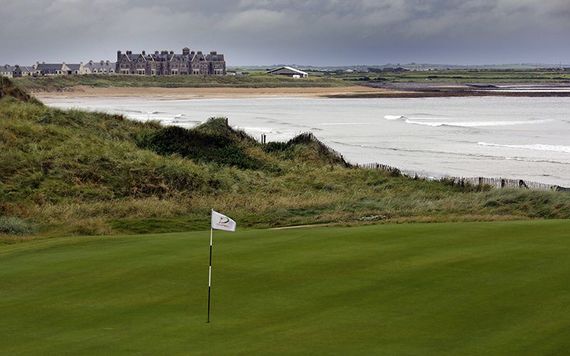 3
Before he became president, Donald Trump discussed his Irish wall as an example of European Union bureaucracy gone wild.
"I own a big property in Ireland, magnificent property called Doonbeg," he said after the discussion turned to the EU's notorious bureaucracy.
"What happened is I went for an approval to do this massive, beautiful expansion – that was when I was a developer, now I couldn't care less about it … but I learned a lot because … they were using environmental tricks to stop a project from being built. I found it to be a very unpleasant experience.
"To get the approvals from the EU would have taken years.
"I don't think that's good for a country like Ireland.
"So you know what I did? I said forget it, I'm not gonna build it."
His comments delighted campaigners in Clare who have attempted to thwart Trump's attempts to develop the picturesque resort. In a statement on their Facebook page, Save Doughmore – Doonbeg beach, they said, "Seemingly Mr. Trump was upset when we stopped his first plans for a giant wall on our Irish beach. Let's make sure we upset him a bit more and stop his latest plan. Objections to be made to Clare County Council before February 3."
In December Trump withdrew the application to build a wall spanning more than two miles to protect the property from coastal erosion, a second application for a smaller wall was submitted soon after.