An Irishman in his 50s was arrested in England after 15 people were found in the back of his lorry, owned by County Cork company. 
UPDATE: The man was released without charge on Thursday night. It is thought he may have to remain in the UK until Friday as police finish the forensic examination of his trailer but that he will return to Ireland over the weekend. 
Police in Wiltshire, England, have arrested an Irishman in his 50 after 15 people were discovered in the back of his vehicle. 
The police were alerted to the Irish man's "suspicious activity" in relation to his lorry, by a member of the public on Wednesday (Nov 6) evening at 8.30 pm. The truck driver was arrested on suspicion of assisting illegal entry. He remains in custody. 
So far little is know about the 15 people found in the Irishman's truck. However, it is believed that all 15 are over 16 years old and under 30. None of the passengers are in serious condition, RTE reports. 
One of the 15 has been taken to hcospital for checks. The others have been arrested for attempting to enter the United Kingdom illegally. 
The police have not yet determined their nationality.
Sean Delaney International Transport, in Cork, owns the lorry involved. They have said they are satisfied that neither it nor the company's driver had done anything wrong.
The company's Operations Manager, Michael Delaney, told RTÉ News he knows everything from his company's side is "100%".
He said it was his driver, who has since been arrested, who raised the alarm. Delaney said both he and the driver are assisting police with their inquiries.
A police spokesman said:
"We were called by a member of the public shortly before 8.30pm this evening following a report of suspicious activity involving a lorry on the A350 near Chippenham.




"Officers attended the scene and located 15 people in the rear of the vehicle.




"At this early stage of our investigation, we believe they are all over the age of 16."
39 found dead in Essex
This possible people smuggling incident comes just two weeks after the grim recovery of 39 Vietnamese people from the back of a truck near Purfleet port, in Essex. 
Read more: Alleged "loyalist" drug-smuggling link to tragic 39 lorry deaths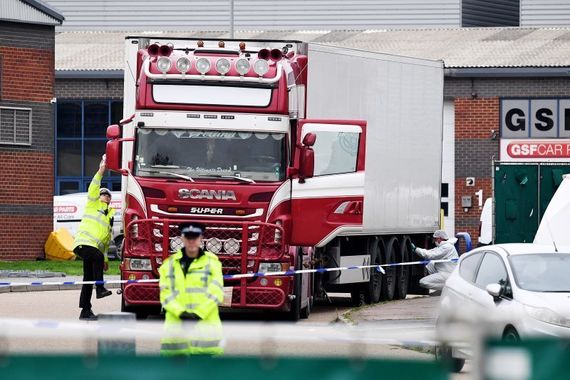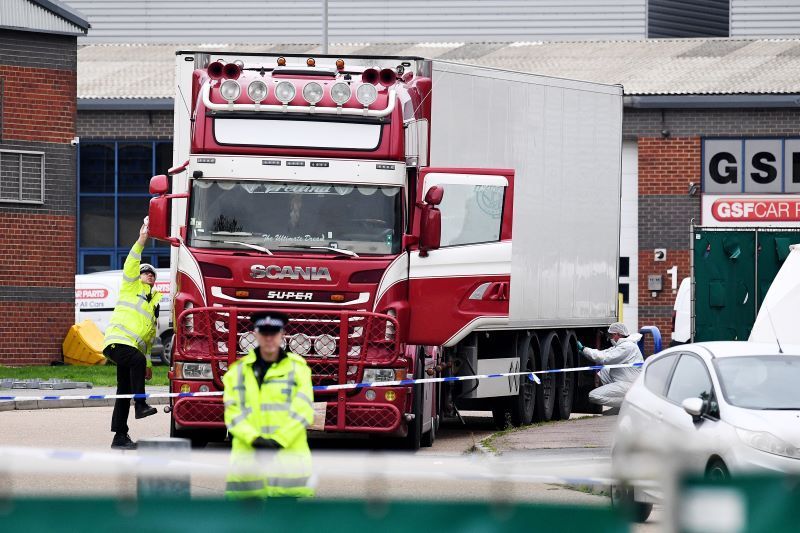 3
Eight people have been arrested in connection to this crime in Vietnam.
Two Irishmen, Mo Robinson (25), from Laurelvale in County Armagh and  Eamon Harrison (23), from Mayobridge, County Down were both drivers who transported the container in question. They have both been charged with 39 counts of manslaughter, conspiracy to traffic people, conspiracy to assist unlawful immigration and money laundering.
3
Also, an Irish couple Joanna and Thomas Maher, now living in Warrington in England, was arrested but have since been released. 
Police are still searching for County Armagh brothers Ronan Hughes (40), who also goes by the name Rowan, and his brother Christopher (34), who are believed to be on the run. 
Read more: Youngest convicted murderers in Irish history - Ana Kriegel's killers sentenced