An Garda Síochána has provided an update on its investigations into the fatal explosion in Creeslough, Co Donegal that occurred on October 7, 2022.
Nearly a year after the tragedy, An Garda Síochána said on Thursday, October 5 that it "continues to work diligently and as expeditiously as possible, in the circumstances, to ensure that all the circumstances of this fatal explosion are professionally investigated."
The investigation into this incident is co-ordinated from Milford Garda station where an Incident Room is established under the direction of a Garda Senior Investigating Officer, An Garda Síochána said.
The investigation continues to be supported by other Garda sections; the Garda National Bureau of Criminal Investigation (GNBCI), Garda Síochána Analysis Service (GSAS), and Garda Technical Bureau.
An Garda Síochána said it continues to be assisted in this investigation by the Health and Safety Authority, the Commission for Regulation of Utilities, and DNV – Det Norske Veritas.
Noting that the investigation is "extensive," An Garda Síochána said that in excess of 1,350 lines of enquiry have been actioned and in excess of 900 statements have been taken to date.
A Family Liaison Team with a dedicated Family Liaison Officer appointed to each deceased person's family is in place and continues to support the bereaved families.
An Garda Síochána said on Thursday that it will provide a further update, when appropriate.
In a later statement on Thursday, An Garda Síochána shared details of Saturday's one-year commemoration events in Co Donegal that were announced by local groups last week.
A commemoration service will be held at the site of the tragedy at 3 pm on Saturday, October 7, exactly one year since the explosion took place.
At 7:30 pm that evening, a vigil Mass will be held at St. Michael's Church to commemorate those who died in the tragedy, for those who were injured, and in thanksgiving for all who responded to the tragedy.
A media tent will be in place at the afternoon event, while locals have asked for privacy during the Mass on Saturday evening.
On October 7, 2022, ten people were killed and a further eight people were hospitalized in what is believed to have been a gas explosion at an Applegreen Station in Creeslough, Co Donegal.
Jessica Gallagher, 24, Robert Garwe, 50, his five-year-old daughter Shauna Flanagan Garwe, Leona Harper, 14, Hugh Kelly, 59, Martina Martin, 49, Martin McGill, 49, Catherine O'Donnell, 39, her 13-year-old son James Monaghan, and James O'Flaherty, 48, all died in the blast.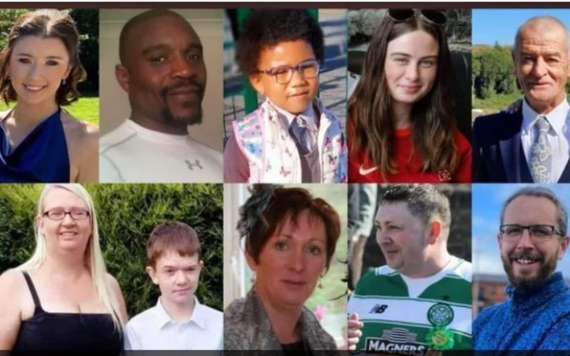 2
The cause of the explosion remains unknown as the first anniversary of the tragedy approaches, although gardaí are treating the incident as a tragic accident and suspect that a gas leak caused the explosion. 
In its last public update until today, An Garda Síochána said on November 17, 2022, that it had concluded its Forensic Examination of the scene of the explosion assisted by the Health and Safety Authority and the Commission for the Regulation of Utilities and that the overall investigation into the cause of the explosion remains ongoing.