Irish leader Leo Varadkar addressed 750+ guests gathered to celebrate the spirit of the Ireland Funds and St. Patrick's Day.
The Ireland Funds hosted its 26th Annual National Gala at The National Building Museum in Washington, D.C.  and raised a record $1 million
An Taoiseach, Leo Varadkar, TD Prime Minister of Ireland addressed the 750+ guests attending The Ireland Funds' event as part of his multi-stop St. Patrick's Day visit to the U.S.
The Gala also marked the 20th Anniversary of the Good Friday Agreement with special recognition given to Representative Peter T. King (R-NY-2) and Representative Richard E. Neal (D-MA-1), Chairs of the Friends of Ireland Caucus in Congress, for their personal achievements and promotions of the Good Friday Agreement.
Now privileged to be speaking at the @IrelandFundsAM event in this amazing venue, the National Buildings Museum in Washington DC for #stpatricksday pic.twitter.com/5B2ZERMuOv


— Leo Varadkar (@campaignforleo) March 15, 2018

"Tonight's Gala is an opportunity for people to come together and celebrate the spirit of The Ireland Funds," said John Fitzpatrick, Chairman of The Ireland Funds America. "In marking the Anniversary of the Good Friday Agreement we look to the future with hope as we continue our support of peace, reconciliation and dialogue at all levels in Northern Ireland."
"We are delighted to announce that tonight's Gala is the most successful National Gala in the history of this great event," said Kieran McLoughlin, Worldwide President & CEO of The Ireland Funds. "Tonight, we have raised over $1 million to benefit great causes across the island of Ireland. Our supporters have shown a deep commitment to philanthropy and the mission of The Ireland Funds."
The Ireland Funds recognized Anne Finucane, Vice Chair, Bank of America for her professional and philanthropic contributions to the island of Ireland including Music Generation, Ireland's National music program. The evening also honored Sean McGarvey, President, North America's Building Trades Unions for his great support of Irish causes.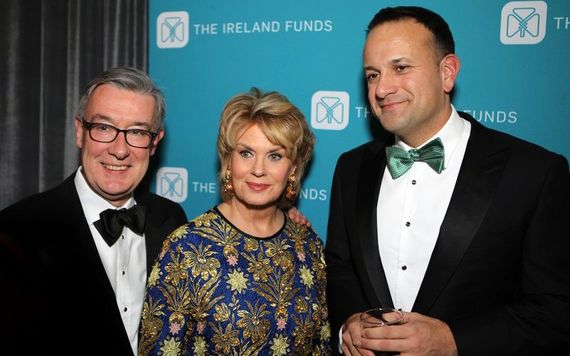 2
The evening was a gathering of Gala Chairs, Irish and Irish American leaders, leaders in business, government, the media and the arts.  The event celebrated Irish culture and heritage and generated support for the work of The Ireland Funds. The annual event, one of 150+ The Ireland Funds hold annually, is a key opportunity to celebrate Irish-American relations in the presence of key decision makers providing a unique platform to advance the Irish agenda in America.
Guests of note included H.E. Daniel Mulhall, Irish Ambassador to the U.S; Sir Kim Darrock, British Ambassador to the U.S.; renowned Irish flautist Sir James Galway who performed on the evening, House Democratic Leader Nancy Pelosi and 25 U.S. members of Congress.