TD Seán Fleming made his first trip to the US this week as Ireland's Minister for the Diaspora, visiting and meeting groups in West Virginia, New Jersey, and New York.
"The Irish community here is very, very well organized," an impressed Fleming, who became Minister for the Diaspora during December's government shuffle, told IrishCentral on Thursday afternoon at the Irish Consulate in New York City.
He had just come from a reception hosted by the Consulate with representatives of 20 groups who had received funding through Ireland's Emigrant Support Programme.
"It's good to meet them, primarily to actually thank them for all the work they're doing," Fleming said, adding, "The funding we give is an expression of the Government of Ireland's support for them, for the work they're doing for the Irish who are here so many years."
According to Ireland's Department of Foreign Affairs, the Emigrant Support Programme has assisted over 530 organizations in some 37 countries with grants totaling over €220 million since its inception in 2004. Grants have ranged from small amounts for grass-roots groups to major allocations awarded to voluntary and community organizations operating on a large scale.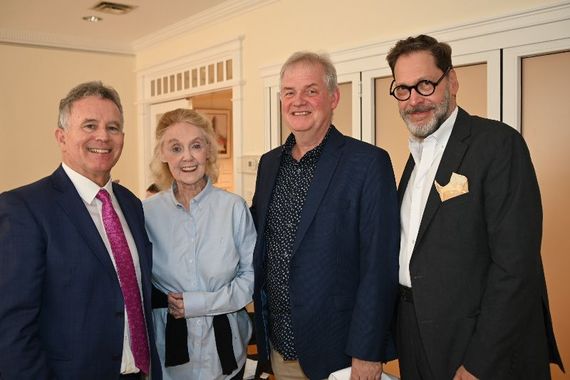 2
While impressed with how well-established the organizations are, Fleming told IrishCentral that he is keen to "widen the net" of recipients.
"This year, we will be funding some organizations for the first time," he told IrishCentral. He acknowledged that it will likely be "small" funding, but it's the first step.
Indeed, earlier this year, Fleming announced a Small Grants Scheme which will include more streamlined reporting requirements for organizations in receipt of grants of €10,000 or less.
The application period for the 2023 - 2024 funding year has ended, and Fleming anticipates the recipients will be announced this summer.
When asked how organizations are using the funding, Fleming again noted how well-run the organizations are and that "most of them, in theory, could survive without our funding."
He continued: "We're supporting them, but they're not dependent on us for their existence, which is good, because they're strong and we're strong."
Fleming went on to discuss why the Irish government continues to financially support its emigrant community: "For the here and now, a lot of Irish people, elderly people abroad, they need support. Because they supported Ireland over the years.
"There's a famous thing, the emigrants always used to send money home. And now, that flow of income doesn't happen because it's not required anymore, and that's really good.
"But those people who did all that, they're elderly now and we have an obligation, a duty, to support them, which we do."
When asked if there's a hope for the emigrant community to return home, Fleming said: "Some of the people I've met, they're here, they're settled.
"They'll go home for a visit, but they're settled here, and that's perfect. And that's one of the good things about Ireland, there's been a lot of immigration over many, many years, in every corner of the world, there's somebody with an Irish connection.
"So that's actually good for a small country to have a footprint everywhere, and it does help us."
Fleming went on to say that the Emigrant Support Programme is primarily geared toward welfare support for older people, but it recently found that it's funding organizations that are "promoting Irish art, Irish culture, Irish music to an extent that we maybe haven't before. 
"And that's broadening the attraction of the work these organizations are doing outside just the Irish emigrants and that's really important as well."
You can learn more about Ireland's Emigrant Support Programme here.