More than 500 people attended an Irish family's celebration of a recently renovated thatched cottage in County Kilkenny last Sunday, August 27.
The Kealy-Dunne family hosted the event to celebrate the heritage and history of Irish cottages after recently completing an extensive renovation at their family home in Clogh Bridge, County Kilkenny.
The house came into the possession of Helen Kealy-Dunne in 1999 and her daughter Sophie Dunne told IrishCentral that her family has been "blown away" by the reception they received last Sunday. 
"People came from all across the country and we even had some American visitors. We got to thank our donators who helped us raise the money for our restoration and we thanked the government officials who attended and who helped us with the grants we needed to renovate our house," Sophie Dunne told IrishCentral. 
"We had live traditional Irish music playing from talented nearby musicians, we had the stunning fire lighting in our authentic hearth, and our settle bed opened up with straw in it to show how our ancestors slept," Dunne added.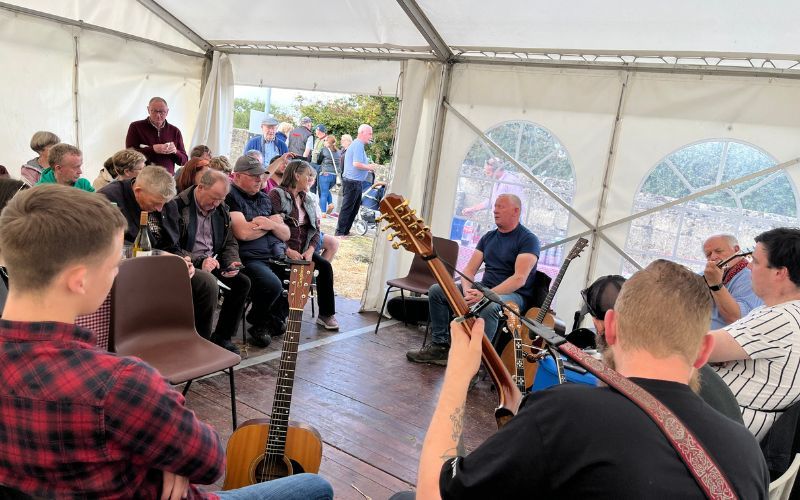 2
Dunne said the settle bed was built by her great-great-grandfather in the early 20th century using wood from a nearby ash tree. The bed hasn't left the house since it was originally built, Dunne said. 
Dunne added that her family is proud of completing the renovation and organizing such a large community event. 
"Bringing the community together for a day for authentic Irish celebrations and showing the locals the interior of our hundreds-of-years-old thatched house was truly heartwarming. There were of course lots of emotions as we remembered our family who came from the house who are no longer with us." 
The family has owned the home for 200 years and set about restoring the home after receiving Government grants and generous donations from the public.
Sophie Dunne, who lives in Los Angeles, told IrishCentral that her family is in talks with Kilkenny County Council about how to use the cottage in the future. 
"We definitely want to keep our house in the possession of the family so that we can keep the tradition of having family members stay over to light the fire to keep the house dry and warm — this is something we've done for decades.
"We do see the house as being an essential part of the local heritage so we are throwing out ideas as to how we can include the community in the preservation of our house but nothing is set in stone."