Warning call made by the IRA ahead of the bombings was "inadequate"
On November 21, 1974, bombs planted by Irish Republican Army (IRA) members detonated at both the Mulberry Bush pub and the Tavern in the Town pub in Birmingham, England, killing 21 people and injuring more than 200 others. A third, undetonated bomb was later recovered at a nearby bank.
In April 2019, a jury ruled that the victims of the IRA's 1974 Birmingham pub bombings were "unlawfully killed" following a six-week inquest.
Read More: Former IRA member names men responsible for 1974 Birmingham pub bombings
RTÉ reported that an inquest in Birmingham determined that a botched warning call "caused or contributed" to the deaths of 21 civilians and the injuries of more than 200 others.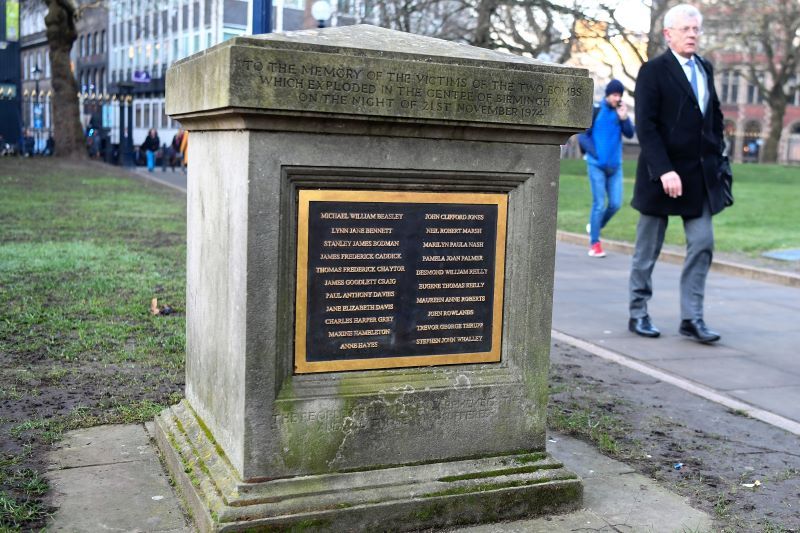 2
The 11-person jury unanimously concluded that the warning call made by the IRA was inadequate and cost the already spread-thin Birmingham police vital minutes.
The warning call, which came just seven minutes before the first bomb exploded, made no mention of pubs, only the Rotunda building, and a nearby tax office.
The jury also found that there were no failings, errors, or omissions by the West Midlands Police in their response to the bombings.
Read More: What family members of the The Troubles tragedies have in common
The Telegraph reports that Coroner Sir Peter Thornton QC, who directed the jury to deliver a verdict of 'unlawful killings,' said: "This was murder in ordinary language and murder in law."
Afterward the inquest made its conclusions, Julie Hambleton, whose sister was killed in the attack, told reporters: "Our reaction to the inquest and the conclusions is today is the day for West Midlands Police's senior officers, Dave Thompson the chief constable, we now put it in his court, in the garda's court in Ireland and also the PSNI's door, for them to go ahead and prosecute and bring to justice those who remain living, through the court process to hopefully to bring them and charge them with what is now officially known for murder.
"Today, the inquest has found they [the victims] were unlawfully killed by murder.
Read More: Irish police compiling list of IRA sympathizers to prepare for hard border post-Brexit
"West Midlands Police have always told us when they get new evidence they will act on it, well here you go, you have the new evidence and I'm sure there is more to be had and more to be found."
You can watch all of Hambleton's commentary below: