Victim's family's victory as authorities plan high-tech scan of angels' plot next to Grove Hospital, Galway
Authorities plan to carry out a ground scan on the site of Grove Hospital "to look for a children's grave", just one kilometer from a former institution for unmarried mothers run by the Sisters of the Bon Secours in Tuam, County Galway, where the remains of 796 children were buried in mass graves and septic tanks.
A ground penetrating scan along with archaeological assessments will take place on the site at the beginning of next year, ahead of the planned construction of a new mental health facility. The planned construction drew objections from a group named Tuam Grove Babies, who claim that they have family members who died shortly after birth and were buried on this site.
A source told the Irish Daily Mail (print only) "The assessment's sole purpose is to look for a children's grave following complaints to the HSE and Galway County Council."
No records of childrens' burials
A member of the Tuam Grove Babies group, Noreen Meehan, told the Mail "My mother had her children in Grove Hospital and she always said she gave birth to a boy in 1958 or 1959 who died and was buried in an angels' plot at the back of the hospital.
"The groundsman would go off and bury the children, but you never were told anything else in those days.
"This is my older brother and there are other people in our [campaign] group and their sisters and brothers are in there. We are not sure how many children are there, as there are no records."
796 babies remains discovered in Tuam
This angels' plot is just one kilometer from the Bon Secours Mother and Baby Home, in Tuam, where in May 2014 the mass grave of 796 children was discovered following the work of local historian Catherine Coreless. The infant mortality rate at this home was double that of Ireland's at the time. Earlier this year, in March, after several excavations the Irish government confirmed that a "significant amount of children's bones" were uncovered from 17 of the 20 chambers underground.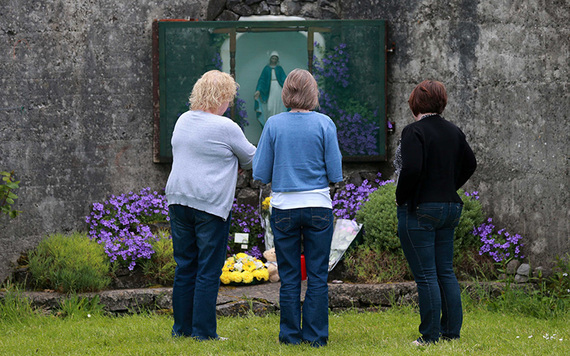 3
Tuam may be only the tip of the iceberg. Across the country, such mother and baby homes, all long closed, are now under scrutiny for similar mass deaths. It is already clear Tuam was not an isolated occurrence.
Were it not for the persistence of local historian Catherine Corless, the truth in Tuam would never have emerged.  Some believe as many as 7,000 kids nationwide had their deaths covered up.
3
Referring to the alleged angels' plot at Grove Hospital Meehan said "We do not want the children exhumed, we just want the area identified. I started up the group a few years ago out of respect. One woman [said] the caretaker had a map of the place and could tell her exactly [where her baby was buried], but those maps were not there now… I went looking for [my mother's] files and the head nun in Cork said there were no files."
The high-tech scan is set to take place before construction begins at the start of 2018.