The funeral of Andrew O'Donnell in Dublin today, July 12, celebrated the life of the teenager with a "promising future" whose life has been "cruelly taken."
At the Church of the Sacred Heart in Donnybrook in Dublin on Wednesday, the second funeral of two teens took place following the tragic events that claimed the lives of O'Donnell and Max Wall (18) who were holidaying with friends on the island of Ios, in Greece.
Outside the church, O'Donnell's mother, Bebhinn, was seen embracing her parish priest with the teen's two beloved golden retrievers, Marnie and Maisie, in tow.
Inside the church, O'Donnell's friends presented symbols of the young man's life including football jerseys, sporting medals, a Kanye West vinyl record, and a dog lead to symbolize his love for his two dogs.
Monsignor Ciarán O'Carroll told the funeral Mass that O'Donnell's "untimely passing has left all of us shocked and saddened."
Fr Paddy Moran, chaplain at St Michael's College, said "We are here for the saddest of reasons, to say goodbye to a beloved son, a beloved older brother," the priest told mourners.
He said "If things had been different who knows where his life might have brought him? For some unfathomable reason that we will never understand, that promising future was cruelly taken from Andrew," Fr Moran said.
"A simple fall on a mountain top took his dreams, his hopes, his ambitions."
The priest spoke about O'Donnell's passion for sport, for Liverpool football club, and Irish rugby. O'Donnell and his family were highly involved in the Old Belvedere Rugby Club, and Andrew and his brother, Rory, both played with the club.
He also commented on the fact that O'Donnell's face lit up when he spoke about his two dogs. 
O'Donnell had just completed his final school exams, the Leaving Cert, in June and had applied to several universities in the United Kingdom for the next academic year. 
    
Fr. Moran called O'Donnell an "absolute gem of a human being."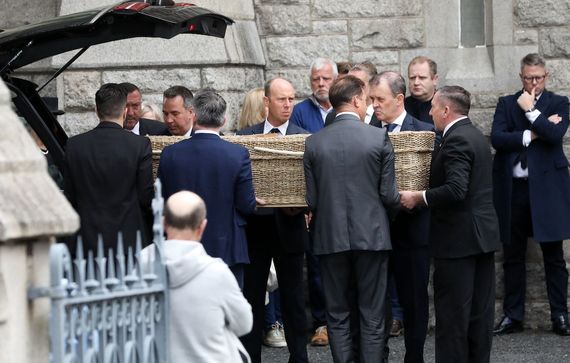 2
O'Donnell's mother Bebhinn described her son as "the most beautiful, funny, mischievous" boy.
"You had so much love to give and you gave it in buckets," she said.
Bebhinn read a letter to her son, ending with the words, "Sleep well, we love you, we miss you. But I will see you again one day. Goodnight, my beautiful boy, we are truly heartbroken. Lots of love, Mum."
His father, Gavin, said he "couldn't be prouder" of the man O'Donnell had become.
He ended to says "Goodbye Andrew, my beautiful boy."
President Michael D Higgins was represented at the service by his aide de camp. Minister for Enterprise Simon Coveney was also in attendance.
O'Donnell and Max Wall were among some 90 Irish students who had traveled to Ios in Greece to celebrate the end of the Leaving Cert exams.
O'Donnell is believed to have decided on an early night when he fell on a rocky path while taking a shortcut on the outskirts of the island's main town, Hora. His body was discovered the following day, Sunday, July 2. 
Later on Sunday, Max Wall, who was involved in O'Donnell's search party, collapsed at the port of Ios and was found unresponsive. Wall had previously undergone heart surgery. 
Initial postmortems, conducted by Greek authorities, indicated that O'Donnell died from head injuries related to his fall and Wall's death was linked to his heart problem.