Ireland's 2018 summer drought has unearthed hundreds of previously unknown ancient monuments and agricultural history dating back 6,000 years.
The author and photographer who discovered a "once in a generation" megalithic tomb to rival Newgrange during summer 2018 have revealed that dozens of monuments have appeared in a series of photographs published by Google Earth.
These subterranean treasures, some dating back over 4,000 years, became visible during the summer drought of 2018.
Anthony Murphy, an author and photographer with Mythical Ireland, has been photographing ancient monuments across Ireland for over 20 years. Murphy said he had counted between 40 and 50 sites in the photographs along with another 50 that had previously been chronicled through images from the 1960s and 70s.
5
The ancient Irish monuments dating from several centuries to several millennia ago are visible in the popular maps app in satellite imagery taken at the end of June 2018, at which stage large parts of the country, particularly in the east, had had little or no rain for the previous two months.
Some of the monuments are Bronze Age barrows, possibly around 4,000-years-old, while many previously unknown Iron Age ringforts and medieval enclosures have been revealed in Google Maps.
Murphy has been scouring the imagery and has discovered a huge number of previously unknown monuments, most of them located in crop fields in the tillage-rich areas of seven different counties -  Meath, Dublin, Kildare, Carlow, Wicklow, Laois, and Kilkenny.
Read more: Ireland's top prehistoric must-see tourist sites
"In many cases, these monuments will have no surface trace, so the farmers and landowners will be unlikely to know they even exist," Murphy, who famously discovered a late Neolithic henge using his drone at Newgrange last summer, said.
"Some are small ring-ditches, maybe 20 meters or 30 meters in diameter, but there are some truly enormous structures like ringforts and enclosures, in some cases measuring 100 meters in diameter and more. The largest structure visible in the Google imagery is in County Dublin and measures a staggering 350-meter-wide," Murphy said.
"It's an insight into agriculture and life in general in previous times. People have been farming the land in Ireland for around 6,000 years. The evidence of their settlements, and indeed their farms and of course their burial grounds, is literally everywhere."
5
Many landowners will be unaware that there are monuments beneath the soil in their fields. The new discoveries will be reported to the National Monuments Service (NMS) and added to their database of archaeological sites and monuments.
The monuments became visible, mostly in tillage fields, during drought conditions, when crops had been starved of moisture.
"The ditch features retain whatever trace moisture is in the ground a little more effectively than the surrounding soil, and so the crops growing out of the archaeological features tend to be a tiny bit greener and healthier. From the air, what you get is a contrast between the healthier and less healthy crops, revealing the shape and size of the structures beneath the surface. It's fascinating," Murphy said.
In July 2018, Murphy made international news headlines, when he discovered the image of a circular enclosure at the UNESCO World Heritage site, close to Newgrange, in the Boyne area of County Meath, while using a drone to take photos.
Read more: How a journalist discovered the "once in a generation" henge near Newgrange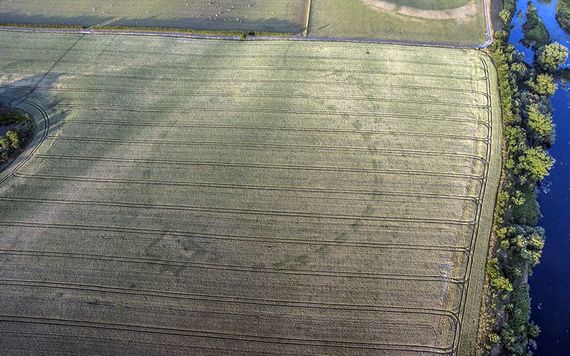 5
In October 2018, Ireland's Department of Culture, Heritage and the Gaeltacht, said the ancient sites discovered during Ireland's heatwave "have the potential to transform our understanding of that landscape."
At the time, in October 2018, they reported that 71 new monuments in 12 counties had been reported, during the months of June to August. This number could soon grow given the release of the Google Earth images.
The majority of those sites reported during the summer 2018 were in counties Louth and Meath. Those reported included rock art and prehistoric art as well as enclosures, bronze age cemeteries, ring-ditches, souterrains, ecclesiastical enclosures, and a road.
5
Murphy now plans to report his latest discoveries, made using Google Maps, to the National Monuments Service where the images will be added to a database of archaeological sites and monuments.
A spokeswoman for the Department of Culture, Heritage and the Gaeltacht, speaking to the Irish Times expressed their thanks to "all those citizen archaeologists and professional researchers for their discoveries".
They also urged the public, including researchers and archeologists, to use the Monument Report Form to assist the department in the mapping of site locations and further investigation. Once verified, the sites are added to the Sites and Monuments Record which is publicly available to view online.
Read more: "Find of a lifetime:" Archaeologists find another Newgrange in Ireland