For the last 19 years, journalist Anthony Murphy has worked on his sideline gig Mythical Ireland, a website collection of avid research and photography of the ancient monuments of the Boyne Valley.
Last week, his years of dedication to the majesty of Ireland's World UNESCO site was rewarded as he won the honor of making one of the most significant findings near Newgrange in the last number of decades.
It wasn't just luck that caused Murphy to be the person to make this "once in a lifetime" discovery of what appears to be a previously unrecorded henge.
His first sighting of the potential 4,500-year-old remnant of a Neolithic circle of standing stones comes not just after 19 years of dedicating his spare time to researching, writing and photographing Brú na Bóinne - the name given to the collection of megalithic monuments located in the valley in the bend of the Boyne River in Co. Meath - but after a lifetime's fascination with the mystique of this almost unparalleled Irish site.
A resident of Drogheda in Co. Louth, just a five-minute car drive from Brú na Bóinne, Murphy has spent time there every week of the year for some while, the passion for his research stemming from a childhood love for the night sky and the stars. Add to this, the excitement of growing up locally during the 1980s, when excavation was being carried out on the sites and new discoveries consistently reached the headlines, and it sparked a desire within him to learn as much more as possible.
Read more: Major new ancient discovery as important as Stonehenge made thanks to Irish heatwave
"I'm in love with the place; with the history of it, the archaeology of it and the cosmology of it," Murphy tells IrishCentral.
"The fascination does not wane at all. It's just the passion for it and the love for it grows and grows and grows.
"I think in the Boyne Valley, humans reached a sort of expressive, creative zenith at a remote time in the past and it really is incredible," he adds of the significance of Brú na Boinne, not just within Ireland but on a global scale.
"It's such a fascinating and awesome complex of monuments that involves so much input in terms of manpower and time and labor and dedication and zeal. We're all looking at the period of a time when humans - using stone tools, not metal - came together in unity and expressed a sort of a spirituality and a cosmology. They did this very monumentally, in stone and in wood and in the earth, in these giant monuments and there are so many of them now. We're literally in awe of what they achieved."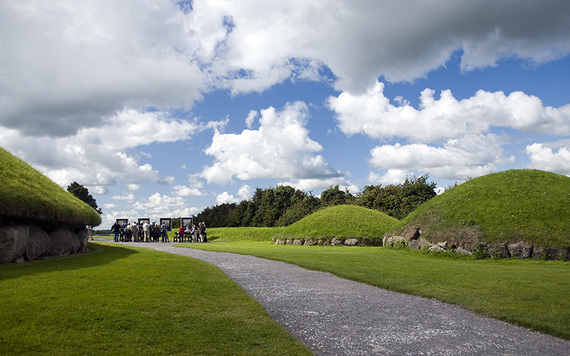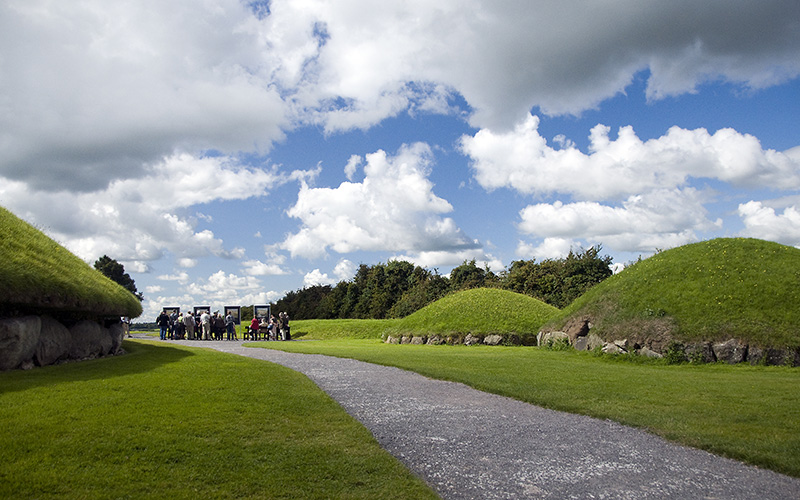 2
Starting Mythical Ireland in March 2000, not long after meeting with local artist Richard Moore with whom Murphy says he started on "an epic voyage of discovery into the ancient sites and mythology," the pair published their first book together "Island of the Setting Sun: In Search of Ireland's Ancient Astronomers" in 2006.
While this book and the following books, research, and photography produced by Murphy were welcomed with acclaim, nothing has plunged his work into the international media spotlight as much as last week's remarkable discovery.
"This is the first time I've discovered a gigantic archaeological monument dating from the late Neolithic that was never seen before," Murphy explains.
"I would say that Richard and I made several significant discoveries that contributed to the understanding of the landscape. For instance, the winter solstice alignment with the Baltray standing stones was a discovery of ours.
"We were the first to photograph the summer solstice sunrise alignment of the Dowth Henge - a known and recorded embanked henge near the Dowth megalithic passage tombs ...  but in terms of its archaeological significance and its global appeal, I'd certainly say this is the biggest find of my lifetime." 
Having purchased a drone last year and regularly taken it to the Boyne Valley to fly over the monuments and capture them from a new angle, it was through this means that Murphy changed the face of the Irish site and what was previously know about it. On Monday night of last week, he had flown the drone to take some pictures of an archaeological excavation taking place near Newgrange Farm. Little did he know, that if he'd simply turned the drone around directly 180 degrees, he would be looking down at his new henge discovery.
Luckily, with the drought after the Irish heatwave changing the landscape that he would be photographing, Steve Davis, an archaeologist with University College Dublin, encouraged Murphy to return with his drone on Tuesday night once more to take a look at site P.
"I did a second circuit of site P and I noticed in the field to its right or to the west of it … a circular image in the crops and I immediately was peaked by this and excited about it. I flew a little bit closer and my first reaction, in the first couple of seconds, was maybe this was a mark left by a tractor that had driven in a circle or something like that.
"Upon flying a little bit closer, I then noticed that there were, what appeared to be, two outer rings of what we now know to be the images of post holes, but they appear to be rings or dots.
"I shouted out quite loudly, 'what the hell is that,' because in the intervening period, a friend of mine Ken Williams [had joined]... 
Read more: Travel through the mysteries of the ancient Boyne Valley
Thrilled to have discovered a previously unknown "new" henge monument near Newgrange last night. Archaeologists tell me that this is a very major find. It appears to be similar in design and size to the nearby Site P, a recorded henge. Exciting times! https://t.co/Mp2pWY26Dr pic.twitter.com/CIdPSTCEJX


— Mythical Ireland (@mythicalireland) July 11, 2018

"I think we both knew fairly quickly that we were dealing with a likely henge because we know enough about archaeology that we knew what we were dealing with. We also knew that there was no recorded henge in this location, in this field, being very familiar with the archaeology of the Boyne Valley, the location of the known monuments, those that can be seen and, of course, those that have been detected in recent years and decades ... so we knew that there was nothing of this magnitude in this location and we were both tremendously excited." 
Read more: "Find of a lifetime:" Archaeologists find another Newgrange in Ireland
Next came a tough decision, however. Knowing that it wouldn't be long until some other person flying a drone would come across their henge and having received initial excitement from the archaeologists they had contacted, the pair decides to release the images to social media before there was any kind of official confirmation.
"We were both very excited and animated and very giddy and giggling out loud because we knew that this was something very substantial," says Murphy.
"In a very short time, having shared them on Mythical Ireland on Facebook, they already had hundreds of likes and shares and we knew there was nothing we could do; they were going to go viral.
"At half-past seven on Wednesday morning, the first media call came and that was from the local radio station here LMFM radio. From there it just took legs and walked and ran and flew across Ireland, initially, and then across the world."
And still, a week on, the interest in the phenomenal discovery is far from subsiding, with talks about potential TV shows kicking off and Murphy not yet having had a moment's quiet to sit down and let the magnitude of the discovery sink in.
"To be at the center of that, from a personal point of view, was tremendously exciting because I've been writing about these monuments, and sharing pictures and videos and blogging about them, and writing books about them, for many, many years," he explains.
"You can imagine the personal excitement for me and the realization that I was at the center of what appeared to be a very, very, major discovery. 
"Mythical Ireland has been close to my heart for the past 18/19 years and all of a sudden, I've been thrust into the international sphere and in front of a global audience.
"I'm tremendously excited about discovering and finding out as much as possible about this site: what it means for the archaeology of the valley, and what it means in terms of the scale and nature of the population of the late Neolithic and what they were doing there. Of course, I'm very interested in finding out any possible astronomical significance to the site, any possible alignment of it toward a sunset or a star or some astronomical significance."
If you wish to find out more about Murphy's work, explore his photography or grab a copy of one of his books, you can find them all on his website Mythical Ireland.