They'll be wearing green and spending green! Estimated that US consumers will spend a record high of $5.9 billion for St. Patrick's Day 2018, and 83% will celebrate St. Patrick's Day by wearing green. 
With St. Patrick's Day 2018 falling on a Saturday, early projections suggest that Americans could be spending a record high. 
The current record was set last St. Patrick's Day, in 2017, when consumers spent $5.3 billion. 
These figures come from the National Retail Federation and Prosper Insights & Analytics' annual St. Patrick's Day survey, which they have conducted every year since 2007. The survey examines both overall spending and the breakdown among purchase categories and age groups, offering insights into how different people spend their Paddy's Day green.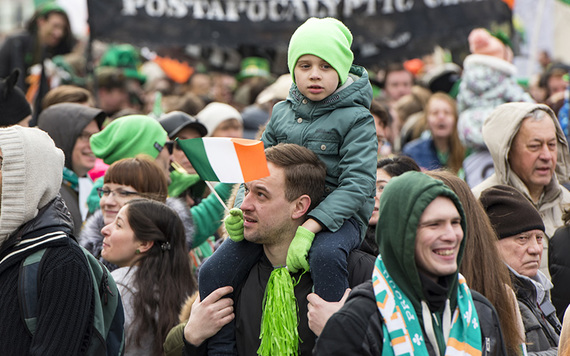 4
Read More: Fun facts about St. Patrick's Day 
"With winter hopefully winding down over the next few weeks, consumers are ready to start celebrating spring with St. Patrick's Day," NRF President and CEO Matthew Shay said in a press release.
"The holiday falls on a Saturday this year, so Americans will have more time to splurge a little as they get together with friends and loved ones for a day of festivities."
The survey, which asked 7,657 consumers about their St. Patrick's Day plans, was conducted February 2-13 and has a margin of error of plus or minus 1.1 percentage points. 
It projects that an astounding 149 million Americans will celebrate St. Patrick's Day this year - 10 million more from last year's 139 million. To put things in perspective, there are an estimated 33 million Americans of Irish descent, so those figures go to show that the Irish spirit spreads far and wide on March 17. 
4
How much will people be spending? On average, $39.65 per person, up from last year's previous record of $37.92.
Who will be doing the most celebrating? St. Patrick's Day is most popular among individuals 18-24 years old, with 77% celebrating, but the highest spenders will be people ages 35-44 at an average of $45.76.
And how will those 149 million be celebrating St. Patrick's Day? According to the survey, 83% will wear green, 31% plan to make a special dinner and 27% will head to a party at a bar or restaurant. Twenty-seven percent will also decorate their homes or offices in an Irish theme and 16% will attend a private party.
Somewhat surprisingly, only 15% plan to attend a St. Patrick's Day parade. Nine percent will be the generous souls who host a party.
4
"Compared to other spending holidays, St. Patrick's Day is less about giving gifts and more about having fun with friends and family regardless of the budget," Prosper Executive Vice President of Strategy Phil Rist said in the press release. "With more Americans celebrating the shamrock-filled day, we expect consumers will enjoy their favorite green beverage and apparel, attend events around their community and decorate their homes with lucky four-leaf clovers."
We feel compelled to point out that shamrocks and four-leaf clovers are NOT the same thing, so please don't decorate your home with them for St. Patrick's Day or you will look very foolish. 
Read more: Everything you know about the St. Patrick's Day shamrock is a lie
How will you be celebrating St. Patrick's Day? Do you know how much you typically spend on March 17? Share your thoughts in the comment section.