What would your worst nightmare be? How about being shot in the highest part of your spine leaving you a paraplegic for the rest of your life?
That's what happened to Police Officer Steven McDonald in June 1986 when a 15-year-old named Shavod Jones shot him three times in Central Park.
Cops who came to the scene called by McDonald's partner found that partner, Police Officer Peter King, crying helplessly as he cradled the grievously injured McDonald in his arms.
There would be lots of tears in the days, months, and years to come but Steven McDonald was not going to let the small matter of being paralyzed put a halt to his gallop.
At his son's baptism in a chapel at Bellevue in 1987, Officer McDonald forgave his shooter on what must have been one of the toughest days of his life, knowing he would never hold his son. His statement was read by his wife. "I forgive him," he said, "and hope that he can find peace and purpose in his life."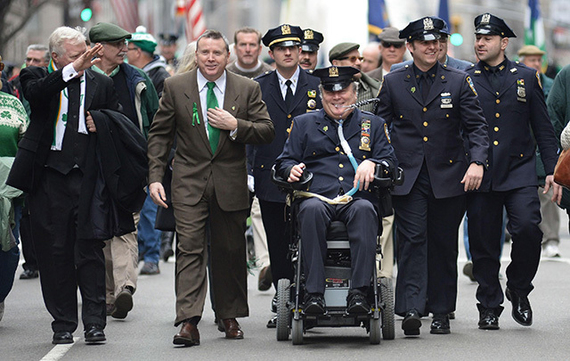 3
This was a remarkable man who wrote, "There is more love in New York than street corners," despite all that happened to him, all the pain he had to endure.
His great, beating heart finally gave up on Tuesday, January 10, with family and loved ones by his side. It would be a short trip to heaven for him.
"There are no easy victories. That's how they play the game. That's how we live our lives. That's how we like it" R.I.P. Steven McDonald pic.twitter.com/eHq9iLVYJy

— WeBleedBlue (@WeBleedBlueNYC) January 10, 2017
The last time I met him was a few months ago at the wedding of my wife's cousin, who is a close friend of Conor McDonald, Steve's son, now also a police officer.
Steve was, as usual, a rock star, holding court, a crowd gathered and lined up to meet him. Occasionally his wheelchair would dip back before becoming upright again. Everyone wanted a selfie. Steve was focused on the people greeting him. His first question was always about you. He was always glad to see a fellow Irishman and it showed in his eyes.
We always talked about Northern Ireland, where Steve had spent time preaching his gospel of peace and reconciliation. Then he would ask me about my sister and her husband who had lost their 12-year old son Rory tragically. Steve never forgot to speak of those in need.
3
How remarkable was he? People with his injuries usually survive only five years. He survived 31.
He had a profound, yet simple faith in God – his major friend was Franciscan priest Father Mychal Judge who perished on 9/11.
One of my great privileges was to have them both meet President Clinton in 1996 at our Irish American of the Year award. We were all delighted, too, to welcome his incredible wife Patti and Steve and son Conor into our Irish America Hall of Fame in 2014.
He was a medical miracle, but if you knew him it was no surprise. He was a miracle, period. His passing makes our lives poorer for a great inspiration is gone. His family is fourth-generation policemen, a throwback to the noble idea of service and protection so many Irish brought with them to America. Steve was a protector even in his paralyzed state
As the lines from The Minstrel Boy go:
"One sword, at least, thy rights shall guard,

One faithful harp shall praise thee!"
Farewell, Officer McDonald, you did far more than your duty.
Rest In Peace Steven McDonald.

Our friend. Our hero. Above and beyond. pic.twitter.com/6xOHSGnlyO

— New York Rangers (@NYRangers) January 10, 2017