Celebrate Lughnasadh on the Hill of Uisneach in Rathnew, County Westmeath, this August and connect with the beating heart of Ireland.  
The festival of Lughnasadh marks the beginning of the harvest season and is held halfway between the summer solstice and autumn equinox. It also gives its name to the Irish word for August (Lúnasa in modern Irish).  
On August 7th from 1pm to 4pm, Treasa Ní Mhurchú of Sacred Sites of Ireland will take you back in time, engaging a deep spiritual and energetic connection with the sacred landscape of Uisneach and the archetypal energies of the Tuatha Dé, exploring our ancient past and bringing it back to life.
The event is outdoors and requires a moderate level of fitness. Care should be taken whilst on site as the terrain is uneven. Suitable clothing and footwear for hillwalking (and Irish weather) should be worn.  
Treasa Ní Mhurchú is a Ban Draoi with a keen interest in and passion for all sacred sites. She is also a working Archaeologist, Holistic Therapist, Tour and Heritage Guide and Stress Management Consultant. Entry to the event will be €22.50.
The location of the event, the Hill of Uisneach, is an ancient ceremonial site and a protected national monument.
One of six Irish royal sites, the Hill of Uisneach is currently on the list for UNESCO World Heritage Site status. Standing at 596ft above sea level, the summit of Uisneach commands extensive views with no less than 20 counties visible on the horizon.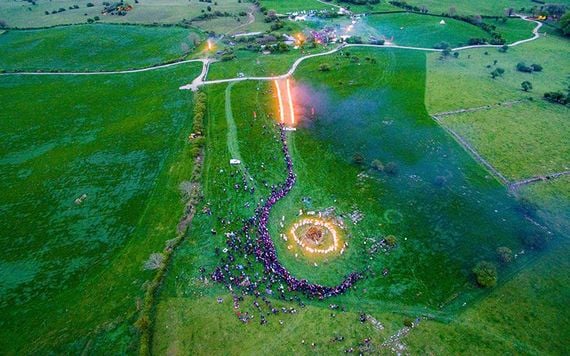 2
The roots of Uisneach lie beyond recorded history, but its surviving monuments and relics range in date from the Neolithic and early Bronze Age to the medieval period, indicating human activity spanning some five millennia.  
Uisneach is near the geographical center of Ireland, and in Irish mythology, it is deemed to be the symbolic and sacred center of Ireland.  It was said to be the burial place of the mythical Tuatha Dé Danann, and a place of assembly associated with the druids and the festival of Bealtaine.
From gorgeous gardens to rich history, Westmeath is a true hidden gem with so many fun things to do. Visit the exciting towns of Mullingar and Athlone and learn about the intriguing histories and famous residents, attend a music concert or festival, or take some time to explore the waterways of Westmeath and find moments of pure bliss and tranquillity along the River Shannon and by the lakes throughout the county.
For more information on the event, visit Usneach.ie.
For more information on Westmeath, VisitWestmeath.ie.