Two of the original members of The Saw Doctors, one of the most iconic Irish bands of the 1990s, are on their way to the United States at the end of this month for an acoustic tour of 13 intimate venues.
Both guitarist Leo Moran and drummer Padraig Stevens shot to fame as co-writers of the 1990 hit "I Useta Lover," which spent nine weeks at the top of the Irish charts and became one of the anthems of the decade in Ireland.
Leo has toured the US extensively with The Saw Doctors over the past 28 years but he's hugely excited by the prospect of bringing the songs of his 72-year-old former band-mate to a US audience for the first time.
Amazingly, Padraig – considered one of the most gifted songwriters in Ireland – has never performed his own solo material in front of an American audience before.
Read more: Could this be the end of U2 after 40 years?
Both musicians are really looking forward to hooking up with old fans and new at small theatres in New York, Philadelphia, Ohio and Massachusetts between September 27 and October 14.
Moran has played most of the venues on the tour with British multi-instrumentalist Anto Thistlethwaite, a former member of Mike Scott's The Waterboys and a long-term collaborator with The Saw Doctors.
As The Saw Doctors have not performed live since 2013, Moran is thrilled to be reconnecting with American audiences as well as bringing the acclaimed songs from Stevens' new album, "News From the Old Country," on the road.
Moran worked with Stevens on the album over the course of a year and believes that US audiences will love Stevens' tall tales and tuneful celebrations of small-town Irish life.
Read more: The DJ who lights up the nights at the world's best saloon, The Dead Rabbit
The Saw Doctors have a huge following on the east coast of the US and regularly sold out large venues, but these shows will be far more intimate affairs. Moran is looking forward to getting up close and personal with US music fans and believes they will love Stevens' blend of catchy and introspective tunes, as well as his stories about his colorful life.
"The last time I was there with The Saw Doctors was 2013. The American audiences are just so hospitable and these kind of small venues are always lovely," Moran told IrishCentral. "It's the first time Padraig has brought his songs to the United States and I think people will love them.
"In the last few years, I have done some great shows over there with Anto. I was always a bit uncomfortable about being the front-man, though, and I thought it would be lovely to bring Padraig over so that people could hear his songs. I suggested a few gigs to him and he was mad up for it at 72 years of age!"
The Saw Doctors played their first US shows way back in 1991 but, with no plans to tour on the horizon, Moran is thrilled to bring his old band-mate out on the road.
Read more: The real story behind Danny Boy, the beloved Irish ballad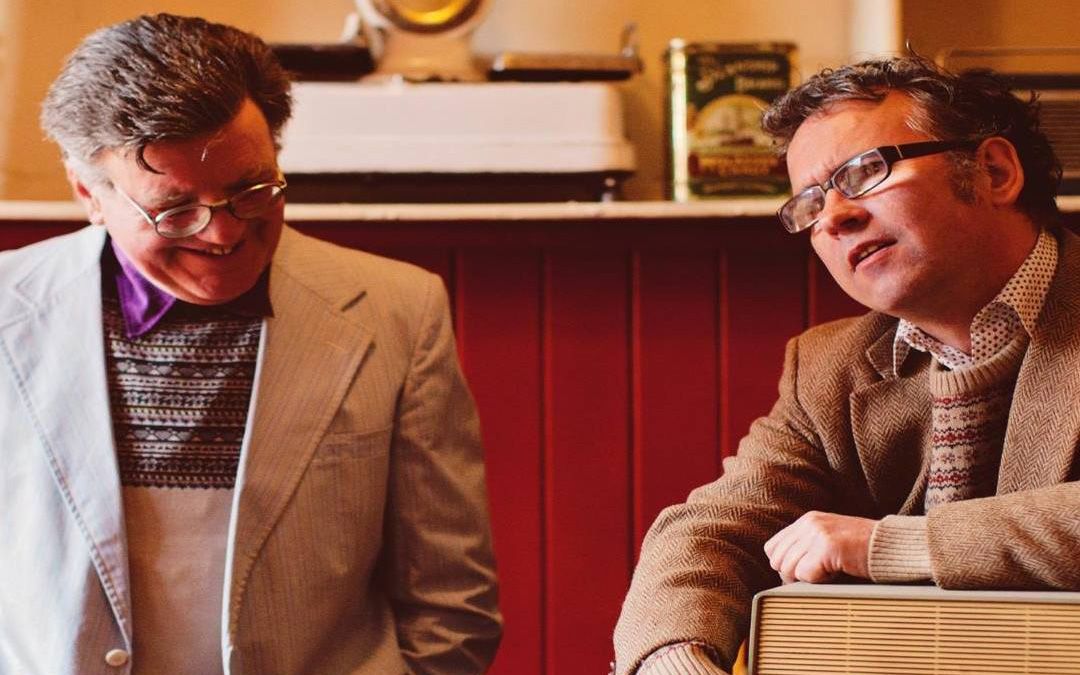 2
"Padraig has some amazing songs that most people in America have never heard. I know these venues, I know the audience will be appreciative and I know they are going to really 'get' his songs. It's an amazing opportunity for us," he said.
He thinks US audiences will love Padraig's quirky songs about small-town Irish life, his experiences as an emigrant in London, and also the experience of returning home after a long period spent away from Ireland.
"Padraig comes from the country, he came into Tuam, where he got involved in music, he then moved to London, where he was an immigrant, and he has the angle of the returned immigrant who returned home to Ireland," said Moran.
"He covers a huge spectrum of emotions in his songs, from good craic to very serious. The gigs can be a bit of a rollercoaster of emotions. I have played in almost all of these venues. We have a great agent over there, Mary Granata, who took us on, and she has compiled a fantastic itinerary for us."
The two musicians formed The Saw Doctors with frontman Davy Carton in Tuam, Co Galway, back in 1987.
They were spotted playing in a pub in Galway by Mike Scott, who then invited them to support The Waterboys on two sell-out UK and Irish tours in 1988 and 1989.
Those tours were huge breaks for the band, who then hit the top of the Irish charts with "I Useta Lover" and "The N17," which remains an anthem about emigration and pining for home among young Irish people to this day.
At a time of huge emigration from Ireland to Britain, and the east coast of the US, the boys from Tuam quickly built up a huge rapport with emigrants in the UK and US. Their gigs in cities such as Boston, London, and New York became the stuff of legend throughout the 1990s, as they provide Irish music fans in exile with an emotional connection with home.
The friendship between Moran and Stevens pre-dates The Saw Doctors, as they first met when Stevens managed a punk band in Tuam called Blaze X back in 1979. Leo was only 14 and Padraig managed the punk rockers before he moved to London.
They then met again at a house party in Tuam, when Stevens was on a visit home from London, and Moran coaxed him to move home in order to play drums with The Saw Doctors.
When The Saw Doctors' lead singer Davy Carton lost his voice in 2016, Leo had to go in search of new projects and his intimate club gigs with Thistlewaite inspired him to work Stevens on his solo album and to bring Padraig's songs on the road.
Moran is genuinely thrilled to be able to bring his friend's songs to American audiences for the first time and says there will be plenty of time for story-telling between songs and renewing friendships after the gigs.
"For this tour, we are not looking for big audiences. The people who come to our gigs will come early and be very attentive. Padraig has so much to tell because he hasn't brought his songs to these kinds of places before. I feel like I'm bringing a bag of treasures to America for people to hear Padraig's songs for the first time," said Moran.
Leo Moran and Padraig Stevens – US Tour Dates 2018
Thurs  27 September: Floral Park NY, Swing the Teapot  Tix - 1 516 488 2180
Fri 28 September: Piermont NY, The Turning Point. Tickets available here. 
Sat 29 September: Philadelphia PA  - Sona Pub. Tickets available here.   
Sun 30 September: Floral Park NY, Swing the Teapot. Tix: 1 516 488 2180  
Wed 3 October: Buffalo NY, Buffalo Irish Centre. Tix:  mary@buffaloirishcenter.com
Thu 4 October: Cleveland OH - P J Mc Intyre's Irish Pub. Tix:  1 216 941 9311
Fri 5 October:  Columbus OH, Shamrock Club. Tickets available here. 
Sat 6 October: Pittsburgh PA   - Andrew Carnegie Library. Tix:  phone Nadine 1 412.496.3260 or email: NFOstrowski@gmail.com
Wed 10 October: Thorndike MA. Tix: email Suzanne: sess7@comcast.net
Thur 11 October: West Springfield MA  - Trinity Pub @Irish Cultural Center. Tickets available here. 
Fri 12 October: Boston MA  - The Burren. Tickets available here.   
Sat 13 October: Needham Ma, VFW Post 2498. Tickets available here.   
Sun 14 October: S Yarmouth MA, Cape Cod Irish Village. Tickets available here.
Ciaran Tierney is a journalist, blogger, and digital storyteller, based in Galway, Ireland. http://ciarantierney.com/
This article was submitted to the IrishCentral contributors network by a member of the global Irish community. To become an IrishCentral contributor click here.