Saoirse Ronan has hardly had time to catch her breath since all the accolades and award ceremonies for her star turn in "Lady Bird."  Now she's back on the circuit promoting her next three projects, two of which - "The Seagull" and "On Chesil Beach" - are due for release in next couple of weeks.
"The Seagull," out on May 11, sees Saoirse star in an adaptation of the Anton Chekhov play set in the late 1800s.  The film was actually shot three years ago, much of it on location in upstate Monroe, New York, and also stars Annette Bening, Elisabeth Moss and Brian Dennehy.
Not surprisingly the film, which debuted at the Tribeca Film Festival in New York last week, is racking up some pretty impressive notices.
Read More: Saoirse Ronan's illegal parents and her start in the Bronx
Saoirse delivers a "knockout turn," says The Hollywood Reporter, with many other publications similarly enthralled.  
May 18 will also see another Saoirse release in theaters.  "On Chesil Beach" is set in England, circa 1962 – Saoirse definitely has an affinity for roles set in the past – and IMDB says that she plays one half of "a young couple [who] find their idyllic romance colliding with issues of sexual freedom and societal pressure, leading to an awkward and fateful wedding night."
Read More: Saoirse Ronan explains the Irish accent and Catholicism to Stephen Colbert
The film comes courtesy of the writer Ian McEwan, who also penned Ronan's first big foray into movies, Atonement in 2007, which earned her a Best Supporting Actress Oscar nomination when she was just 14 years old.
McEwan relished the chance to reconnect with Saoirse once again.  
"Even [with Atonement], she showed an extraordinary ability to take control of the material, to morph from a sparky Irish kid into an upper-class English girl, with cut-glass accent to match. She knew how to convey a particular form of inwardness, of an imagination running riot. She also completely charmed and hypnotized the set," he told Newsweek.  
"Burgeoning fame hasn't swamped her.  She remains firmly herself, and it's a lovely self, in which the natural 12-year-old child still retains a fun-loving role."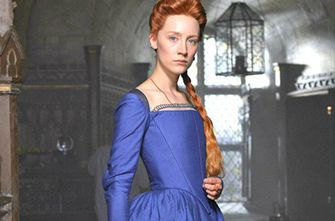 2
And finally, Saoirse headed to Las Vegas last week to the big CinemaCon event to show the first trailer for Mary Queen of Scots, which she filmed last year with Margot Robbie.  Look for that one on December 7 – just in time for next year's awards season.