The Irish learned about migration the hard way, by becoming refugees.
Through every century for the last five they have been defrauded, cheated, starved, deported, transported, and generally pushed out by every major political and economic wave to hit their homeland, from within and without.
It amazing how quickly we can forget that, isn't it?
This month migration is the all too timely theme of the 1st Irish Theatre Festival's afternoon of short plays by six New York-based Irish writers, all but one of them women, commissioned by Origin, the theatre company that produces the annual festival, and directed by Kim Kerfoot.
Tonight marked the launch of the 11th year of the @OriginTheatre1 1st Irish festival. We'll be bringing you more on this unique showcase of Irish writers in the coming three weeks! pic.twitter.com/1woT37xj4o

— IrishCentral (@IrishCentral) January 10, 2019
First onstage was Aoife Williamson in "In Between" by Sarah Street. Street's play is the archetypal New York immigrant's story and also the Irish emigrants one too, with an interesting twist.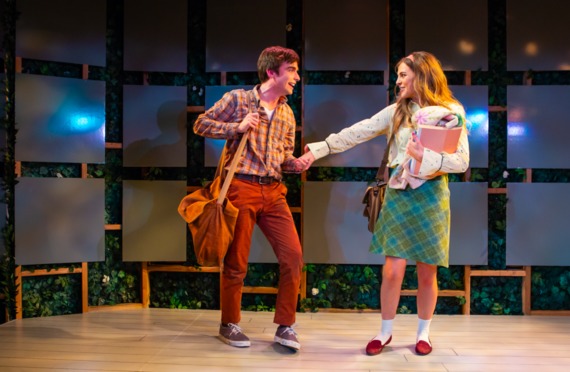 5
These days you can head over and come back often enough to start noticing what you might call the "Tír na n-Óg" effect; where ten years seem to pass at home for every one year you've spent abroad.
Aoife in the play begins to wonder where home is, she starts to feel like a tourist in her own homeland, she begins to wonder if New York City is now her home.
It's a dialogue that Irish New Yorkers have with themselves nonstop so it's always a huge relief to see it expressed publicly on a stage, where you can compare it to your own, with the possibility of growth.
Street's character isn't the type to sing into her beer about the four green fields. Instead, we learn she makes her home in the in between, in that fascinating flux between here and there, or what Seamus Heaney calls the you and the it of it.
5
Judging by the warm reception the play received, it's a debate that is ongoing and shared by many in the audience, whether Irish or not.
"Sanctuary" by Sadhbh Walsh tackles the debt we owe to ourselves and others in a context that dramatically underscores her intent. In a Catholic Church, Father John Michael Kelly (a moniker so Irish that he's almost on stilts) harbors an undocumented South American immigrant named Maria in the church basement.
Maria isn't entirely well, or at least she has a habit of saying exactly what she means, which is tantamount to illness in many circles. She knows she is beholden and she also knows she is being patronized.
In particular, she is being menaced by the officious church lady Loretta di Laurenzio Carter, a pull-up-the-ladder type who worries the anti-immigrant climate has made Maria's presence a financial and political liability. Actors Richard Waddington, Elizabeth Jasicki and Deborah Magnum-Price bring the tensions and limitations of Christian compassion to the fore in Walsh's character study.
Read more: How Cork became the center of Irish ballet history
5
"Border Bandits" by Rosemary Jenkinson is an excerpt from a longer play and it unfolds a few years in the future when farms along the Irish border, thanks to Brexit, now almost need passports for their grazing cows.
Into this no-man's-land comes Larissa, a Syrian refugee (played by Melis Aker) who is helped by the big-hearted but also cash savvy Finn (Aoife Kelly).
Persuading her father Michael (Aidan Redmond) to help the undocumented asylum seeker on her journey to Scotland is a tough task but Finn is equal to it.
5
This play and these actors produced skillful and utterly absorbing work. More of this soon, please. It's not every day or every year you get to witness a star on the rise but Aoife Kelly is one and her time is coming. You may have read it here first but it will not be the last.
"The Tambourine Boy" by Michael Fitzpatrick reminds us that the opportunity to meet some Mickeys is as good a reason to emigrate as any. He brings the fun back to the emigrant's journey and he sees the humor and absurdity in it too. Mrs. Clarke (Grainne Duddy) is the exasperated head of an old folks' home who can't cope with Bernie (Siobhan McBride) the latest live wire hire.
Read more: Irish Rep brings the Sean O'Casey trilogy to New York
But just as you relax into the comic stylings of Fitzpatrick's writing he pulls the carpet with an Irish emigrant's tale to stop the heart. Mrs. Clarke's great love is buried in a potters field and she has been quietly saving to bring him home to Ireland, the play reveals. It's a stunning moment.
"Girl in the River" by Honor Molloy has the eloquence, fury and claritas of a god speaking from a cloud. During it Aoife Kelly achieved a tonal shift that astonished me, taken back to back with her earlier performance. For far too many women still, the journey of life is often in the hands (and at the mercy of) men and Molly's searing play makes the cost of that indelibly clear.
"The Transfer" by Brona Crehan asks the most poignant and most Frielian question of all, why do I have to go? And what did it cost me and what have I learned?
Her answer, as performed by Sean Gormley, is also Friel's in Philadelphia, Here I Come: "I don't know." Leaving is only the start of the process, after all. The hard work is finding a secure place to lay your hat in.
You can catch a further show from the festival in New York's Irish Center on Thursday, January 24, and Friday, January 25. Behind the music, the closed door, inside the mind of a young man, there is a darkness, a heaviness that will not go away. "Blinkered" tells a story about Ryan. You may not know him but you may know someone like him. Find more information and tickets here. 
The Origin's 1st Irish Theatre Festival is running throughout New York until January 28. You can find out more information about further shows and events here.