When I began to take an interest in travel, I was told by a fellow globetrotter that she found comfort in the fact that most anywhere on earth she could find that special place which would make her feel at home—an Irish Pub!
In fact, there are Irish pubs—many not owned by the Irish—in some of the most unexpected places: Moscow, Nepal, Argentina, Mongolia, Indonesia, Australia, Bolivia and Cambodia. Still, I was rather surprised to find an authentic Irish Pub in the state of Israel. Molly Bloom's is an unexpected treasure. It's location in Tel Aviv, on the corner of Hayarkon and Mendele Streets, is a block away from the beach, up the street from the American Embassy, and surrounded by hotels.
I discovered Molly Bloom's on my first trip to Israel back in 2008, and I must say, it was a delight. I sidled up to the bar and ordered a pint of Guinness and a Jameson. I sent photos to the patrons of my local saloon in Greenwich Village in New York. "Even in Israel!" I wrote. Comfort—that is what Irish pubs bring us. A sense of belonging and familiarity.
Molly Bloom's is owned and operated by Robert Siegel, who emigrated from Ireland when he was 22-years-old. With a small community of Irish Jews in Israel, I asked Siegel when he emigrated. "Thirty-seven years ago—a long, long, long time." When I asked why he left Dublin for Israel, he shrugged and replied, "I don't know. I was young and stupid."
He thought that over a moment. "At the time, I was feeling a little Zionistic, a little impulsive. Back then I wanted to study English literature and history." So why open an Irish Bar in Israel of all places? "I liked drinking. My father used to take me to his locals. Bars in Dublin are a part of everyday life. After soccer. Drink was always part of Irish culture and Jews typically do not drink.
Jews learned to drink with Kiddush." [Note: Kiddush is a ceremony of prayer and blessing over wine performed by the head of the household, usually on the Sabbath.] "You know, when mom gave birth, they came around the hospital once or twice a day with a trolley and gave out small bottles of Guinness to replenish iron."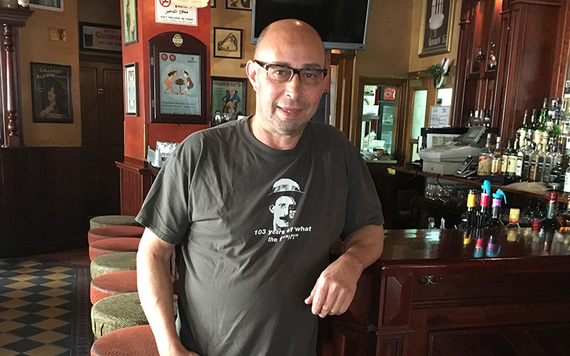 4
President Herzog was a family friend
Siegel grew up in the Terenure section of Dublin, which has traditionally been the home of many of Dublin's Jewish families. His late father Jack, was raised in the South Circular Road area. Quite a few Jewish families fleeing conditions in Lithuania (then part of the Russian Empire) arrived in the early 1870s and eventually settled off Lower Clanbrassil Street. Many of them settled along the South Circular Road. Now the area is home to a large Muslim population.
In fact, Jack Siegel and Chaim Herzog, the sixth president of Israel (1983-1993), grew up together. Herzog used to visit Jack's house because he liked his mother's cooking. When he became president, Robert and his sister were at the party for him, which welcomed the Irish living in Israel. When he was introduced to Siegel, Herzog said he had a good friend by the name of Jack Siegel and asked if Robert knew him.
"The first question he asked after he found out I was Jack's son was if my father ever got married! It was funny because my dad was 48 when he finally married my mom. That was just a moment in time. I'm 58 and I've never been married."
I asked Siegel if they have customers from the Irish Embassy. "We always get to know the ambassadors. When we opened, we had the ambassador at the opening party. They come for rugby matches. They call us, 'The alternate Irish Embassy.'"
The walls of the bar display photos of Irish political activists, writers, and poets such as Michael Collins, Eamon de Valera, Charles Stewart Parnell, James Connolly, Padraig Pearse, James Joyce (but, of course!), Brendan Behan, William Butler Yeats, Sean O'Casey, and artist Jack Butler Yeats.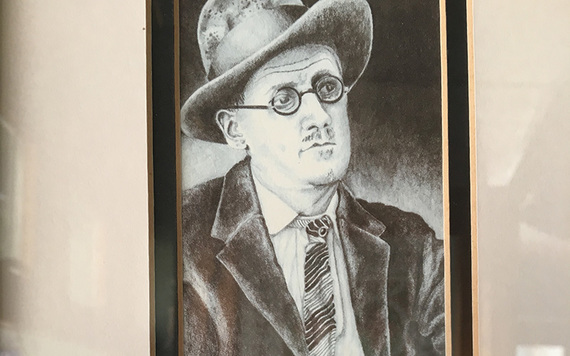 4
Back in Dublin, Siegel was raised in a traditional kosher home. His father manufactured badges, medals, coins and pins. Early on, he worked for his dad, who dreamed of retiring in Israel. Sadly, he was never able to live that dream. He did get to visit several times.
Siegel's interests veered toward hotel management. As a family, they used to vacation in Northern Ireland. They stayed at a grand place, called The Slieve Donnard, and as time passed, his fascination with hotels grew. For Siegel, it was decision time. Did he take over his dad's business or leave Ireland?
In 1980, Siegel made his way to Israel. He lived on a Kibbutz in northern Israel on the sea of Galilee, he served in the army for two years, he studied the language, and finally, in 1984, he made it into Hotel Management School in the city of Tel Aviv.
He got a job with the Sheraton Hotel on the beach in Tel Aviv, which is just up the street from Molly Bloom's. He worked his way up from bus boy to food and beverage manager. In 1991, just after the Gulf War, he left the Sheraton and partnered with his friend, Ronny Levy, who was in the youth hostel business.
In 1994, the business partners opened a guest house called The Gordon Inn. There was a small dining room/bar that quickly became a popular local saloon. Siegel and his partner wanted a Guinness tap. Coca-Cola had (and still has) the Guinness franchise. Their Guinness is imported from Dublin and Dublin only. They wouldn't give them a tap as they considered their pub too small. Ultimately, they struck a deal by agreeing to put Coca-Cola in all their hostels and in exchange, they got their tap. Within four months, they were number-four in Guinness sales in Israel.
Molly Bloom's is born
In 1997, the Guinness area manager, Ian Trier, came to visit with a Coca-Cola rep. Trier was from Britain. When he found out Siegel was an Irish Jewish immigrant, he wanted to talk. He was impressed with their Guinness pour. When it comes to Guinness, the pour—using the correct glass, the proper angle, and taking the allotted time—is the art of perfection.
Intrigued, Trier suggested that Ronny and Robert open the first legitimate Irish pub in Israel. After much discussion, the partners decided it was too risky. But Ian Trier continued to push and push. He took Ronny and a business trip to London where they visited Irish Bars. Ronny was convinced and they began looking for locations.
Molly Bloom's present location was once a Chinese restaurant. It was also a bar called the Chimney and by coincidence, Siegel wandered in on opening day and was indeed their very first customer. Ultimately, they got the space and in November of 2000, Molly Bloom's was born. Named after the fictional character in James Joyce's novel, Ulysses, Molly Bloom was married to Leopold Bloom, an Irish Jew. In 2004, Siegel and his partner did in fact open their second bar, Leo Blooms, which they sold in 2015 to some young Israelis and it is still in operation today. In 2014 they opened a second Molly Bloom's in Tel Aviv's Sarona Park, and recently, a German Biergarten, in Tel Aviv's North Port.
Although Molly Bloom's stocks a wonderful selection of Irish whiskeys, Kilkenny Irish Cream Ale, and Magners Irish Cider, Guinness is by far their biggest seller. Since they opened, they have sold more Guinness as a single unit pub than any pub in Israel. Coca-Cola imports their Guinness straight from Ireland. According to Siegel, "the day Guinness stops coming in from Dublin, is the day I stop serving it and drinking it."
Molly Bloom's is not kosher, but in keeping with Jewish tradition, they do not serve Pork or seafood. They are open Fridays and Saturdays.
Molly's serves a selection of traditional Irish food including, Fish and Chips, Irish Beef Stew and Spicy Lamb sausages (cooked in Guinness), Guinness sausages, Sheppard's pie, and their version of an Irish breakfast, served with lamb sausages.
Every Friday in the early evening, Molly Bloom's features a seisiún, featuring music and singing. The musicians are made up of Israelis who enjoy playing Irish music. At one point, when Irish music was extremely popular in Israel, they had live music three times a week. And, of course, one must change with the needs of the business. That's why they have television.
Soccer is very popular in Israel and Israelis do enjoy their television. Their clientele averages about sixty percent Israelis and 40% tourists. These include, British, German, and Irish business travelers from companies such as Intel, who find a home away from home at Molly Bloom's.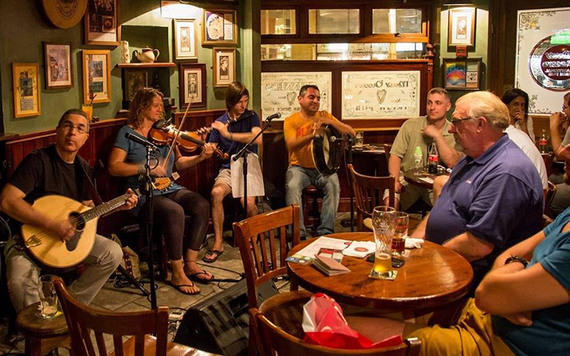 4
Of course, Bloomsday and St. Patrick's Day are big events at the pub. "On St. Patrick's Day," said Siegel, "all the furniture comes out. We use plastic glasses. No corned beef and cabbage. It's not popular here. And no green beer. It's where I draw the line. On Bloomsday, we always have a T-shirt made. Anyone who drinks three pints of Guinness or Kilkenny gets a T-shirt."
There are other pubs in the State of Israel, which are Irish in style, and certainly in name. But when it comes to authenticity, Molly Bloom's is as close to a genuine Dublin pub as you can get.
* Joanie Leinwoll was a Jewish bartender in Irish bars for twenty-five years. She recently completely her first novel, titled, Wild Is the Wind, and is working on her second novel, titled Jump. She can be reached at Joanieleinwoll@gmail.com.
Molly Bloom's: Mendele Mokher Sfarim St 2, Tel Aviv-Yafo, 63907; Phone: +972 3-522-1558; www.molly-blooms.com.