Guinness, celebrating 200 years in the USA, is giving back this St. Patrick's Day, paying out for all your Guinness 'Staches.
This year Guinness is celebrating 200 years in the United States. This extra special St. Patrick's Day Guinness is giving back by donating $1 for every photo of a Guinness 'Stache they are tagged in on social media (until March 31). They've also launched a limited-edition Guinness Draught can which will be available just in time for fans St. Patrick's Day celebration.
The latest limited-edition collectible can is part of an ongoing series celebrating the famed Guinness ad campaigns of the 1930s and '50s. While it doesn't have a mustache, the kinkajou – which we thought was a sloth at first – will be featured on this version.
In October 2017, Guinness also released limited-edition Guinness Draught cans, featuring various zoo animals. Previous limited-edition cans have featured the much-loved Guinness toucan and tortoise, among other works.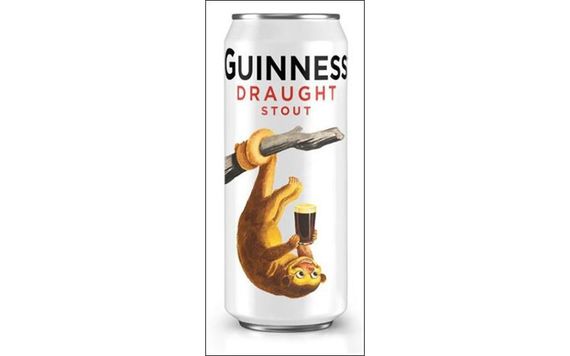 3
These collectibles are just part of Guinness' US St. Patrick's Day celebrations. In the days and weeks leading up to March 17 Guinness is encouraging all Americans, 21 years and older, to make a simple pledge (assuming they've already promised to drink responsibly, of course): gather with friends, new or old, toast to the many things we all have in common…and give a 'Stache.
Read more: Guinness gives back with a 'Stache for milestone USA St. Patrick's Day
Indeed, this St. Patrick's Day, the Guinness 'Stache – that unmistakable hint of foam left behind on the upper lip after the first sip of stout – is back as a symbol of the goodness and the Irish-ness that lives within all of us.
From now through March 31, 2018, when adult beer lovers share photos of their 'Staches – self-grown and groomed, drawn-on, or Guinness-enhanced – on social media (tagging @GuinnessUS and using #StacheForCharity), Guinness will donate $1 (up to $100,000) to the Guinness Gives Back Fund*, which supports nonprofits that contribute to the common good in our communities, including Team Rubicon, a veteran-led disaster response organization.
3
The symbol of the 'Stache will appear alongside Guinness brand activity at bars and restaurants and on social media throughout the St. Patrick's Day season, including in some digital content that pays homage to 200 years of mustaches in America. To spread the word about the bonds a 'Stache can build, the brand is releasing additional digital content that will help us all reflect on the friendships we cherish – and some very recognizable Guinness fans will also get involved in spreading the word.
To keep an eye on everything the Guinness brand is doing and to get in on the 'Stache action, follow @GuinnessUS on Twitter, Instagram and Facebook.
Happy St. Patrick's Day!