Seven floors of surprises is what makes the Guinness Storehouse Ireland's most visited tourist attraction and one we'd be happy to visit over and over again.
It is no surprise that the Guinness Storehouse, nestled in the heart of the Guinness brewery at St. James's Gate, is the most visited tourist attraction in Ireland. A wealth of entertainment, education, and history - the Guinness Storehouse is seven floors of surprises. 
IrishCentral had the pleasure of spending an afternoon at the home of Guinness and, on every floor, we were bowled over by wonderful snippets of Guinness history, beer making knowledge, and exciting new creations, like the Stoutie, that lay in store. 
The shape and wonder of a pint of Guinness
Upon entering the self-guided behemoth of a building we were greeted with a short introductory speech by a member of staff. We gathered around a piece of paper, the original Guinness lease, displayed under glass in the floor. This is a perfect illustration of the genius and wonder behind the Guinness brand.
From humble beginnings in County Kildare, Arthur moved to Dublin, in 1759, and signed a 9,000-year lease on St James's Gate Brewery. That's how confident he was of Guinness's success.
Now, this document lies below the seven floors of the Guinness Storehouse, in an atrium which is the shape of a pint of Guinness.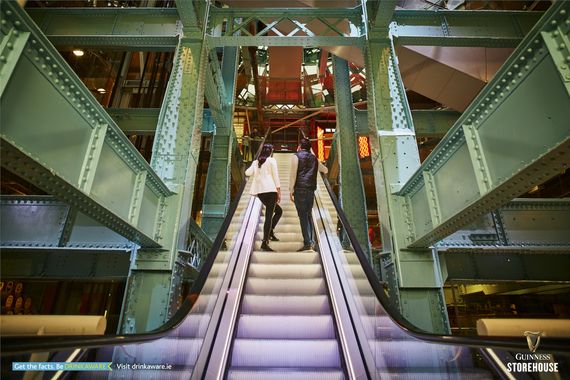 6
Guinness brewing, barrels and bombs
As you move through the exhibition space, visitors learn a great deal about the brewing process from the core ingredients (roasted and malted barley, hops, yeast, and water) to how many nitrogen bubbles are in a pint of Guinness (300 million, in case you were wondering). 
The Guinness Storehouse is also a homage to the social history of Guinness and its employees. The area dedicated to the coopers (craftsmen who built barrels, by hand) is just wonderful. In an exhibition room made of barrels visitors have the chance to see original footage of these incredible craftsmen, who trained for five to seven years, at work.
The transport used by Guinness, including trains, barges, and ships, are another source of surprisingly dramatic tales. For example, among the fascinating models of the historic vessels, was that of S.S. Carrowdore, which was damaged during World War II. In July 1941 it was struck by a German bomb, just 15 miles off the coast of Dublin. Incredibly no one was injured but part of the bomb, which is on display in the transportation section, survived.
Appreciating Guinness
Of course, one visits the Guinness Storehouse for the beer so no trip would be complete without an education in how to fully appreciate a perfect pint of plain. However, these tasting rooms are far from a classroom setting you might expect.
The multi-sensory tasting journey brings the distinctive flavors of Guinness to life - awakening your senses before you taste the best Guinness you'll ever have.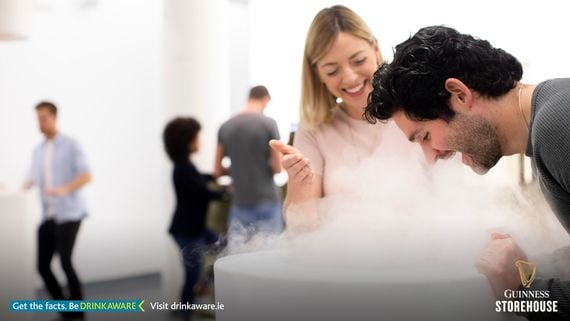 6
Next, the reception room, known as the Velvet Chamber, is filled with historic treasures and portraits of Head Brewers from Guinness history. Inspiration for this dark and unusual room was taken from the interior of Arthur's own house on Thomas Street.
One of the world's most famous brands
"Lovely day for a Guinness!" "My goodness, my Guinness!" "Guinness for strength!" We all know and love Guinness advertising and the unique display of John Gilroy's art, ads, and promotional displays are just a delight to behold. You'll also be amazed by how many of the iconic TV ads over the decades you'll recall.
Becoming a Guinness expert
Of course, you can't leave St. James's Gate Brewery without learning to pull the perfect pint of Guinness. Guinness Ambassadors are on hand to guide you through the process (which is one of two halves and should take exactly 119.53 seconds). 
Once you've completed your training and the task at hand you'll receive a certificate showing you've officially graduated from the Guinness Academy!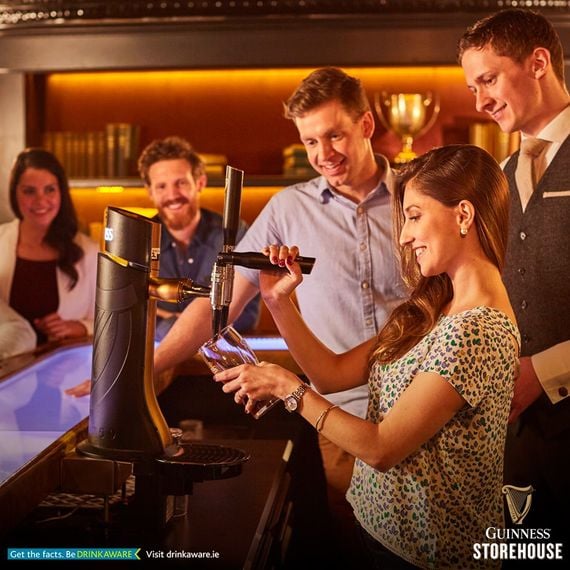 6
This floor's new "piece de resistance" is the Stoutie. We've all heard of selfies well now you can have your selfie printed (using malt as ink) on the top of a pint of Guinness. The results are just incredible... and also delicious.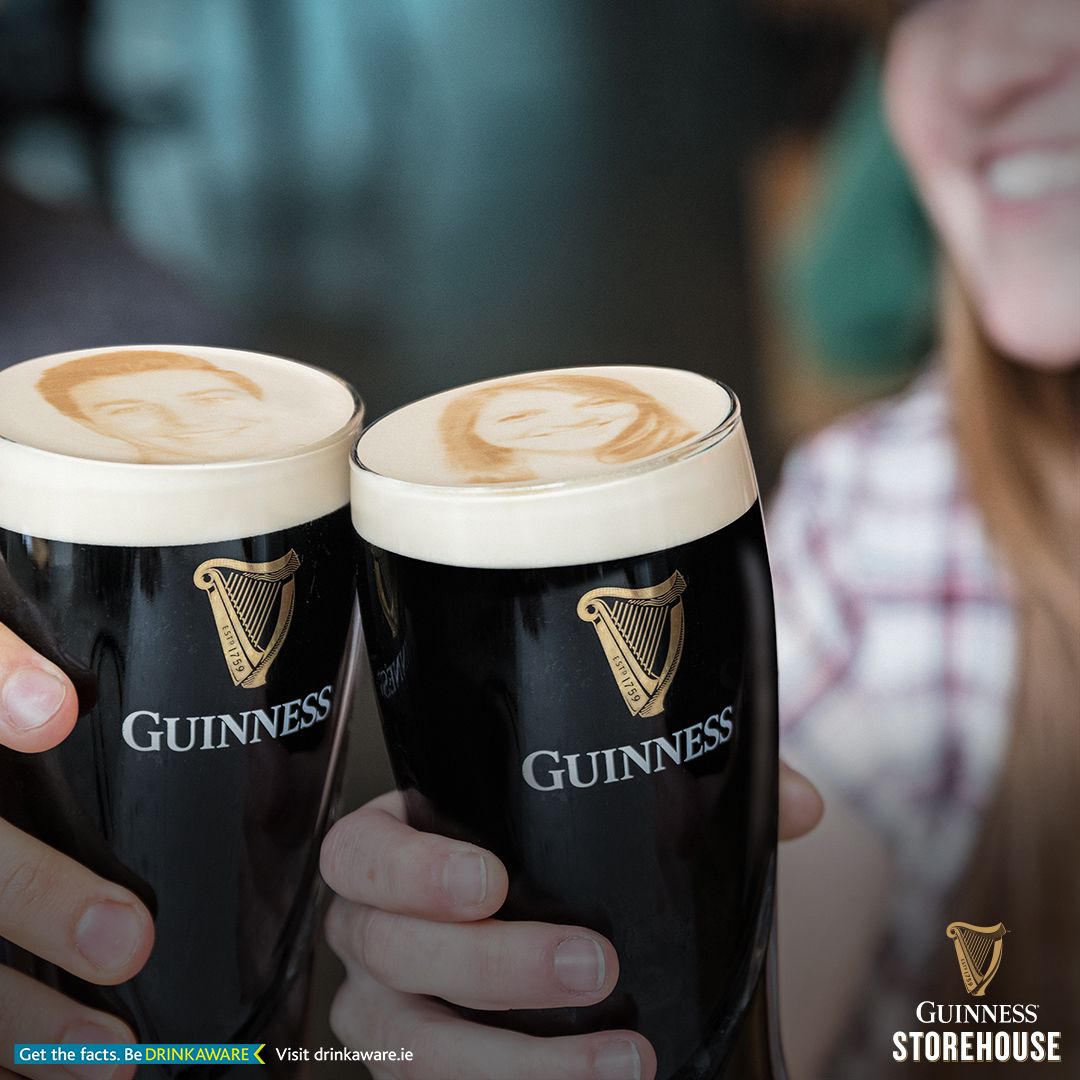 6
Also on this floor is the Connoisseur Experience, which needs to be booked separately. The connoisseurs are guided into a plush secret bar for a tasting experience with a Guinness beer specialist.
Guinness foodies
Guinness and good food are a perfect combination. While the popular food pairings of Guinness and  Irish stew or oysters might spring to mind there's much more to Ireland's modern food scene. The chefs at the Guinness Storehouse make the most of Ireland's wonderful produce and do not disappoint.
As your Guinness Storehouse experience comes to a close you can sample some truly delicious food at one of four restaurants - the Brewers' Dining Hall, 1837 Bar & Brasserie, Arthur's Bar, or The Cooperage Café on the first floor.
A Guinness bar with a view
The Gravity Bar, sitting atop the Guinness Storehouse, has one of the best views of any bar in Ireland and the best Guinness. 
Here, after hours of exploring all the Guinness Storehouse has to offer, you can redeem your voucher for a free pint of Guinness, sit back and enjoy panoramic views across Dublin city's magnificent skyline. Simply magical!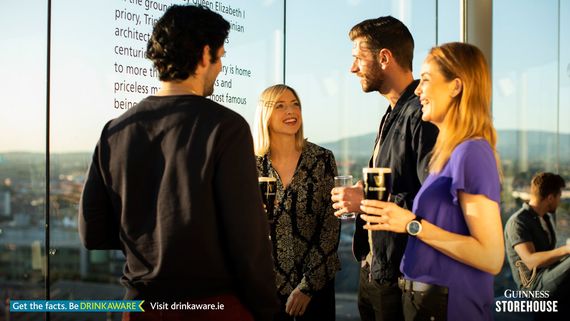 6
And what's even better is that in 2020, the Guinness Storehouse will be opening a second Gravity Bar right next to it! 
The Guinness Storehouse may be the most visited tourist attraction in Ireland but what we didn't expect what that this building at the heart of Guinness is jampacked with surprises. In fact, we might just need a second visit!