It's time to break out your favorite green gear because St. Patrick's Day is finally here. Everyone knows the custom to enjoy a colored beer or heavier stout, but it's important to harness the Irish spirit of the holiday. As a refreshing Irish bevvie that's been produced in Clonmel for over 80 years, we at Magners Irish Cider have outlined how to celebrate St. Patrick's Day… properly.
The Proper Meal
There's an Irish saying…  "Eat breakfast like a King, lunch like a prince and dine like a pauper". It's important to start the day with a large meal, especially before a day of St. Patrick's Day celebrations. Reflecting the old motto, a Proper Irish Breakfast was traditionally concocted to prepare for a full day of work. Start your own tradition and kick off St. Patrick's Day with the Proper Irish Breakfast below!
The Proper Irish Breakfast –
(2 servings)    
4 Irish sausages aka bangers
4 slices of Irish bacon aka rashers
1 8-ounce tube of black pudding
1 8-ounce tube of white pudding
4 large eggs
4 small tomatoes - cut into quarters
4 boiled potatoes - cooled and cut into 1-inch cubes
1 can of Irish beans
white pepper and salt to taste
Irish butter
grated Dubliner cheese (optional)
Irish brown bread aka brown soda bread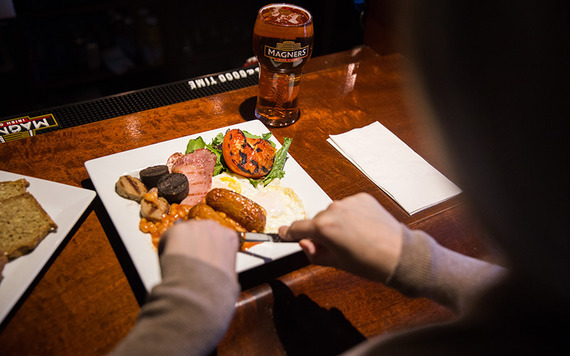 3
Preheat oven to 250 degrees.Fry both the bacon and sausage until cooked. In a small sauce pan over medium heat, warm the baked beans.Slice the puddings to a thickness of your liking and begin frying. Add the potatoes. After a couple minutes, add the tomatoes. Continue to cook and flip until all ingredients are nicely browned. Finally, fry the eggs to your liking. Top with grated Dubliner cheese if desired and season to taste.Prepare plates with a serving of each dish and serve immediately with Irish brown bread.
The Proper Music
"The older the fiddle, the sweeter the tune". Ireland has a vibrant history of music spanning back 2,000 years. Originally brought to the country by the Celts, the style of music is thought to have been influenced by music of the East. Irish music can be enjoyed through celtic, folk, and traditional irish pub songs, so make sure to find the right tune when celebrating this St. Patrick's Day.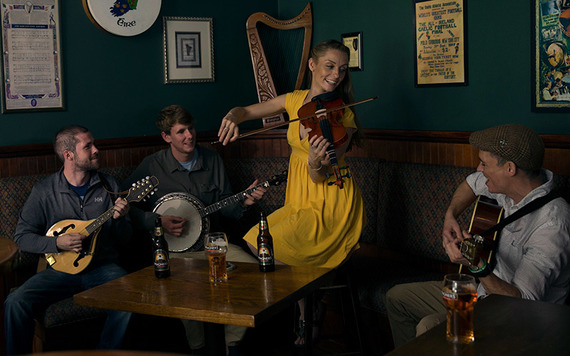 3
The Proper Toast
St. Patrick's Day is best celebrated with friends. So before you take a sip of your favorite Irish libation, perform the proper toast with one of these Irish sayings and enjoy a toast from our   Cider Maker!
"Sláinte is táinte!"
(SLOYNE-CHE ISS TOYNE-CHEH)
"Health and wealth!"
"Lá Fhéile Pádraig Sona Daoibh!"
(LA ALE-LAH PWAD-RIG SON-AH JEEV)
"Happy St. Patrick's Day!"
And don't forget…
"Pionta Magners, Le Do Thoil!"
(PYUN-TAH MAGNERS, LE DU HUH-IL)
"A Pint of Magners, Please!"
The Proper Pint
Guinness is the Irish stout. Jameson is the Irish whiskey. Magners is the Irish cider. Still crafted with the same recipe created by our founder William Magner for over 80 years, the countrywide favorite has come to be defined by authenticity, high-quality craftsmanship, and a historically unique purity of taste. Crafted with 17 varieties of apples since 1935, the oldest Irish cider is a refreshing alternative to the heavier St. Patrick's Day favorites.
As you enjoy a Magners for the holiday, there are several proper ways to pour the perfect pint. A popular cocktail combines Magners with your favorite Irish stout. Kick off the holiday with a Black Velvet!
Recipe:
Fill half a pint with Magners Irish Cider, then top off with an Irish stout poured over the back of a spoon. This helps separate the stout from the cider!  
If you're looking for a simple sip, Magners is both enjoyed in an ice cold pint, or over ice!
Now that you have the proper tools to map out the perfect holiday, we'll leave you with one more message from all of us at Magners…
Sláinte and Happy St. Patrick's Day!