A 17-year-old has invented a new Cadbury Dairy Milk chocolate bar, Choca-latte, which will now sit alongside iconic bars such as Caramel, Fruit & Nut and Whole Nut on supermarket shelves across Ireland and the UK
Like some Willy Wonka wonderland dream, an Irish teenager has invented a new Cadbury Dairy Milk chocolate bar, Choca-latte, at the famous chocolatier's HQ.
Callum Clogher's invention will become the latest addition to join the iconic Cadbury Dairy Milk range after winning a public vote that put him head to head against two other finalists. The intense and delicious winning flavour will now sit alongside iconic bars such as Caramel, Fruit & Nut and Whole Nut on supermarket shelves across Ireland and the United Kingdom from September.
3
Clogher, a 17-year-old student from County Roscommon, created Cadbury Dairy MilkChoca-latte off the back of his love for coffee and chocolate and was able to bring to life this unique bar along with the Cadbury Research & Development team in Bournville, as Cadbury opened its doors to its fans for the first time.
Read more: Top fun facts about Cadbury's chocolate
The winning bar consists of a delicious mix of coffee cream and vanilla sandwiched in between the smooth taste of Cadbury Dairy Milk.
Speaking about the experience, Callum said "I am delighted to be the winner of the first Cadbury Inventor competition with my bar Choca-Latte! The whole experience has been brilliant; from visiting Bournville, seeing my bar in shops and even seeing my face on posters all around Ireland, it has been completely surreal."
Fancy having a go and becoming the next chocolate inventor? For the second year running, Cadbury is calling upon the nation to 'go madbury for Cadbury'. From today, chocolate fans will have the chance to create their very own Cadbury Dairy Milk bar, which could become the newest addition to the iconic Cadbury Dairy Milk family.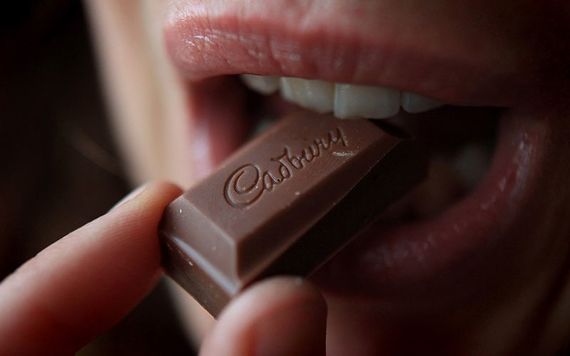 3
Chocolate lovers can pick from a range of tasty and unusual ingredients! From gooey brownie, crazy popping candy, spicy chilli and even edible glitter to classic ingredients of raspberries, raisins and almonds. There's over a whopping 90,000 different available combinations to choose from and once the ingredients are selected entrants will be able to name their bar and explain what inspired their creation before submitting their entry.
Maighréad Lynch, Brand Manager at Cadbury, says: "We are very excited to reveal Callum as the winner of our first-ever Cadbury Inventor Competition. His creation was both innovative and delicious and just goes to show what can be created when our fans go madbury for Cadbury.
We are thrilled to now also be re-launching the Cadbury Inventor Competition for a second year and seeing what other delicious creations our fans come up with. With so many ingredients to choose from, chocolate lovers across the country are sure to be spoilt for choice and we look forward to seeing the imagination of our fans shine through."
All entries will be put through a rigorous judging process with the finalists being selected based on two very important elements: taste and creativity. Three lucky finalists will be shortlisted at the end of September and given the chance to visit the Cadbury Chocolate Centre of Excellence in Bournville, the home of Cadbury, where they will work with chocolate experts to experiment with their ingredients and make their creations a reality. The three shortlisted bars will be made available nationwide for chocolate fans to sample in 2020 and vote for their favourite.
Read more: Celebrate Cadbury's with this chocolate pot with nutty biscuits recipe
If you want to win a chance to invent the next winning bar, please visit www.cadburyinventor.com or visit www.facebook.com/CadburyIreland for more details.