Want to try your hand at a Kennedy family recipe? These legendary eggy waffles, frequently made by former first lady Jackie Kennedy, were said to be a favorite of JFK's.
Editor's note: Throughout November, IrishCentral is commemorating Kennedy month, in honor of the famed Irish American political dynasty and their legacy. In the countdown to the anniversary of JFK's assassination on November 22, 1963, we look at the events surrounding his death, his family history and some interesting facts surrounding the 35th president.
The archives of the John F. Kennedy Presidential Library and Museum show that the Kennedys were constantly receiving requests for their favorite recipes. This one recipe, in particular, showed up in multiple publications.
Different versions of this recipe have appeared in several cookbooks, including "Political Pot Luck: A Collection of Recipes from Men Only, Kings In The Kitchen: Favorite Recipes of Famous Men," "The Celebrity Cookbook" (compiled for charity by Dinah Shore), "Many Happy Returns," and "The Democrats' Cook Book Or How to Cook a G.O.P. Goose." It also appeared in a collection of recipes solicited by a class of sixth graders at the Post Avenue School in Westbury, NY and the food columns of The Catholic Standard and Claypool Features Syndicate, reports ExtraCrispy.com.
It was said the First Lady made the waffles often for her husband and children.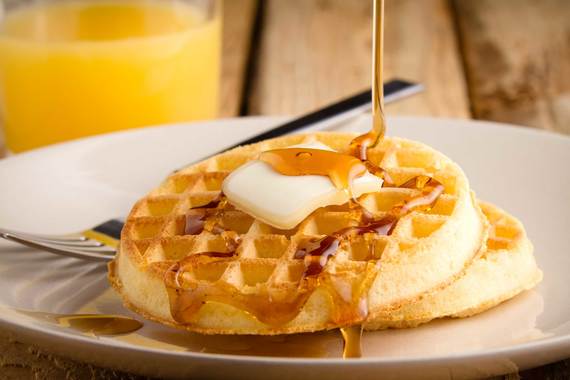 2
Read more: Remembering JFK – the assassination took place 53 years ago
Here is the recipe from the National Archives Catalog:
President Kennedy's Favorite Waffle Recipe
½ cup butter
1 tbsp. sugar
2 egg yolks
7/8 cup milk, or 1 cup buttermilk
1 cup plus 1 tbsp. of sifted cake flour
1 pinch salt
2 stiff beaten egg whites
4 tsp. baking powder
1. Cream butter and sugar, add egg yolks. Beat. Add flour and milk alternately. This may be done at any time. When ready to bake fold in egg whites, and add baking powder. The mixture should be thick and fluffy.
2. Cook in a waffle iron and serve with hot maple syrup and melted butter.
Do you love Irish food? Get all IrishCentral's recipes in one place here
* Originally published in 2017.