Owner Morgan Ging talks about the Kilkenny distillery's symbiotic relationship with the family farm and their commitment to sustainability and their premium whiskey, gin and poitin. 
While we hadn't heard much about Ballykeefe before we ventured to Kilkenny for the Savour Festival, but we are now obsessed with the brand, thanks to their stellar commitment to sustainability and their premium whiskey, gin and poitin products. The Ging family are all involved with the farm and distillery, helping to create the symbiotic relationship between the two.
Read more: Irish whiskey cookies, perfect for Christmas
While the Distillery has only been open a short while, Morgan has created some fantastic spirits including limited edition Aged Irish Vodka and Sloe Gin. His Extra Dry Gin was awarded bronze at the World Spirits Championships in San Francisco earlier this year, so you know you're getting a quality product.
We met with Morgan while we were in Kilkenny to find out more about his family, his products and his ultimate dreams for the distillery.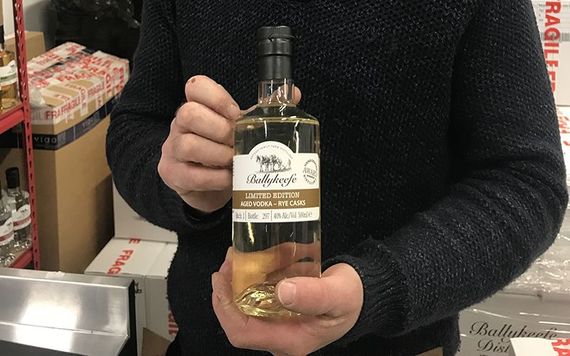 4
While Morgan has been farming for over 25 years, the distillery has been in operation for only four years.
" I always wanted to have my own distillery but I couldn't get the license 25 years ago. Then four years ago, I tried again and we were successful. Ballykeefe Distillery was established in June 2016 and we commissioned our first sprit in August 2017.
We were lucky to work with a fantastic Italian guy who created exceptional equipment for us, as there is nobody in Ireland to make the stills required for distilling. We dealt with the owner at Barrisans ensured that the equipment was perfectly suited for us to make our award-winning spirits."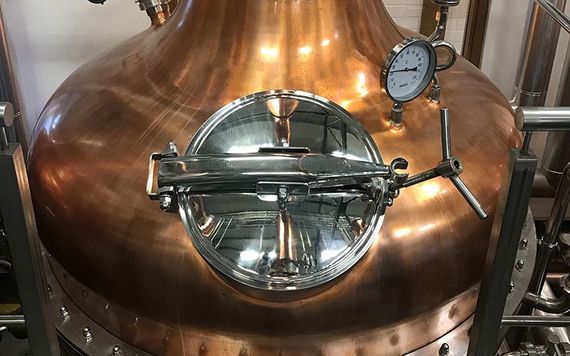 4
One of the most impressive things about Ballykeefe Distillery is Morgan's total commitment to sustainability. Through his processes, he has ensured that the farm and distillery work together to create a symbiotic process, each benefitting the other to create a very low ecological footprint.
"We grow the barley here ourselves and then the by-products are used to feed the animals.
Everything is designed to link together which adds value to the grain and to the animals because they're branded through whiskey.
The leftover grain is full of protein which we give to the cattle as a balanced ration as part of their diet. Along with the distillers grain, this changes the profile of the meat to whiskey steaks. The Ballykeefe whiskey steaks have a unique whiskey profile to them and we are now selling them to local butchers and restaurants, who are going mad for them!
Read more: Whiskey the secret to 105-year-old man's long life
The leftover botanicals from the gin are eaten by animals, then the straw they lie on is used as fertilizer. We have a caustic wash-down system that neutralizes the pH of the liquid we waste to bring it back to water, which is used for the land.
Everything here is sustainable and we're the only distillers in Ireland that can say we have no waste. I don't even use chemical fertilizer! I want to hand on this farm to the next generation, my kids, in a better state than I got it so that they can keep making sure it's not a burden to the environment."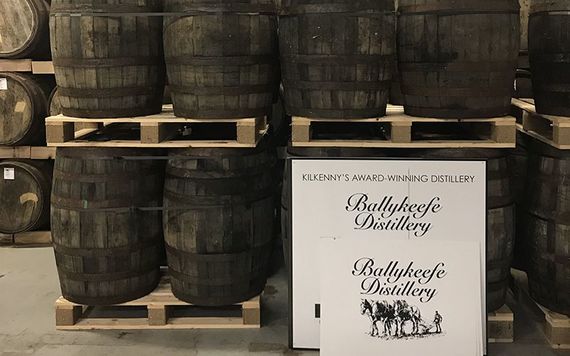 4
Sarah, Morgan's eldest daughter, is currently studying Food Innovation at DIT and has a keen interest in everything going on at the distillery. When we visited the farm, she gave us lots of tips for how to handle the gin and why it's made in this way, showing that Ballykeefe Distillery really is a family run venture.
The rest of the family are just as involved, Morgan tells us:
"I'm very lucky, the whole family was so excited to get involved with the distillery. There have been no complaints from, not even last night when we were up until about midnight bottling for the festival. It allows us to bond. After we were finished last night, we all sat around the table to have toasted cheese sandwiches with tea and a chat.
Everyone really does help out here: My two daughters will be helping out tomorrow at the festival, then Kevin, who's sixteen will look after the farm. Aiden is the youngest, but even he helps where he can.
I'm really proud of them for taking such a role in business. We're so busy, which means I don't have as much time now, but they get involved to help out, like by feeding cattle or helping with setting up things at festivals. When we have visitors on the tours, they see that the kids are so involved which really shows that we are a family business."
With a story like theirs and exceptional products (which, having tasted, I can attest to!), we are sure that the Gings are only beginning their journey with Ballykeefe Distillery.
Read more: Whiskey makes you live a longer, healthier life, says science
Look out for Ballykeefe Distillery products in all premium outlets around the country. Find out more about their distillery tours and award-winning products here.
* This article was originally published on our sister website, FOOD&WINE.ie.