Executive Chef Alex Petit on his passion for food, their newly launched fine-dining restaurant menu and the wonderful local produce of West Cork.
Earlier this month, I was lucky enough to visit the beautiful town of Rosscarbery in West Cork. Staying at the luxurious Celtic Ross Hotel, which was recently awarded the title of Best Three-Star Hotel in Ireland at the National Hotel & Catering Review Awards, I was able to get a true understanding of what makes this area so special.
As well as the brasserie menu, the hotel has recently launched a new fine-dining restaurant menu, which focuses on quality local produce. The launch of this menu was spearheaded by executive chef Alex Petit and head chef Shane Deane, who joined the team in April.
While I was in Rosscarbery, I had the opportunity to sit down with Alex to find out more about him, his ethos and his team. What, I wondered, had made a French chef fall in love with West Cork? Was it the food? The people? The general Irishness of the place? Well as it turns out, it's all of the above.
Read more: Ireland's most beautiful landscape - Beara, West Cork
Read on to find out more about Alex and Celtic Ross Hotel…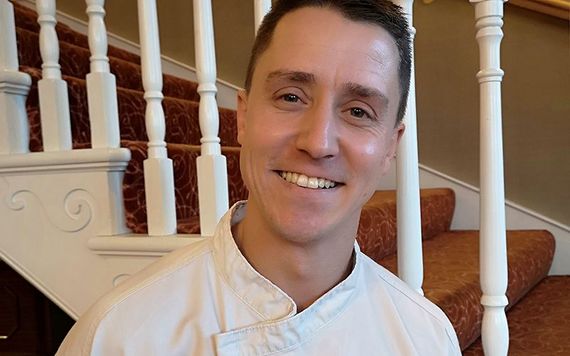 5
Tell me more about your background
"I became passionate for food at sixteen. I told my Dad that I wanted to try it out, he picked a local fine-dining restaurant that specialized in seafood and I worked there for a couple of weeks. It was a revelation; I loved the buzz, service and the passion people had for food. After that I did 6 years of catering studies in France where I studied five days a week and on the weekends, I worked in nearby five-star hotels.
I had no English at that time so I was sent to Ireland for two months to learn the language and meet new people. That was 18 years ago and I was actually sent here to the Celtic Ross and I loved it, so I went back to France and finished my studies, then came back to Cork the following year. Then I met someone very special here and I never went back.
We traveled a good bit after that, then I came back here to work in the Kingsley Hotel, Hayfield Manor and a local café focused on organic food. After that, we joined generation emigration and went to Australia. We only stayed for a year before we came back but it was amazing, because their food is so different, so it taught me a lot.
We came back to Ireland in 2011 and I took the head chef job at Oyster in the Clarion, which took over from Le Gourmandise. I was there for 2 ½ years, it was an amazing experience. Then the opportunity to come back to the Celtic Ross came up. I met Neil, who is the manager here, and even though he's Scottish, his wife is local so he has a serious passion for local food. He is really pushing forward and supporting West Cork. When I spoke to him, I really got that vibe from him so I thought to myself this is it, this is the challenge that I want to try."
Is local produce a big passion for everyone here?
"Definitely! When we do menus here, me and Shane get out of the kitchen and we try find as many local suppliers as we can that we don't already have on the menu and bring them in. We try to give a chance to as many small suppliers as we can. It makes our daily ordering take a lot of time because we have so many people to ring! The produce that we get into the kitchen is great, so it's amazing for us to use. There's a lot of places where you don't have the luck to get such good local produce so we really embrace it and try to make the most of it. At the end of the day, the chef can't make good food if they don't have great produce to start with, you can't turn something that's not great to start with into something amazing.
Now that we have this relationship with local suppliers, they come to us with samples to tell us what they're working on and to see if we'll be able to slot them in and we give them feedback on the samples."
What are some of your favorite products or suppliers?
"I think the fish in West Cork is mind-blowing. The fish man rings us every morning to tell us what he has, he gets it himself and makes sure it's of good enough quality. That's the relationship you should have with your suppliers.
Dairy is another one, when we heard of the buffalo farm up the road in Macroom we were amazed. They do their own mozzarella, fior di latte and more, it's amazing stuff. We use a lot of cheeses down here because I'm French and we love our cheese! But I respect what's being done down here because there is so much passion and love put into it. I respect that and I pass it on to the customer to let them enjoy that. I'm not the type to say 'I'm French and in France, we do everything the right way, we bring everything from France and cook it the right way'. Ireland has amazing produce so I want to give the public the opportunity to taste it and educate them about what's local."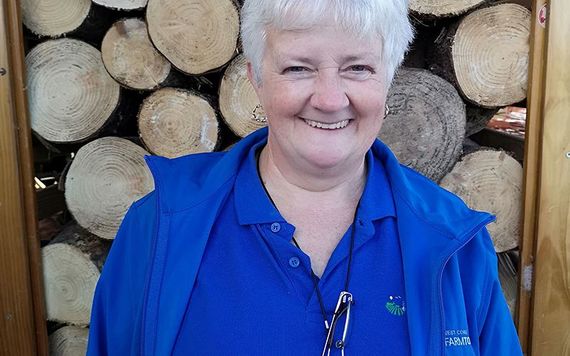 5
What has the reaction been to your usage of local produce?
"When I started here four years ago, the clientele was very different and they were used to bog-standard hotel food. Then I came in and said we need to give this a shot and use the amazing stuff that's around us. We had to take a gamble.
When we put in all the new stuff, we saw that people understood that the chefs in the kitchen had a passion for what they were doing. Suddenly the local community started to support us again and the local suppliers did too. It was a snowball effect, everyone has supported us and it's been very good for us. We are passionate about what we do, we don't accept shortcuts and we work hard for everything we do. The rewards for this are the customer's enjoyment and that they come back to us, that's what it's all about. Cheffing is a tough job but it's a really passionate job and you have to love it."
Read more: The seven wonders of beautiful West Cork
Tell me about the impact Shane has had on the food and the team here at Celtic Ross Hotel.
"Shane joined us about six months ago from Hayfield Manor. The market for chefs is in very bad shape at the minute and we're trying to give the young crowd that comes through passion and show that it's not just a job, it's something we all share as a team, it's not just the head chef or the sous chef that does the job. I want my team to be known more than me to be honest because that's what's going to elevate them and make them love the job. For about 3 years it was dodgy waters with just me trying to drive the team and we needed support to bring us to another level. Then Shane came through the doors and we are so lucky to have him.
Shane is funny because off the top of my head he only has about eight years' experience and now he's at the top level. It's all because he has a huge passion for produce and he wants everything to be done the right way. That's what's driving him to the top level. The two of us have a very funny relationship and work shoulder-to-shoulder, and that guides the team because we're saying 'come with us'.
Now that we have the restaurant menu as well as the brasserie menu we really had to find someone passionate that wanted to drive the company more and that was Shane."
What has the reaction been since Shane was brought in?
"I think everyone has been more passionate since he came in. We don't just bring in one menu now, we bring two with different trends and ingredients, which allows the staff to learn a lot of new techniques. The brasserie isn't as elaborate as the restaurant, so now we're using sous vide cooking, dehydration and other different techniques. We can afford to use different produce in the restaurant menu as well because it's a little more expensive, but the customer will still always get value for money. We're trying to bring the customer on a journey with us."
Since you've brought in the new menu and Shane, has highlighting the local produce become even more important?
"Yes, definitely. From day one, we always had about 16 local suppliers on the menu but then when Shane came in, we stepped it up again to about 22 suppliers. We have a new concept coming in in the new year where we are going to highlight a different supplier every two weeks. We'll do one dish as a special for two weeks, using one product from a supplier. Hopefully, this will help us to create a relationship with suppliers where they start to come to us with their new produce. We're aiming to start this initiative on January 15 and run it for the whole year so it will help the smaller suppliers who may not be able to get to the restaurants."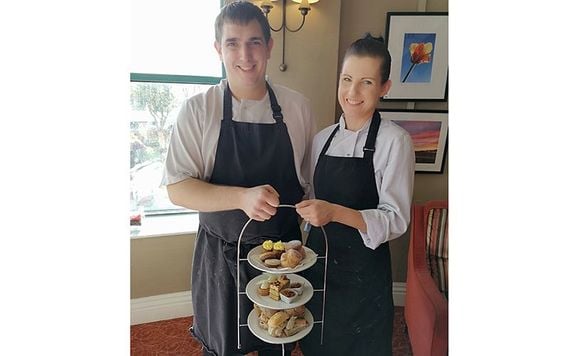 5
What is your earliest food memory?
"My grandmother didn't live nearby in Brittany, she was about a seven-hour drive away, so we would only see her every 3-4 months. Every time we went to see her she made us her magical dish, cassoulet. The recipe had been in the family for generations and it would take seven hours to cook. She would have to break the crust on the top seven times and there would be duck confit, Toulouse sausage, lard, vegetables, and beans all cooked to perfection. We could sit down at midday to eat and still be there at half four in the afternoon, just enjoying it. I've always tried to replicate it, but I've never gotten it right. Maybe someday!"
How have you found the people here in this small community?
"My first impression of Ireland and Irish people was the friendliness and the genuine care they have for one another, we have lost that in France. The sense of community and supporting people was mind-blowing for me, so I think that's what made me come back to Ireland initially.
Obviously, at first, I didn't know much about the local produce and suppliers because I was only new but the more people I met and places I visited, the more I discovered how great the food is here. If I could change the weather, it would be perfect!
I think Irish people are really proud of their sense of community. You always feel so comfortable around Irish people; you never feel out of place. I was really welcomed when I first came here. People were so genuine and there was no bad to anyone. The local suppliers here are nearly like friends now. I really cherish the community here."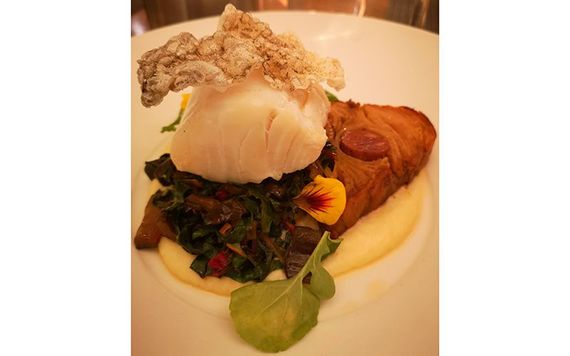 5
Dream dinner party guest
"One person who, in my eyes, has always been a huge ambassador to Irish food and is a Cork man as well, is Ross Lewis form Chapter One, so I'd love to have him down. His food is amazing, his cookbook is amazing and his whole use of Irish produce in ways that you wouldn't think of is amazing. One of his recipes that I love is his potato and buttermilk purée and you couldn't get more Irish than that. The whole concept of the food that he creates is so great so I would love to treat him to our menu, which is about 90% local produce."
Where do you see the Celtic Ross Hotel in the future?
"We need to keep going in what we do. We need to believe in and stay true to our values, which is local food served in a simple way and to respect the product from start to finish. We need to keep evolving our menus and following the seasons. We're currently a three-star hotel but we'd like to gain a higher rating in the future."
Read more: Irish whiskey expert reveals secrets of one of Ireland's highest rated, Ballykeefe Distillery
The Celtic Ross Hotel in Rosscarbery, County Cork is a three star hotel located on the Wild Atlantic Way. To find out more about the hotel, click here.
To see Alex's pork belly recipe, click here.
* This article was originally published on our sister website, FOOD&WINE.ie.