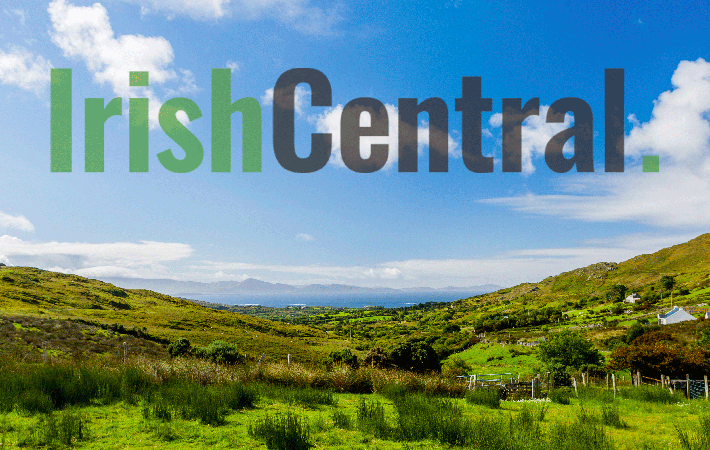 Success hasn't spoiled Irish Oscar winning singer/songwriter Glen Hansard. Fresh from his walk up the red carpet in LA, he returned to Dublin to give the coveted golden statue to his mother to show off in the bingo hall. This week the star of the hit indie film Once joins his co-stars on stage for a one night only concert in New York. CAHIR O'DOHERTY talks to his band mate and singer in his own right Colm Mac Con Iomaire.
SINGER-songwriter Glen Hansard, 38, has been a livewire all his life. Ask friends and band mates like Colm Mac Con Iomaire.
As long as anyone's known him, Hansard's been the kind of man who fears a familiar routine the way most people fear death. For his entire career Hansard's been looking at the road ahead, eager to be on his way.
That inner restlessness has marked his life too, always propelling him on to the next gig, the next album, and the next project. Just like Mac Con Iomaire, Hansard started out as a talented busker on Dublin's famous Grafton Street. It would be romantic to write that's how they first got noticed, but the truth is it took them both years.
Busking in Dublin in the late eighties, they just made enough to keep them in tobacco and not much else, because as anyone who spent time in Dublin during that period knows, times were tough, with emigration at its height, and only their passion for the music carrying them forward.
It wasn't until Hansard and Mac Con Iomaire formed the Frames in 1990 that the public finally started to take notice. Like any great band, there's a story behind the name.
Hansard's habit of fixing his friends' bicycles at the time had filled his back garden with bicycle frames. When the locals started calling his house "the one with the frames," the newly emergent band was christened.
Although over the years the band has become of one of Dublin's best-loved, Hansard's mother - the one who took the Oscar to the bingo hall to show the girls - always hated the band's name and her son's growing reputation as a bicycle mechanic.
Her back garden had become known far and wide. If anybody found a bike up on the nearby hill on the way home, for example, they would just throw it into her garden, a graveyard for old bikes. It drove her nuts.
From the band's earliest days its style was set. The Frames wrote harmonic and deeply felt songs about what really mattered in life - love, sex, sorrow, hope and fear.
But in the early nineties their unadulterated Irish sincerity was out of fashion, even a bit embarrassing. Irony was all the rage. Bands like Nirvana and Radiohead sang about alienation and social discomfort, stuff that music critics could get their heads around much faster. They crowds kept coming, but the Frames couldn't get a paragraph in the local music papers.
"We got started in the late eighties when U2 and the Hothouse Flowers were basically the only game in town," Mac Con Iomaire told the Irish Voice. "But on the streets a new generation of talented musicians was springing up. There was a lot of cross-pollination between all the new bands going on at the start.
"That's how I met Glen Hansard for the first time. We'd make our money in the morning busking and by late afternoon we'd meet up and play a session together. That was basically on the street, and sometimes there'd be up to 20 people playing together. There was a real core of likeminded musicians who created a scene together."
In the early days they played in bars and clubs and apartments - anywhere really - drinking and singing and getting stoned, all the things their parents dreaded.
"We got paid in pints until the age of about 18. It was an interesting life being a busker first, because you became a sort of ambassador to arriving tourists. We were the first point of reference they would meet first," said Mac Con Iomaire.
The Frames' bassist, John Carney - who ended up writing and directing Once, a hugely acclaimed indie hit in the U.S. last year, culminating in an Oscar for Best Original Song for Hansard and Czech co-star Marketa Irglova - was always the most divided member of the band. Even back then he was always making films on his HandiCam.
"It was a case where he and his friend Paul Harris would go off and make these stupid small films. It was no surprise that after a year or two in the Frames he said, 'Look lads I'd much rather be making films.' The glamour end of the music industry disappeared after he'd been up and down the motorway in England a couple of times."
As soon as he bowed out Carney dropped off the radar for five or six years, only to reemerge as a fully-fledged professional filmmaker (he gave Cillian Murphy his big career break in On the Edge, co-starring Stephen Rea).
"Once took shape when Glen was asked to write the songs for the film. John was plundering Glen's life for busking stories as well. Then when Cillian Murphy bowed out - he said he wasn't up to singing the songs - Glen got press ganged into the lead role," said Mac Con Iomaire.
We were terrified for him when we heard. But he was very authentic because he's lived it."
Mac Con Iomaire was most worried about the film because he knew it was exactly the kind of storyline and music that some Irish music critics who never liked the Frames would have laughed at.
"They were just wetting their lips in anticipation of Once being s***, you know? It was a real gamble and fair play, I think John Carney pulled it off in terms of the balance of the story and the music. It just worked."
Mac Con Iomaire comes from both a traditional Irish and classical background, which is where the two elements that shape his own music and his work with the Frames come from. Because of that he can easily make the transition between playing as the Frames and playing as part of the Swell Season, the band that Hansard and Irglova formed which was named after a famous Czech novel.
"With Glen I've playing music since 1986. It's like a long marriage or family at this stage. There's an affinity and an understanding at this stage. I think our music has heart, which is something that goes in and out of fashion. For the first ten years of our career we just didn't get any coverage whatsoever. Then about 2001 we got some begrudging respect. After a that they just stopped writing about us again."
The Swell Season rose from more of the creative restlessness that follows Hansard everywhere he goes. Says Mac Con Iomaire, "They were supposed to record one song for a soundtrack, but they had the studio for a bunch of days so they ended up recording an album - just like in the film. They decided to release that as a record. When John Carney heard it he thought of the film and the whole thing just cohered. We all got roped in."
Neither the directors nor actors/songwriters thought the film would ever be shown outside of obscure film festivals. That it became the behemoth it did surprised its makers most of all. That was part of the reason why the Oscar never went to anyone's head.
"It was real fairytale stuff. But we've all been at this so long that the concrete is set at this stage," said Mac Con Iomaire.
What they don't tell you about growing up - one of the beautiful discoveries - is that you care less and less about old nonsense. Glen gave the Oscar to his mother to bring to the bingo. It was just like another scene from the movie. If your Ma can bring it to the Bingo then its real - and it's really not."
The Swell Season will play Rumsey Playfield at Central Park on Wednesday, September 17. The tour then continues throughout the U.S. and Canada. For more, visit www.theswellseason.com.