GAA fans paid a touching tribute to Sinéad O'Connor ahead of the All-Ireland football final between Dublin and Kerry at Croke Park on Sunday afternoon, July 30.
O'Connor's famous hit "Nothing Compares 2 U" was played before throw in on two big screens inside the stadium, prompting a huge cheer from Dublin and Kerry fans. 
The 80,000 fans packed into Croke Park for the All-Ireland final and then poignantly clapped and sang along in tribute to O'Connor. 
Crowd applaud and sing when Sinead O'Connor rings out across Croke Park. #GAA pic.twitter.com/ASMfmbyTpf

— Damian Cullen (@Damian_Cullen) July 30, 2023
Irish comedian Dara Ó Briain explained why the gesture was so touching in an interview with the BBC ahead of the final. 
Ó Briain described the gesture as "very typical" of the GAA and Ireland in general. 
"I've seen them applaud Seamus Heaney when he died, here," Ó Briain told the BBC. 
"And they just stopped to listen to Sinéad O'Connor because the country is in mourning still, still in shock and mourning at the death of Sinéad because we all knew her and all loved her.
"And it's as good a spot as any to find all over Ireland together to mark that. I'm delighted they did it but I think we're all taken by the emotion of it before the game."
Elsewhere, roughly 100 fans gathered in Dublin on Sunday afternoon to pay tribute to O'Connor, singing "Nothing Compares 2 U" in Barnardo Square on Dame Street. 
The tribute was organized by the socialist feminist group Rosa.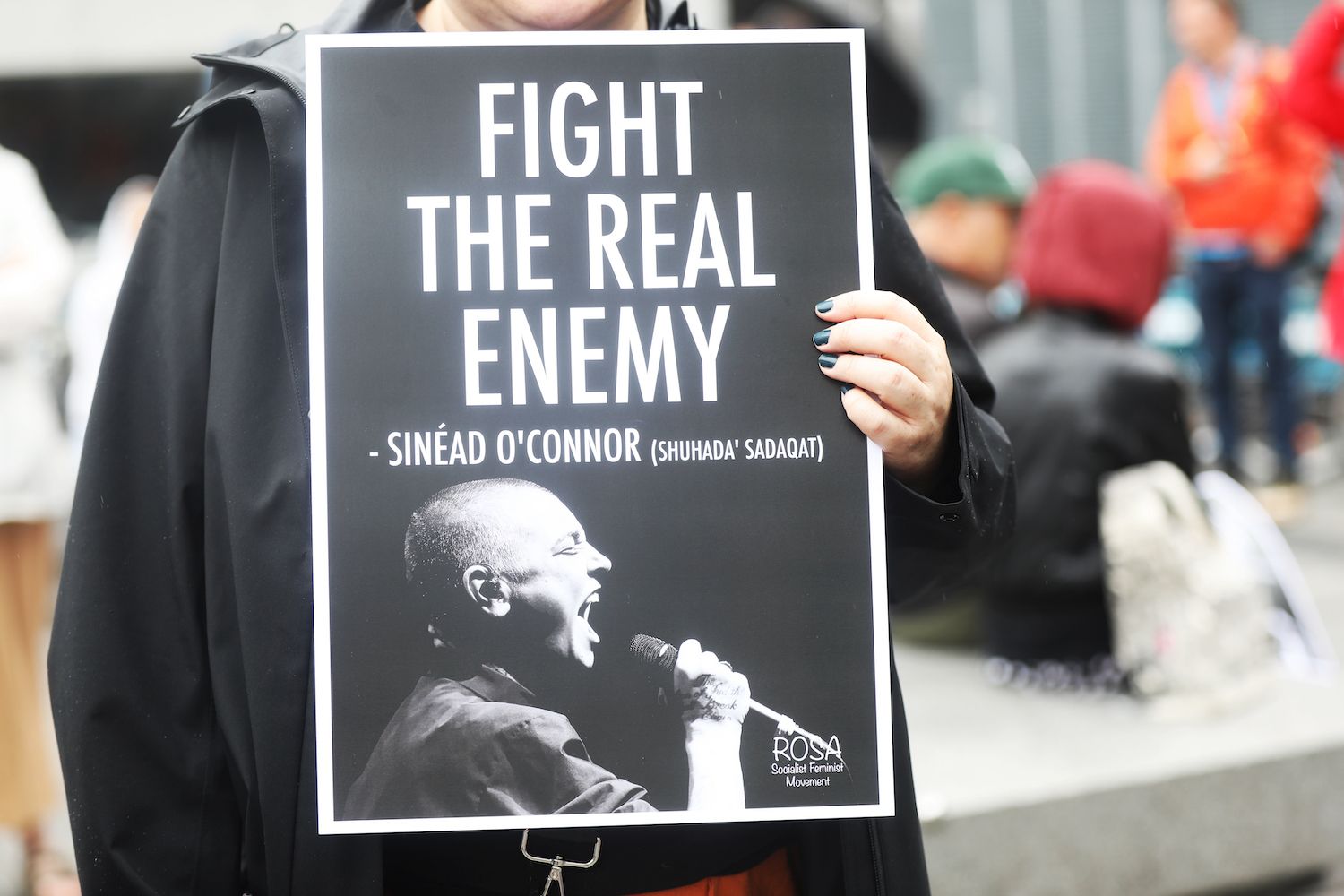 2
Former TD Ruth Coppinger attended the tribute and described O'Connor as an exceptional and unique voice. 
"She could traverse all genres. A body of work spanning four decades," Coppinger told RTÉ. 
"Sinéad's artistry and activism cannot be separated - they were essential to each other. Her artistic integrity and sense of justice came from her own experience of injustice." 
O'Connor was found dead in her London home shortly before noon last Wednesday. She was 56. 
Metropolitan police officers were responding to reports of an unresponsive woman at an address in south-east London and O'Connor was pronounced dead at the scene. No cause of death has been established and the London South Inner Coroner's Court has ordered an autopsy.