796 children's bodies were found in a mass grave. BBC podcast, "The Home Babies" focuses on St. Mary's mother-and-baby home in Tuam, Galway and the appalling tale of abuse and criminality uncovered by amateur historian Catherine Corless.
"I'm awfully afraid of people saying, 'oh she's in it for the glory'… people do say that sort of thing."
Catherine Corless is in her sixties, she is slight and quietly spoken, and is looking anxiously at her husband Aidan. We're in her dining room at her home in Tuam, in the west of Ireland.
 "They don't," Aidan suddenly says, almost shouting, "They don't, it's you…it's totally in your head and it's to the point of annoyance."
Read more: Fight for forensic excavation on 796 Tuam Babies mass grave
Catherine then smiles slightly and I laugh, obviously, this is a common refrain from Catherine and his response equally repetitive.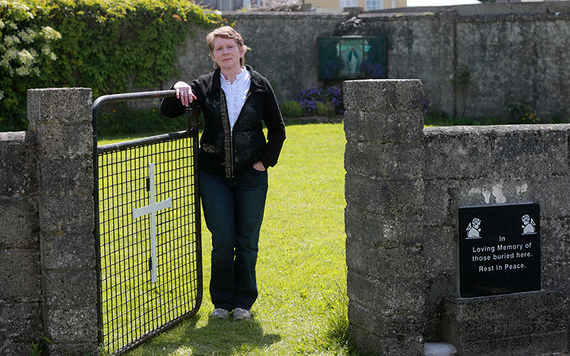 3
For most of her life, Catherine has lead a rather reclusive life, she would rather be walking with her dog in the fields behind their home than be around people, any day. She doesn't drink, isn't religious in the traditional sort of a way, loves nature and avoids attention.
But she found herself at the epicenter, at the very heart of a controversial story. It has caused a storm, not only in her hometown but also across Ireland and the world.  She's appeared on live TV chat shows, received standing ovations, been interview by the international media, and won several awards for her work. One commentator called her an inspiration to women around the world, and she is becoming a national heroine. And it's all down to her own work, which is so important to her that she is prepared to suffer the public gaze.  
I suppose that is why she is worried that people think she's out for glory.
But the truth of it is this. A few years back she set out to write an essay for a local journal about the Tuam Mother and Baby home. She is an avid local history buff and since her children had all grown up, she had a bit of time to indulge in her in hobbies.
She also remembered the children, the Home Babies some people called them, who were born in the home; their mothers, unmarried and pregnant, were plucked from society and hidden behind the high walls to give birth.
3
They were the "fallen women" and their children, "the spawn of the devil." They were shunned by the church and the state and often by their own communities and families.
Catherine was surprised to find that little had been written about the Home, so she had to start her research from scratch.  One piece of information led to another, slowly, week after week, month after month, she became gripped by the sense of injustice. What she finally uncovered shocked the town, Ireland and the world, and prompted the Irish government to begin an inquiry into the Mother and Baby Homes.
This is a story, about a town haunted by the past, that many people knew about but no one spoke about, it's about the power of the state and the church, and of Ireland's dark history.
Above all, though, it's the story about Catherine, and her mission to uncover this truth and, in the end, maybe change the course of Irish history. 
For more on The Home Babie's podcast visit the BBC or iTunes.
Read more: Nuns told this Maine cop his Irish mother was dead, he discovered the truth