Happy Friday! We've been waiting forever the Peaky Blinders season 5 Netflix release day finally arrived on Oct 4.
It's been a rough few months of intensely attempting to avoid all Peaky Blinders season five spoilers on the interweb and not speaking to our Irish family and friends who have already seen the fifth season, just in case. 
But now, however, that we can once again indulge in plenty of "oh my goodness, I can't believe it" conversations with our nearest and dearest as our beloved Irish actor Cillian Murphy returns to Netflix as the iconic Birmingham gangster Thomas Shelby. 
We're sure the Shelby family and their many enemies have some absolute shocking moments lined up for us. 
Read more: This is how many cigarettes Cillian Murphy has to smoke while filming Peaky Blinders
When will Peaky Blinders Season 5 be on Netflix?
3
Peaky Blinders Season 5 premiered on the United StatesNetflix on Friday, October 4, 2019. As of October 4, all six episodes of Peaky Blinders Season 5 area available to stream on US Netflix.
What happens in Peaky Blinders Season 5? 
There is one very easy way to find out (binge now!) but we've been trying to avoid all the Peaky Blinders season 5 spoilers that we can, to be honest. 
What we do know, however, is that with Shelby now representing South Birmingham in the British Parliament, we can expect plenty of plotting as he grapples with the new power, and of course, makes himself plenty of new enemies. Where would the Shelby family be without a ton of enemies trying to wipe them off the face of the earth after all?
In some of the Peaky Blinders season 5 trailer's most intriguing moments, we see Murphy's Tommy shooting a gun into what appears to be a crucifixion as an explosion also takes place behind it.
Who stars in Peaky Blinders Season 5?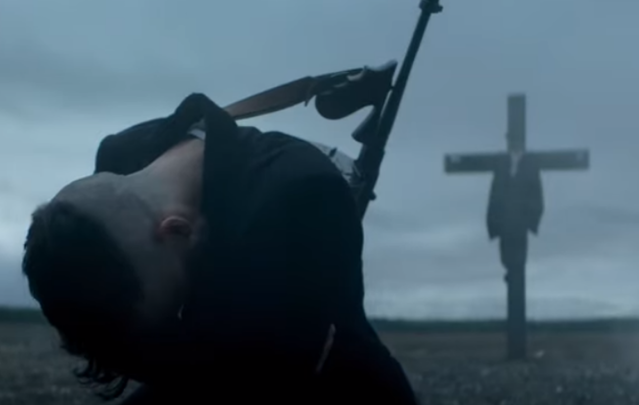 3
The Peaky Blinders Season 5 cast is missing some of our former favorites who did not make it through the Shelby family's previous battles but we do see the return of Cillian Murphy (of course), Helen McCrory, Paul Anderson, Sophie Rundle, Finn Cole, Kate Phillips, Natasha O'Keeffe, Aidan Gillen, Jack Rowan, Charlie Murphy, Kingsley Ben-Adir, Harry Kirton, Packy Lee, Ned Dennehy, Ian Peck, and Benjamin Zephaniah.
New cast members in Peaky Blinders new season include Sam Claflin (The Nightingale), Anya Taylor-Joy (The Witch, Split), Brian Gleeson (Phantom Thread), Kate Dickie (The Witch), Cosmo Jarvis (Lady Macbeth), Emmett J Scanlan (Butterfly), and Neil Maskell (Kill List), who plays Winston Churchill.
Where can I watch the Peaky Blinders Season 5 trailer? 
You can watch the Peaky Blinders season five trailer right here: 
What other Netflix shows would you recommend this weekend? Let us know in the comments section, below.