Don O'Neill of THEIA designed a custom gown for the Duchess of Sussex Meghan Markle
Meghan Markle wowed in a Don O'Neill custom designed THEIA gown while in Tonga this week.
The Duchess of Sussex Meghan Markle stepped out in a custom ivory THEIA gown while attending a reception and dinner hosted by His Majesty King Tupou VI and Queen Nanasipau'u as part of the royal tour with husband Prince Harry.
Read More: Prince Harry charms Dublin speaking Irish during first visit with wife, Meghan Markle
O'Neill, the Irish born creative director at fashion line THEIA, says he was thrilled to outfit the royal, and even became privy to Markle's pregnancy before the public did in the process.
"The Duchess of Sussex has long been a source of inspiration," said O'Neill, a native of Co Kerry in Ireland.
"Her classic, effortless and chic style coupled with all the excitement leading up to her wedding earlier this year inspired my Spring 2019 bridal collection which I showed in April."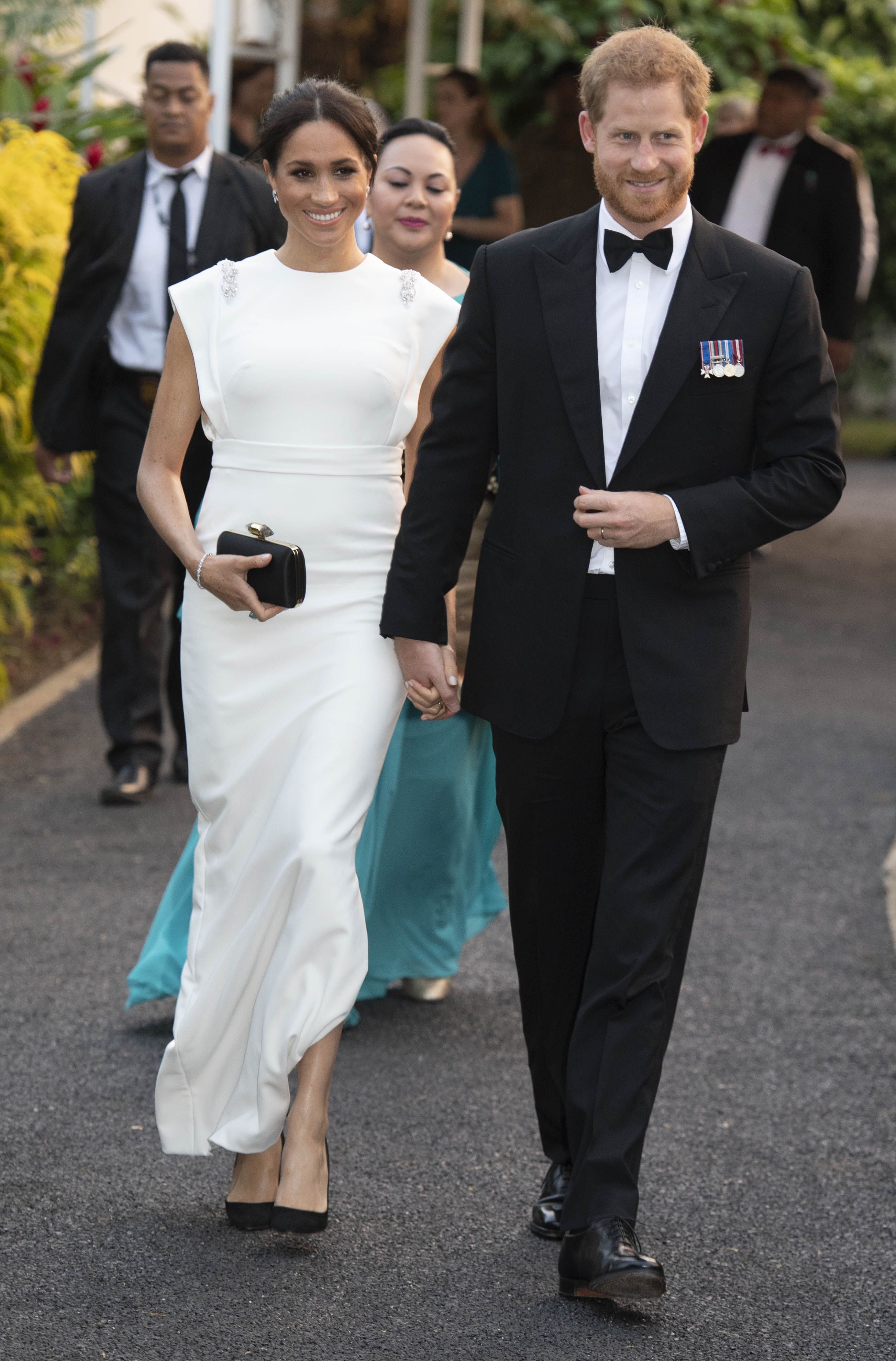 3
O'Neill continued, "When her stylist reached out to inquire if I could make a dress for her Australian press tour, I stopped everything we were doing (my bridal show was just a week away) and immediately went to work on Her Royal Highness's gown."
"We completed the gown in 2 days, shipped it out and received confirmation that The Duchess LOVED it, but with one caveat. We needed to remake it with extra seam allowance."
"We knew immediately why this extra allowance was required, but Mum's the word, and with less than one week to my bridal show, all hands were on deck once more, we re-made the gown and I literally had to run down Broadway [in New York City] that Friday night to catch the UPS truck making it with just 2 minutes to spare!"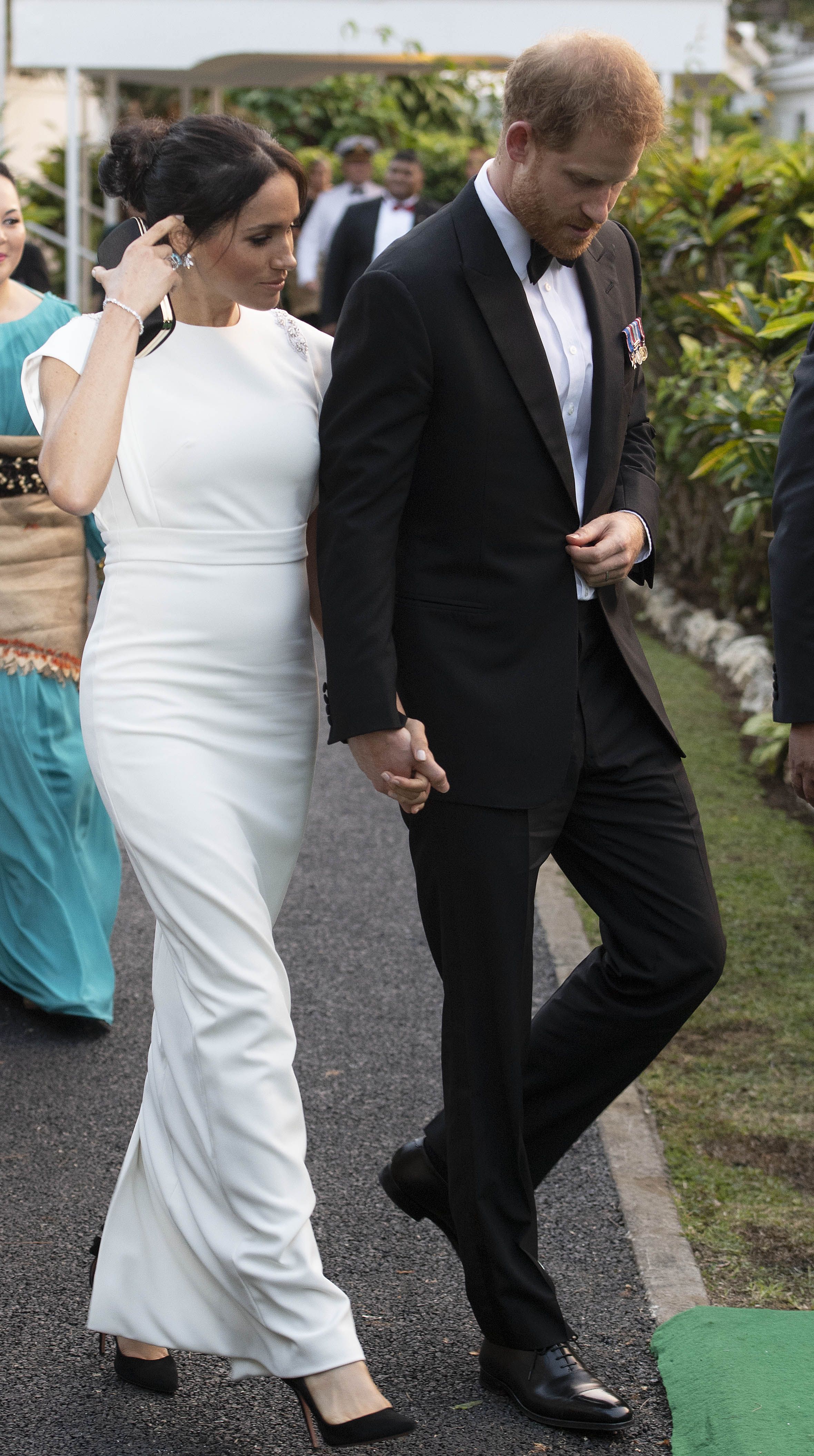 3
O'Neill's hard work paid off, as the gown was indeed stunning on the pregnant Meghan Markle. The ivory crepe column gown features flanged shoulders, a jewel neck, and side slit. The shoulders are accentuated with hand embroidered appliques of crystals and micro glass beads.
Read More: Meghan Markle and Prince Harry mini-mooning at this sumptuous Irish castle
"I am humbled and sooo excited to dress The Duchess of Sussex. It has been an exciting whirlwind collaboration."
The Duke and Duchess of Sussex arrive for a dinner with His Majesty King Tupou VI and Queen Nanasipauu 🇬🇧🇹🇴 #RoyalVisitTonga pic.twitter.com/qRlDjwDJum

— Kensington Palace (@KensingtonRoyal) October 25, 2018
"Her Royal Highness is a truly beautiful inspiring woman, a bright shining light in this world and we ate THEIA are truly honored to be part of The Royal Tour of Australia, Fiji, the Kingdom of Tonga, and New Zealand."
Beyond excited , thrilled and delighted to dress The Duchess of Sussex in @THEIACOUTURE at last nights royal reception in Tonga. OMG !!! #woohooooooo !!! pic.twitter.com/VRGuQ9969A

— Don O'Neill (@DonONeillDesign) October 25, 2018
Want to snag your own Meghan Markle gown by Don O'Neill? The design will be available for pre-order at THEIACouture for $995.
While O'Neill was thrilled to dress Meghan Markle, this is far from his first time dressing the stars. Other clients have included Melissa McCarthy, Kendall and Khloe Kardashian, Erin Andrews, Oprah Winfrey, Lindsay Lohan, Kath Griffin, among many others.
What do you think of Don O'Neill's custom gown for Meghan Markle? Share in the comments!