Kiera Dignam said her late father, Aslan frontman Christy Dignam, had "no idea" how much he meant to people.
Speaking on RTÉ Radio 1's Today With Claire Byrne, Dignam said she is still "very numb" following her father's death at 63 last month after a decade-long battle with cancer.
"I think anybody who's lost somebody knows it can hit you straight away or it can hit you after a couple of months - I'm still in the numb stage," she said.
"So I'm hoping to cling on to that for dear life as long as I possibly can, and distract myself and work hard and just try and be a little bit productive while I'm in this headspace."
Lovely to chat to Claire this morning on RTE radio 1 and to sing thanks to all who tuned in and all the support anyone who missed it will get it on rte listen back 💕 https://www.rte.ie/video/id/6829/

Posted by Kiera Dignam Music on Friday, July 7, 2023
She said her father, who was diagnosed with the rare blood cancer amyloidosis in 2013, went to the hospital a year ago: "That's when things got really serious for us and really tough.
"It was back and forth to the hospital twice or three times a day. And then when we got him home finally in November, we were kind of sent home with a timeframe – which he outlived like he always did, so when it finally happened, it was very, very quick."
Dignam said she was surprised at the outpouring of support after her father's death, and changed plans for a small and private family funeral, after seeing that his fans also needed to grieve.
"I think it was probably a little bit selfish of me to want to have that day just for us because he did belong to everybody else as well in a way - that aspect of him, the 'Christy' aspect of him.
"He was 'Dad' to me, and Christopher to my mam, and 'Grandad', but I think it was important to give people that - to let people grieve and let fans be together.
"And in the long run, I actually would have regretted missing that because it was amazing, and it was amazing support for us."
"He deserved to be celebrated," she said, adding that her father had "no idea" how much he meant to people.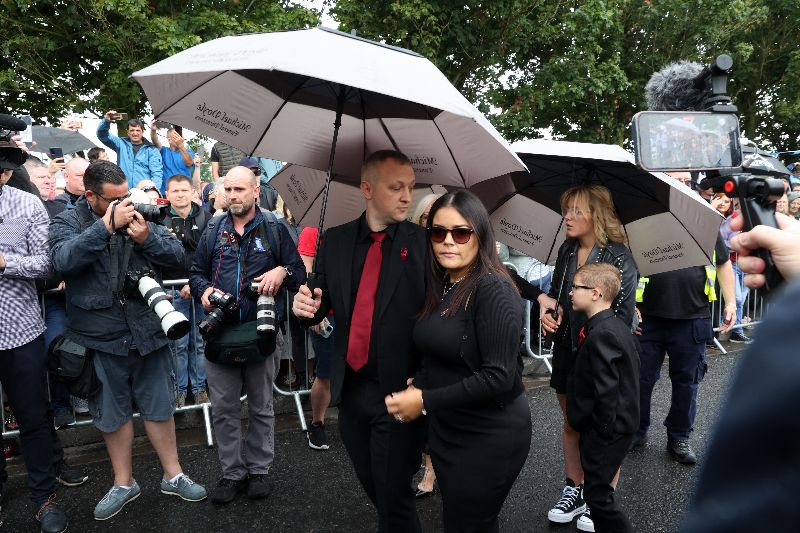 2
Dignam said she is now throwing herself into her own music career.
Earlier this year, she had to cancel a concert at the Dublin venue Whelan's due to her father's deteriorating health. The gig will now take place on December 27 at Opium Live.
Dignam said: "I could go into a hole and say, 'No, I don't want to see people, I don't want to sing anymore' but he wouldn't want that.
"Like my Dad said in his last interview, he wanted his legacy to live on through me.... now, I'm not trying by any means to fill his shoes - I have my own shoes.
"I'm not trying to be Christy Dignam. There is only one Christy Dignam and nobody can replace him."