The former party boy made an appearance at a California Strong charity event
Charlie Sheen admits that getting sober was something "that had to be done."
Read More: Sobering up: Report claims Irish drinking nearly 20% less than before
Speaking with Us Weekly on January 13 from a charity event in Malibu, the Irish American shared that he has a renewed outlook on life since going sober just over a year ago.
In December, Sheen proudly shared on Twitter that he had hit one year of sobriety.
so,
THIS
happened
yesterday!

a fabulous
moment,
in my
renewed journey.

❤️©️❤️#TotallyFocused pic.twitter.com/400dpF1ytg

— Charlie Sheen (@charliesheen) December 11, 2018
"That was good, that was good, yes, indeed — had to be done, had to be done," Sheen said to Extra of getting sober.
"I made some changes to give myself a shot to do some cool things professionally. And I'm proud of finally being consistent. And reliable. And noble."
Read More: Pierce Brosnan returns to view his home destroyed by California fires
He said to Us Weekly that he is now dedicated to being an "organized and focused" father.
"We've all gotten really, really close, and that's been a real gift," Sheen said of his family.
Sheen was in Malibu attending the California Strong celebrity softball match, which was attended by other celebrities including Adam Sandler, Mira Sorvino, Jamie Foxx, and Rainn Wilson.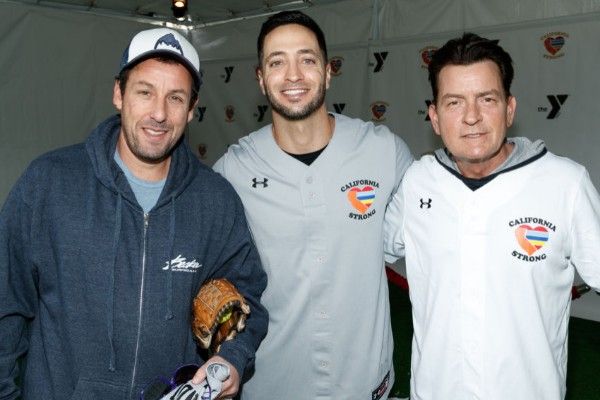 2
The 53-year-old decided to sit the game out, telling Extra that he has "major shoulder surgery" coming up in a few months.
Sheen, who said "I grew up in these parts" about Malibu, turned to social media last fall when he couldn't get ahold of his parents Martin and Janet Sheen during the area's devastating wildfires.
i cannot
get ahold of
my parents,
Martin and Janet Sheen.

they
are in the
group, at the
staging ground
near Zuma Beach.

if
anyone
has eyes on
them,
please let me
know that they
are safe and sound
in the middle of
this horrific scenario.

thank you
in advance.

xox
©️

— Charlie Sheen (@charliesheen) November 10, 2018
The Sheens were thankfully safe and sound, but many people lost everything to the fires. California Strong is now raising funds to help such people.
Read More: Irish actor narrowly escapes fatal California wildfires
Catch The Today Show covering the California Strong event here: