With the Irish estimated to be the top ancestry in Chicago as of 2010, it's no surprise that St. Patrick's Day 2017 in Chi-town is going to be one of the best in the business.
Unfortunately, as March 17 is not a national holiday in the US as it is in Ireland, it means that plenty of the events we hold this year cannot be held on the day itself but on the weekends surrounding St. Patrick's Day. For this reason, the main Paddy's Day events in Chicago in 2017 will take place this weekend March 11 and March 12.
Even if we can't celebrate on the Friday itself there's still plenty of incredible events to attend including three main city parades.
Here's IrishCentral's run down of the best ways to celebrate St. Patrick's Day in Chicago in 2017:
Watch the Chicago River turn green
The dying of the Chicago River is what has made this city famous on St. Patrick's Day. It is a crazy phenomenon to think that a city's main focal point is changed a completely different color just to celebrate our little nation!
Once the green dye goes in, the party has officially started. A tradition since 1962 and attracting almost 400,000 people last year, in 2017 on the dyeing of the river will begin at 9 am Saturday, March 11 when the boats launch between Columbus and Wacker drives.
Line up on either side of the Chicago River to watch members of the Chicago Journeymen Plumbers Union turn the water shamrock-green with the help of more than 45 pounds of environmentally friendly vegetable dye to color the water.
Watch the Downtown parade
If you're going to Downtown Chicago to watch the river transforming for the occasion, you may as well stick around for the Downtown parade which will be kicking off shortly afterward. The 62nd annual St. Patrick's Day downtown parade kicks off at noon Saturday, March 11, at Columbus and Balboa drives and heads north on Columbus to Monroe Street.
This year, the special theme is all about immigration and floats were tasked with creating something based on "Irish Immigration: A New World of Opportunity".
The parade, one of the largest in the country, should kick off at noon. Plan to see plenty of Irish dancers, tricolor-painted faces and green bedazzled outfits.
Celebrate John Hume at Siamsa na nGael: Celtic Celebration
3
On Tuesday, March 14, the 21st Siamsa na nGael celebration will properly kick off the St. Patrick's Day celebrations with "A Bridge Over the Troubles: The Peacemakers." Telling the story of John Hume and his involvement in the peace process in Northern Ireland that led to the signing of the Good Friday Peace Accord on April 10, 1998, his life will be recalled in remarkable fashion through performances by the Metropolis Symphony Orchestra, the 100-voice Old St. Patrick's Concert Choir, Trinity Irish Dancers and others.
Taking place on Tuesday, March 14 at 7:30 pm in Symphony Center (220 S. Michigan Ave.) Tickets: $30-$60.
More information can be found here.
Southside parade
The parade on Chicago's Southside is an old favorite for those who love Irish heritage, the streets lining with 150,000 revelers annually in the neighborhood of Beverly. This parade is a perfect event for families with a zero-tolerance policy on alcohol being consumed on the streets and strict fines.
This year's grand marshal is the Les Turner ALS Foundation, and the Christmas Without Cancer charitable organization will serve as the honoree.
The parade will step off at noon Sunday from 103rd and Western Avenue proceeding south on Western to 115th Street.
Enjoy the history of Ireland through song at the Driehaus Museum
Join the company of one of Ireland's leading traditional Irish tenors as Paddy Homan and the Noble Call take you on a journey through Ireland's rich history in story and song.
Taking place on Thursday, March 16 at 6.30pm at the Driehaus Museum (40 E. Erie St.), tickets cost $30.
Visit the third NorthWest Side parade
If you haven't had enough parading around yet, the 14th annual Northwest Side Irish Parade will step off at noon on Sunday, March 11,  featuring for the first time an ode to St. Bridget, Ireland's female patron saint. The parade will feature a St. Brigid Court honoring Irish women in the community.
This local parade begins at Onahan School at 6634 W. Raven St., running south on Neola Avenue to Northwest Highway, north on Northwest Highway and ending at Harlem Avenue.
Experience the best of Chicago's Irish bars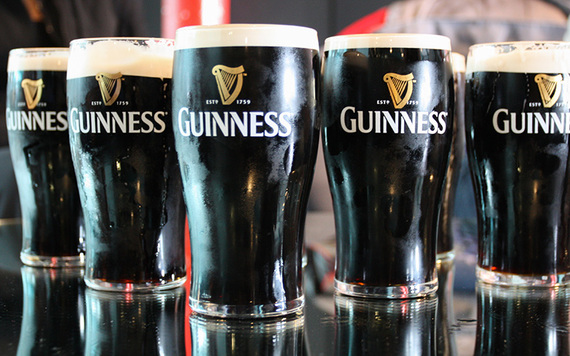 3
Of course, there is rarely a better place to be on St. Patrick's Day than in an Irish pub and Chicago has some great ones.
You should check out:
Emmet's Irish Pub
Fado Irish Pub & Restaurant
Chief O'Neill's Pub & Restaurant
The Kerryman
Johnny O'Hagan's
Paddy Long's
Enjoy the sounds of Gaelic Storm
After nearly two decades and 3,000 live performances, Gaelic Storm is still a massive crowd-pleaser, especially on St. Patrick's Day.
Join the chart-topping, multinational Celtic band at the House of Blues, Chicago, on Friday, March 10 or Saturday, March 11, to get your St. Patrick's Day started off right.
The show starts at 7.30 pm. Tickets run between $36 and $60.
Run off the extra Guinness calories  
Chicago certainly doesn't take on the old tradition of taking a break from Lent when it gets to St. Patrick's Day. There is a whole host of various March 17-themed runs taking place throughout the city this weekend, possibly just to make sure you work up a good appetite for your Irish breakfast.
On Saturday, March 11, The Leprechaun Leap 5K and 8K Run starts at 9:30 am at Fullerton Parkway and Cannon Drive in Lincoln Park, while the Get Lucky half-marathon, 7K, and 14K will begin at 9 am Saturday near Soldier Field.
And if you aren't already suffering from the parades the day before, on Sunday, the 1-mile Emerald Isle Mile race begins at 11.30 am at 104th Street and Western Avenue just before the start of the South Side Irish Parade.
Take a cruise
Through the March 11 and 12 St. Patrick's Day weekend in Chicago, you'll be able to take any number of cruises on the river while it's still dyed bright green.
Take your pick of cruise here depending on whether you're looking for traditional music and green beer or to sit down to a hearty dinner of corned beef and cabbage.
Party with the Irish American Heritage Center
There was no doubt that the Irish American Heritage Center in Chicago was always going to have one of the best celebrations in town. On Saturday, March 11, you can join them at noon for their St. Patrick's Festival 2017, featuring performances by the Irish Heritage Singers, the Shannon Rovers Irish Pipe Band, and the Trinity Irish Dancers. The dance troupe will even be providing a free dance lesson to children every half-hour from 1 pm to 4 pm before performing at the fest.
Taking place from noon to midnight, this family-orientated event will have traditional and contemporary Irish music with dance, food, and drink for purchase, children's activities and vendors selling Irish gifts.
You can also visit their library, find out more about their classes and programming and find out more about their genealogy workshops while you're there!
Extra bonus: Stand with your fellow immigrants at the Irish March
The day after St. Patrick's Day 2017, Irish in Chicago will be holding a march in solidarity with their fellow immigrants from other countries. Irish March with You on Saturday, March 18, aims to stand united with our immigrant brothers and sisters, including members from all Chicago communities just two days after the new immigration executive order will take effect.
"This is a family friendly event that will embrace a positive message of inclusion and diversity. We will use the backdrop of St Patrick's Day to highlight that we are all neighbors in Chicago," the organizers said, while speakers and performers are to be announced.
The rally is scheduled to start at 2 pm in Daley Plaza, marching to the internationally heralded Tribune Tower at 3 pm. Attendees encouraged to bring flags and signs that represent their own heritage, communities, and nationalities.
You can find out more info here.