A man who claimed to have discovered a "suspected meteorite crater" on a Dublin beach actually discovered a hole that had been dug by a group of men with children's toys during Ireland's heatwave last week.
Dave Kennedy shared a video on X, formerly Twitter, of what he called a "suspected meteorite crater" on Dublin's Portmarnock Beach on Tuesday, September 12.
"The depth is huge," Kennedy said in the post he directed toward NASA.
"You can see after impact the walls that were built up by the impact."
Holding up a rock, Kennedy said: "This is the bad boy that was in the middle of it.
"Might have to get this checked!"
@NASA I have the meteorite!! Huge Density!!! Love to explore it!!!!!!!!!! pic.twitter.com/OBjgo64iaA

— dave kennedy (@eiredaithi24) September 12, 2023
Kennedy's 'discovery' caught the attention of Virgin Media News, who ran a story about it yesterday, September 13.
Kennedy, who said he knew the hole was an impact site "immediately" as he had recently watched a NASA documentary about such instances, pointed to a "scorch mark" on the rock which, he said, would have "been the angle it came down at."
Virgin Media News noted that the hole was not a confirmed meteorite strike, but filmed as passersby took pictures with the hole and rock.
One Canadian tourist said: "I gotta tell ya, I don't have meteorites landing on the beach at my house.
"So, thank you for a great experience once again, Ireland."
One local described it as "spectacular." 
#WATCH A mysterious hole on a beach has caused a stir in North Dublin.

A local astronomy enthusiast is hoping the crater in Portmarnock, could be the aftermath of a cosmic event. @Hanelizaa reports ⤵️#VMNews pic.twitter.com/cGJiyd3eZj

— Virgin Media News (@VirginMediaNews) September 13, 2023
However, less than a day after the Virgin Media News report, Irish man Charlie Wallace shared photos and videos on Instagram of him and his pals digging the hole on Portmarnock Beach last Saturday.
"Made the news I guess," he wrote on his Instagram stories, sharing a picture of him standing in the hole.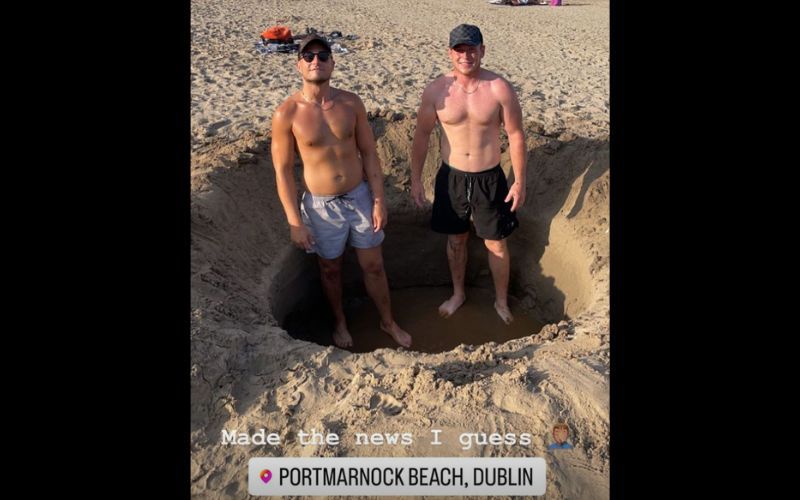 2
 Wallace's footage has since gone viral over on X, where Irish people can't help but laugh at the bizarre turn of events.
lads I'm in bits. Virgin Media news is after reporting on a hole on portmarnnock beach that 'Could be the aftermath of a cosmic event'. Some fellas literally dug it the day before with a kid's shovel

The way your man was talking about the rock being an asteroid had me in tears https://t.co/dNFNanF8Mn pic.twitter.com/GoTTNkcA5U

— spochadóir (@spochadoir) September 14, 2023
Virgin Media has since confirmed that the mystery has been "solved" and that the hole seen in the video footage on social media is the same as the crater Kennedy stumbled across. 
Kennedy told Virgin Media that he was disappointed by the update but said he is still getting the rock analyzed in the hope that his discovery wasn't entirely fruitless.
🚨 Meteorite mystery solved! 🚨

The mystery of the hole on a north Dublin beach has apparently been solved - denting the hopes of a local space enthusiast, who had hoped it was the site of a meteor strike.#VMNews pic.twitter.com/zhqKbhzvNY

— Virgin Media News (@VirginMediaNews) September 14, 2023
Reporter Hannah Murphy, who covered Kennedy's 'discovery' on Virgin Media News, said afterward: "Not the outcome Dave had hoped for but at least it's given people a laugh all the same!"