Under Eamon De Valera's "Vice Act" a Glaswegian woman was sentenced to prison for kissing a local man. The young man got away with just a fine!
It's hard to conceive nowadays but in 1937 a Glaswegian woman was imprisoned for "kissing a boyfriend in public". 
Julia Clarke, from Glasgow, had kissed a local boy on church property in Blackrock, in County Louth. The local vigilance committee was "shocked" and the Dundalk court "so scandalized that, although Miss Clarke already had returned home to Glasgow, they passed the sentence with a view to keeping her out of the country forever".
While Clarke was actually sentenced to prison time the local boy in question was only fined, due to donate £2 to the St. Vincent de Paul Society. Thankful Clarke's sentence could not be enforced unless she returned to the scene of the crime. 
Clarke was the first woman sentenced under Eamon de Valera's "Vice Act".
Here's a newspaper clipping on the crime from the time: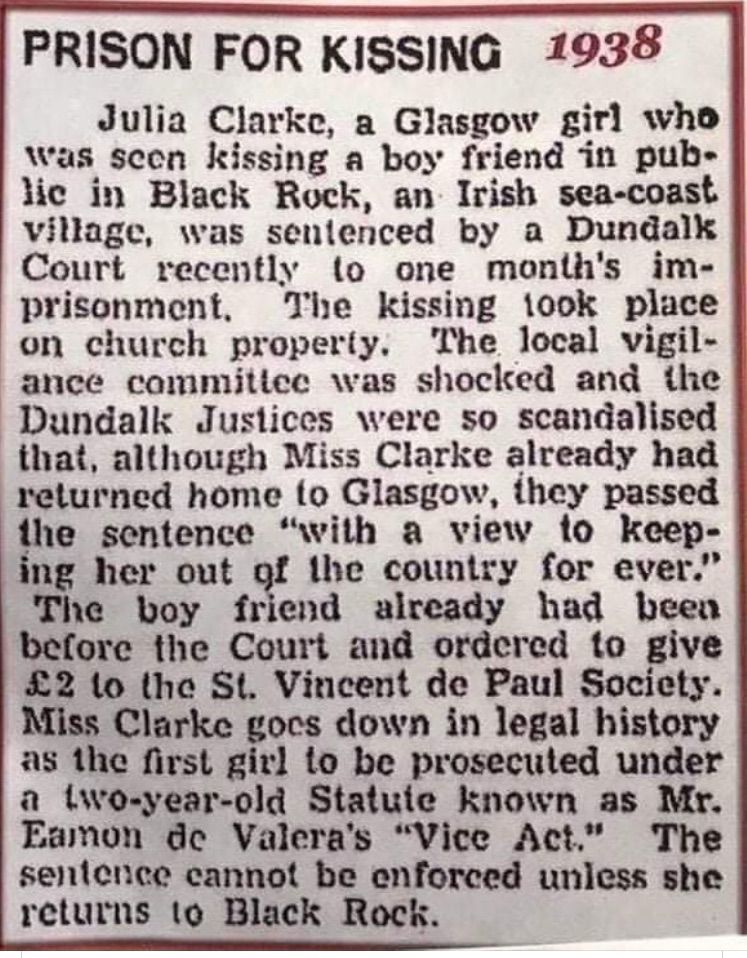 2
However, thankfully, Clarke, who was filmed by British Pathe, after sentencing doesn't seem that bothered by her charges. 
The Britsh Pathe footage is described as "C/U of a woman laughing. She is Julia Clarke. According to the narrator she has been sentenced to a month's imprisonment by the Irish Free State after kissing a boy friend at Blackrock [sic]."
In what's now a long-forgotten Ireland, the "Vice Act" of 1935 was a law "to make further and better provision for the protection of young girls and the suppression of brothels and prostitution, and for those and other purposes to amend the law relating to sexual offences", according to Irish Legal Heritage.
This infamous "Vice Act" also made it illegal for the sale or import of contraceptives in Ireland. 
Read more: Was the ghost of St. Oliver Plunkett captured on video?