Irish American author William Kennedy will receive the 2018 Presidential Distinguished Service Award of Ireland for his writings about the Irish-American experience.
Kennedy, 90, is the author of the acclaimed Albany Cycle of novels and the founder of the New York State Writers Institute at the University at Albany.
Irish president Michael D. Higgins will present Kennedy with the award at a special dinner and ceremony in Dublin on Thursday, Nov. 29, The Saratogian reports.
Read More: A night to remember with William Kennedy, greatest Irish American writer of his generation
"This is a marvelous award, and a form of confirmation – that I really did what I set out to do when I was a young writer," Kennedy said in a press release. "I aspired then to be an American novelist, but as soon as I started writing I realized how much of the Irish was in, not only me, but in all my schools, my churches, my neighborhood — which even in my father's day was called Limerick — and it also was in the politicians who ran the city and county, and when they got lucky, the state and the nation.
"And so my novels, in large measure, became a historical testament to what I lived through, and reported on, as the vast Irish consequence in American life during two centuries."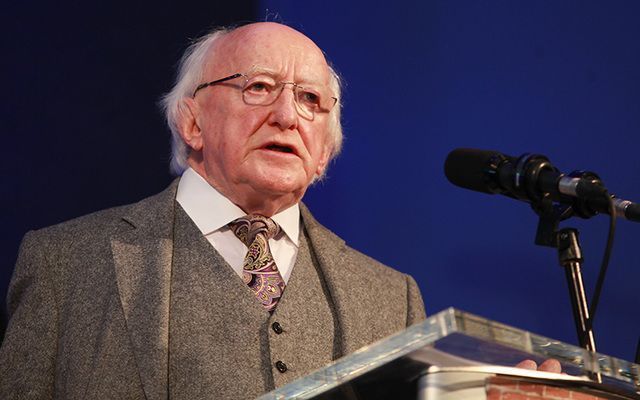 2
Recipients of the award, who in the past have included Liam Neeson, Gabriel Byrne, and former U.S. Senator George Mitchell, are recognized for the service they have given to Ireland and Irish communities abroad.
Kennedy will be honored this year along with Irish writer Edna O'Brien.
"The hard work, energy and dedication of the awardees make a valuable contribution to people's lives and are deserving of our respect," the award's citation reads. "We honor exceptional members of the Irish diaspora."
Kennedy founded the New York State Writers Institute, which has been visited by more than 2000 writers and filmmakers since it opened in 1983.
Writers Institute director Paul Grondahl said in the release, "We are thrilled that William Kennedy, our founder, is being given this prestigious honor by the President of Ireland.
Read More: Edna O'Brien's "The Country Girls" trilogy to be celebrated in Dublin over a whole month
"His Albany Cycle of novels has touched readers around the world with universal themes of love, loss and redemption, built around characters who struggle as Irish immigrants to gain their piece of the American Dream."
Kennedy is currently working on a stage adaptation of his Pulitzer Prize-winning novel Ironweed.
SUNY Press recently published Bootlegger of the Soul: The Literary Legacy of William Kennedy, a collection of the writer's work.