A scenic trip to Inisheer, smallest of the Aran Islands, off coast of Galway and Clare.
Perhaps the best-known group of islands off Ireland's coast, The Aran Islands are renowned for their history, Irish culture and stunning natural beauty. They are what some might call 'last outpost of Irish culture', remaining a Gaeltacht area, where Irish is still the first language and school-children from the mainland are often sent for their summer break to brush up on their native tongue. It is a place where ancient traditions still prevail.
The smallest (and often thought of as most stunning) of these islands is Inisheer, or Inis Oírr. It is an extension of the geographic phenomenon that is The Burren in County Clare.
Named from Irish for 'great rock' – boireann – The Burren is what is known as a karst landscape, a unique geographical formation made of rugged limestone. It also enjoys unusually lush greenery and flora and much of Inisheer is like The Burren in this way. The result is a diverse selection of birds and wildlife on the tiny island, making it a botanist's or nature lover's delight. Here, they will find arctic, Mediterranean and Alpine plants thriving side by side, peppered with butterflies and moths (including native 'Burren Green' species).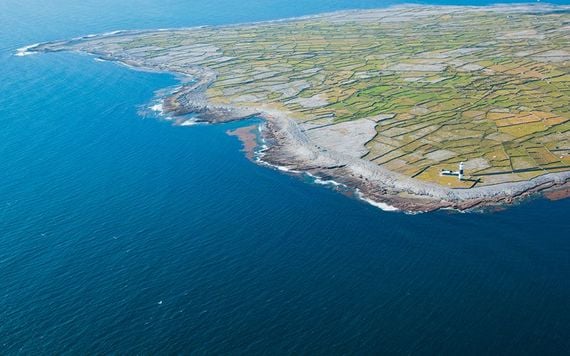 3
With a population of just 300 residents, life on the island today depends mainly on tourism and summer schools. But agriculture and craft were traditional means of living on Inisheer. Today, the legacy of its farming history can still be seen.
The most striking visual aspect of Aran islands and Inisheer is number of stone walls that separate land into small fields. Over 1,000 miles of ancient walls interlace across three islands giving them a unique landscape and are believed to have been built in such a way out of necessity.
For earliest settlers who wanted to use the land for agriculture, stones which covered arable soil had to be moved by hand; building walls was the simplest way to move and store rocks. The sheer volume of stone led to these high and numerous walls dividing small patches of green.
Much of livestock kept on islands were sheep, wool of which was turned into yarn to make now famous traditional Aran knitwear. Aran wool is still sold in many craft shops that line streets in Doolin, a town on the mainland that ferries people to Inisheer.
Stepping off the boat, visitors to the island are welcomed by a gathering of horses and traps, and one or two tractor tours waiting to show you around the island in time for last boat home.
Arriving at the marina, another striking feature of Inisheer is turquoise of waters that surround it. Where some parts of Atlantic coastline are tossed up and grey in appearance, waters in the bay at Inisheer remain crystal clear and an inviting blue. The marina overlooks a small sandy beach which on a sunny day is buzzing with families and children swimming and kayaking in the sea.
Asides from tractor tours or horse and cart, other main ways to explore island are on foot or by bicycle, which are available to hire by day.
Ruins of ancient history
Inisheer is steeped in history, with several ruins waiting to be discovered and an abandoned shipwreck from the 1960s perched on one side of its stony coastline. The most prominent ruin is O'Brien's Castle. Perched at top of a hill on the southern side of the island, the three-story castle dates back to the 14th century, although it is built upon a more ancient site, Dun Formna (meaning 'top of hill'), which is thought to have been home to island's chieftain from around 400 BC.
The O'Briens were a clan known to have controlled much of County Clare during medieval Ireland. Records show substantial payments in wine to clan from Galway city in return for keeping shipping routes in and out of city free from piracy.
From here you can enjoy a fine view across island, over to Galway Bay and, on other side, The Burren and Cliffs of Moher – well worth moderately steep but short climb or cycle.
Dun Formna is just one of seven stone forts on island, with a further three stone chapels, dating back to 11th century, making up remainder of historical stone structures.
 The Teampall Caomhán (pronounced tem-pawl kwee-vawn) is a buried church named for patron saint of island, Caomhán, and site is also home to his grave. Lying under ground level, each year the church is covered by blown sands and each year islanders dig around it to make it accessible.
The Plassey is name of shipwreck on Finnis Rock. Originally a steam trawler launched in 1940s, The Plassey was sailing through Galway Bay carrying whiskey, yarn and stained glass when it got into trouble in a severe storm and crashed onto rocks in 1960. Local islanders were able to rescue full crew of 11, and ship remains on rocks to this day. It is a popular tourist attraction, reached by following narrow winding lanes.
A little further on is lighthouse, a local landmark in itself.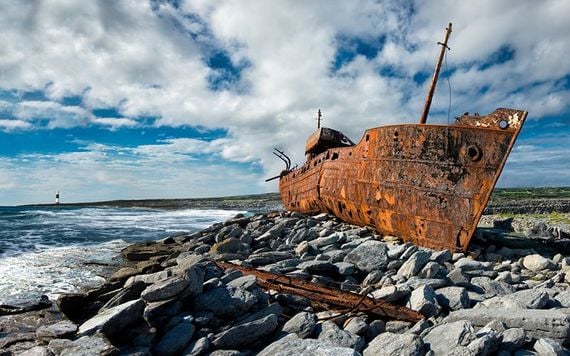 3
Getting to Inisheer
Getting there From Doolin, in County Clare, there are two operators running daily services to and from three Aran Islands and scenic trips to see Cliffs of Moher from water.
The Cliffs of Moher are one of Ireland's most popular sights and a designated UNESCO Geo Park. Over 700 feet high at their highest point, they stretch for almost five miles looking out over Atlantic Ocean. Standing majestically on headland is O'Brien's Tower, another ruin left by formidable clan. The view of The Cliffs from ferry coming back from Inisheer are breath-taking, while view of Inisheer from on top of The Cliffs is equally beautiful.
From Galway side of islands, it's possible to get a ferry from Rossaveal to get a ferry across Bay. Alternatively, regional airline Aer Arann Islands offers short flights to see beautiful islands from birds' eye view and can take you from Connemara Airport to any one of three islands in a matter of minutes.
 * Originally published in July 2013 in Ireland of the Welcomes.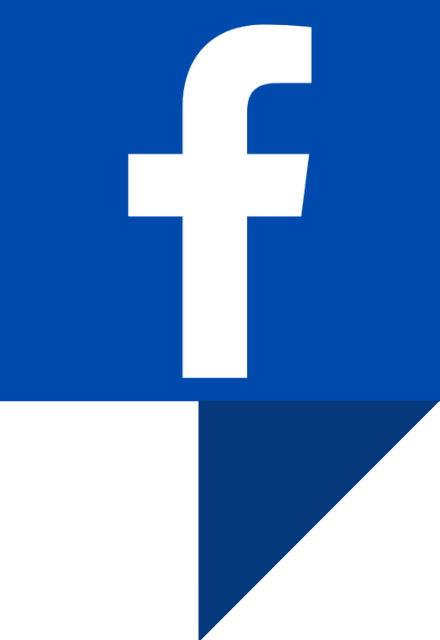 Traveling to Ireland
Are you planning a vacation in Ireland? Looking for advice or want to share some great memories? Join our Irish travel Facebook group.