Major online booking site Airbnb has revealed the top 10 most 'Wish Listed' family-friendly homes in Ireland, according to Irish users. The list is comprised of the most saved and shared accommodations on the Airbnb site, which includes the family-friendly amenity.
The Airbnb 'Wish List' feature allows users to see what listings have been recommended by fellow travelers on the site. Airbnb promotes the idea of a 'staycation' over the idea of a regular holiday as it tries to offer a 'home away from home' feel. The most prominent destination on this list is the south of Ireland, with County Cork being the most popular.
James McClure, General Manager of Northern Europe for Airbnb, said in a statement, "Airbnb offers family holidays that can transform and enrich kids' lives and we encourage families to expand their horizons, even if that's simply by 'Wishlisting' their favorite travel fantasies."From thatched cottages to eco houses, it's evident that Irish families are attracted to unique architectural design and immersive natural environments to unlock a magical experience for every family holiday. With different homes that suit different personalities such as food lovers, beach lovers and adventure seekers, we're confident that Airbnb can provide accommodation to suit tastes for all the family."
Atlantic Sea View, Easkey, County Sligo - €77 per night ($88)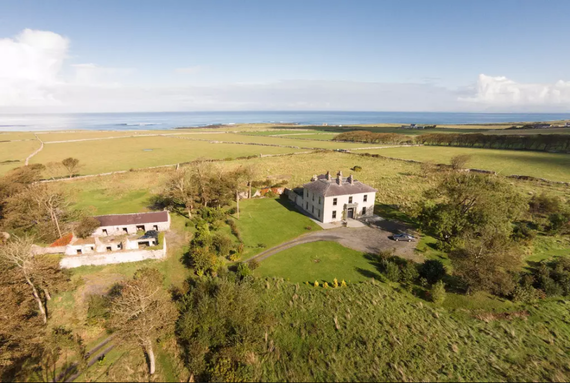 11
This is a 200-year-old country house is located in the small coastal village of Easkey in County Sligo. The country house is set on a 10-acre plot of land overlooking the northern Atlantic Ocean. This property comes equipped with a private bar and pool table as well as seven bedrooms which can accommodate up to 14 guests. This is a fantastic town for fishing, walking, hiking and would suit the adventurous type. A trip to Sligo town will take you 40 minutes by car with a beautiful landscape as your backdrop.
Stunning Lake View, Eco House, Galway, County Galway - €58 per night ($62)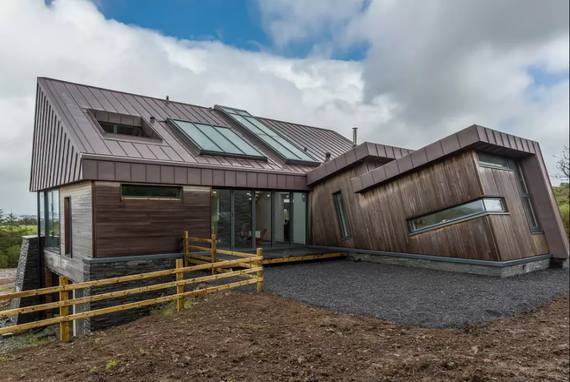 11
This modern house is situated in the tranquil and classic setting of Connemara in County Galway. Visitors will have a fantastic view of Lough Corrib and the Connemara Mountains. This eco-friendly house accommodates up to five guests with two bedrooms. A day trip to the Aran Islands is. It is less than an hour's drive to the ferry that will take you to the islands. Guests can also try their hand at fishing in Lough Corrib and renting equipment is easy.
18th Century Monalea Barn and Farmhouse, Ballyfad, County Wexford - €340 per night ($363)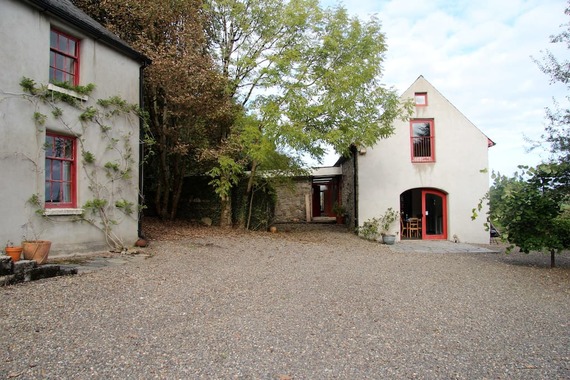 11
This property boasts both a long vernacular stone building barn, first built in the 1770's, that can accommodate up to 18 guests as well as an adjacent farmhouse, which can accommodate a further five guests. Situated close to the border with County Wicklow, this property is only a short drive from the coast and just an hour's drive from the center of Dublin. Guests can enjoy the quiet surroundings and truly unwind, as well as driving to the nearest beach for a quick dip in the Irish Sea.
The Enchanting Mill Cottage, Kells, County Kilkenny - €120 per night ($128)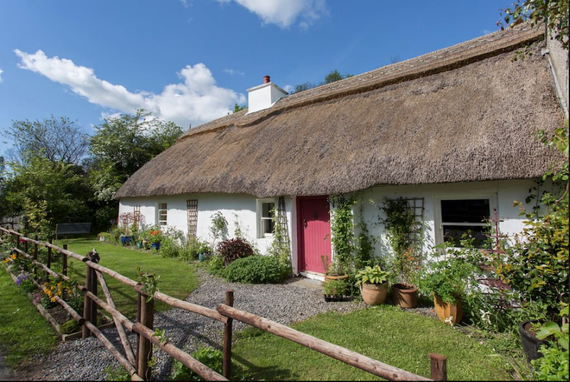 11
This is an 18th century thatched cottage situated in the peaceful town of Kells in County Kilkenny. Surrounded by a stunning landscape of trees and rolling fields, this is truly a fantastic hidden getaway. This snug little property can accommodate four people easily. Located just 40 minutes from the heart of Kilkenny, guests can enjoy all the wonderful amenities this county has to offer. Why not take a trip to Kilkenny Castle, built in 1195 or plan a visit to the Smithwick's Experience Kilkenny, the famous Irish brewery.
100 Year Old Cottage, Cork - €39 per night ($41)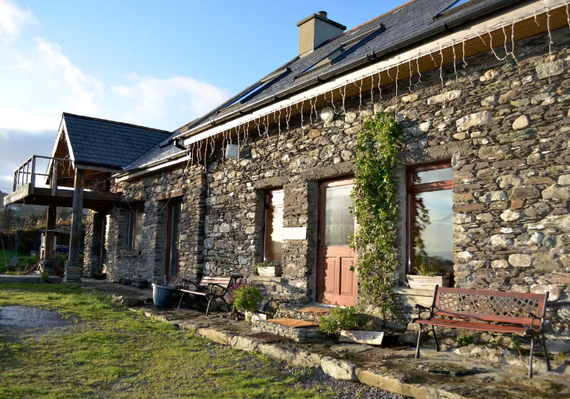 11
This cottage was restored in 2003 glory with some modern touches added. It is nestled in the south of County Cork, only a short drive from Bantry. This is truly in the middle of nowhere so a car is a must if you wish to travel around. Otherwise hiking, biking and sailing are a fantastic option. Accommodating up to five guests, this is a snug cottage with plenty of charm. Its surrounding views include the amazing Wild Atlantic Way and the Atlantic Ocean. Sailing trips are on offer from the town of Ahakista and run regularly.
Seafront Peninsula House, Beara Peninsula, County Cork - €104 per night ($112)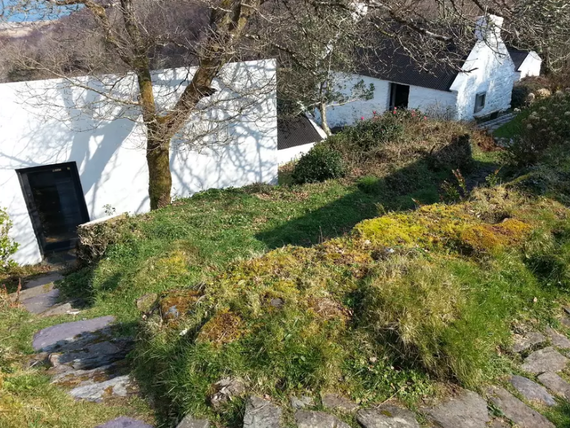 11
This seafront house is located on a secluded hillside taking in the spectacular surroundings of the Beara Peninsula in the southwest of Cork. The house is ideal for large groups, accommodating up to 12 people comfortably. There are an abundance of activities available in the surrounding areas to keep all of your guests entertained. A car is a 'must have,' but you can enjoy driving around the narrow winding roads that are part of the Beara Peninsula. The house also has access to a private beach, so guests are free to relax and soak up the sun, on the chance that it isn't raining.
Restored Pre-Famine Cottage, County Galway - €98 per night ($104)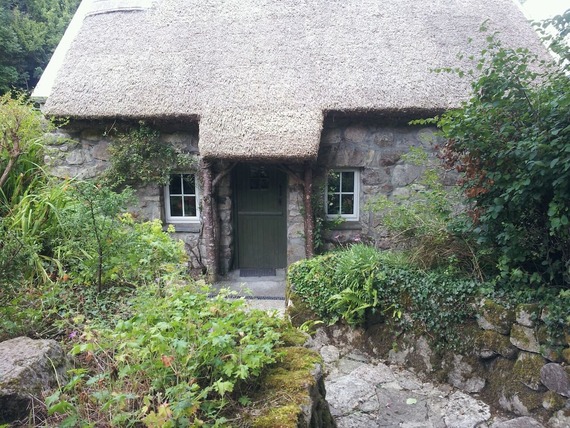 11
This cozy cottage is perfect for a couple's weekend getaway. Relax and unwind in the peaceful surroundings and reconnect with your other half. For those who fancy getting out and about there are plenty of activities to keep you occupied. Horse-riding stables are located across from the cottage as well as a nine-hole golf course and driving range just down the road. As secluded as this cottage is, it is still less than 15 minutes into the center of Galway, where you can enjoy the many things on offer. From authentic traditional Irish pubs with live music to the fantastic restaurants Galway City is truly a fantastic place to visit and have the craic (fun).
Seaside Cottage, Baltimore, County Cork - €57 per night ($61)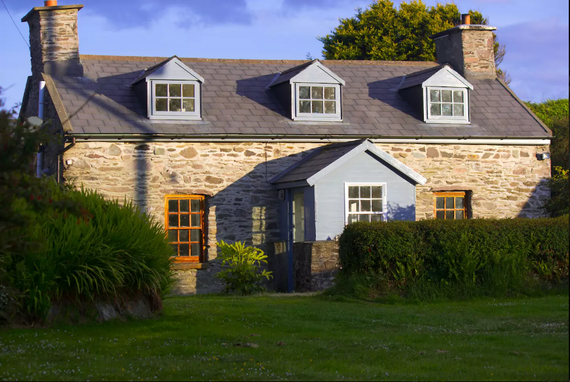 11
This is a Pre-Famine cottage that has been restored to include some modern amenities for the comfort of everyone who stays. Located in the very south of Ireland in County Cork this cottage can accommodate four guests. The views are breathtaking with the Atlantic Ocean on your doorstep. This area is well known for bird and whale watching so keep a close eye out. Guests can travel up to Skibbereen and enjoy the local pubs and restaurants or take a trip to Lough Hyne. Lough Hyne is Ireland's first Marine Nature Reserve and unique sea-water lake and is considered one of the most important marine habitats in Europe.
Thatched Irish Cottage, Gortaforia, County Kerry - €140 ($150)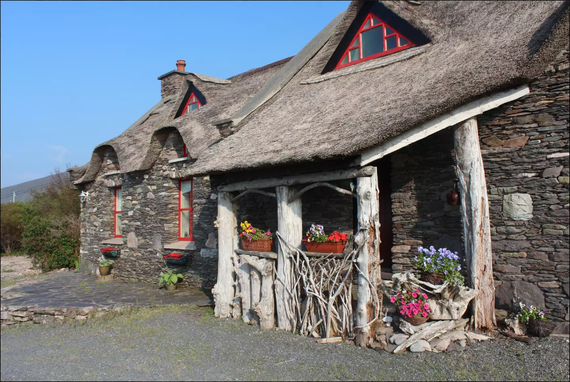 11
This spacious thatched Irish cottage is located on the Ring of Kerry in the south west of Ireland. The scenic views on offer are second to none with the Atlantic ocean right on your doorstep, as well as a backdrop of Kerry's beautiful mountain landscape. Despite accommodating up to eight guests this cottage is ideal for couples as well as a larger group. This area is suited for the adventurer. Many visitors cycle around the Ring of Kerry taking in the picturesque landscape but the drive is just as spectacular and much less exhausting.
Converted Stable Yard, Castleknock, County Dublin - €130 per night ($139)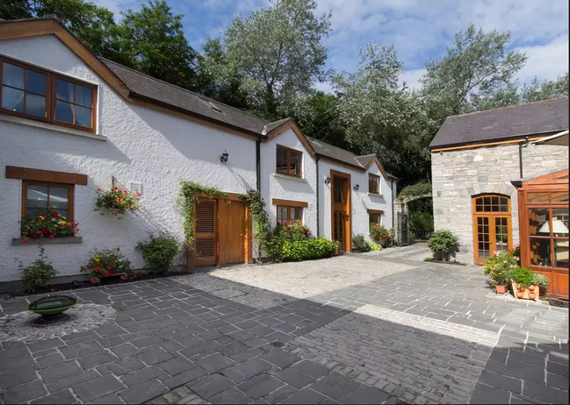 11
This listing is truly a world within a world. Located just off Phoenix Park in County Dublin this house is only 10 minutes from Dublin City Centre and 10 minutes from the airport, yet it has the feel of a home in the countryside. Guests, of up to nine people, can enjoy the many amenities on offer with this house. Visitors can take a dip in the heated pool or play a relaxing game of pool in warm surroundings. If you fancy going for a walk then Phoenix Park is just around the corner, as well as Dublin Zoo.
Planning a trip to Ireland this year? Let us know your dream destination in the comments below.