"Death on the Burren" - how did this Neolithic man die 5,000 years ago and was the arrowhead found in his hip the true cause of death?
A 5,000-year-old murder mystery from the Burren in County Clare is the subject of an exhibition at Clare Museum, in Ennis.
The Death on the Burren exhibition will be launched by Dr. Ann Lynch, who led the excavation of Poulnabrone, in 1986, making some intriguing finds, including the suspicious death of an individual who was buried there.
The exhibition, which will run until the end of 2019,  provides an opportunity for families to get their detective caps on to help solve the ancient mystery by examining the evidence from scientific analysis of a hipbone with an arrowhead embedded in it.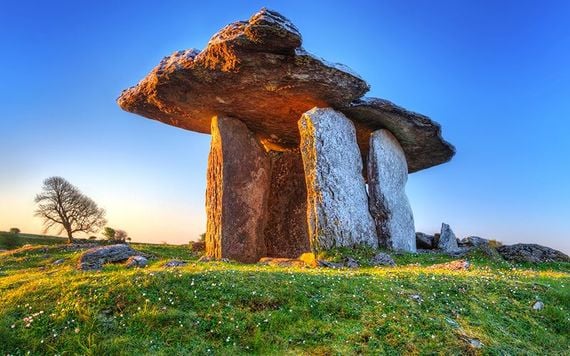 4
Situated on Karst limestone in the Burren, the Poulnabrone Dolmen is one of Ireland's more accessible megalithic structures attracting over tens of thousands of visitors each year.  It was used as a burial place for 600 years between 5,800 and 5,200 years ago. It the best known and most widely photographed of the approximately 172 dolmens in Ireland.
Read more: Ancient treasures stone circles and dolmens scattered across Ireland
The dolmen was built by Neolithic farmers who choose the location for ritual, as a territorial marker or as a collective burial site. Originally the structure would have been covered with soil with its flagstone capped by a cairn.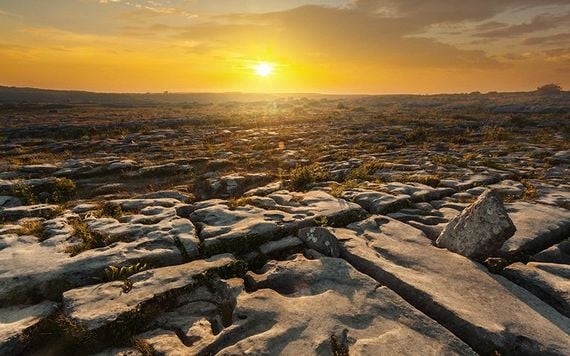 4
When the site was excavated in 1986 and again in 1988, around 33 human remains, including those of adults, children (and the remains of a much later bronze age infant) were found buried underneath it. All but one of the adults under the age of 30. Personal items buried with them included a polished stone ax, jewelry in the form of bone pendants and quartz crystals, as well as weapons and pottery.
Read more: Ireland's top prehistoric must-see tourist sites
While a great deal can be told from the remains, such as the strenuous lives these people had, only  two of those buried had major injuries skull and rib cage with depressed fractures, healed before death, and an adult male hip bone, pierced by the tip of a stone projectile and not healed, which means the injury occurred not much before the time of death.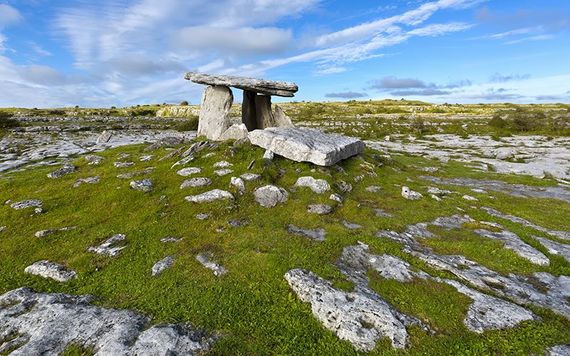 4
According to museum curator John Rattigan, "This exhibition is just one of several initiatives that Clare Museum will be rolling out in the coming months as part of its Education and Engagement Program. The program is designed to promote the museum's potential as an exceptional educational resource while also highlighting the rich culture and history of County Clare for tourists and locals alike."
In the months ahead, Clare Museum will begin a series of public talks on a broad range of historical topics, will make available replica artifacts for parents with children to explore, activity sheets and some new projects to provide support for local primary schools.
The 'Death on the Burren' exhibition opening takes place from 6.30pm to 9.30pm on June 25. Entry to the launch event is free of charge, but places are limited and must be booked via email only @ dkeller@clarecoco.ie.
Have you visited the Burren? What were the highlights for you? Any recommendations? Let us know in the comment section below.
Read more: 'Lord of the Rings' inspired by the Burren, County Clare's, rugged landscape