The Irish Rock 'N' Roll Museum Experience in Dublin is the global attraction that United States tourists rate the highest.
Just three decades ago, the majority of Americans did not have a passport. But with international travel increasing 200 percent since 2022 alone, it seems the wanderlust for experience beyond US borders has flourished. 
Now, US citizens are taking in the best attractions and experiences the world has to offer, soaking up the local culture by way of iconic landmarks and museums, beaches, national parks and shopping districts — but which attractions do American tourists recommend the most to future travelers?
To find the answer, Casago explored how US reviewers rate the top tourist attractions and experiences in 97 countries and ranked the best of the best by their average ratings.
Their research found that the Irish Rock 'N' Roll Museum Experience in Dublin's Temple Bar district is one of the highest-rated attractions by Americans, who placed it first in the world rankings with an average rating of 5.00. 
Since one in ten people in the US claim Irish ancestry, and rock is the most popular music genre in the country, it makes sense that a place that combines these two bedrocks of American culture is a favorite among US citizens.
The museum offers visitors exhibits on rock and roll history and a chance to play out rockstar fantasies onstage.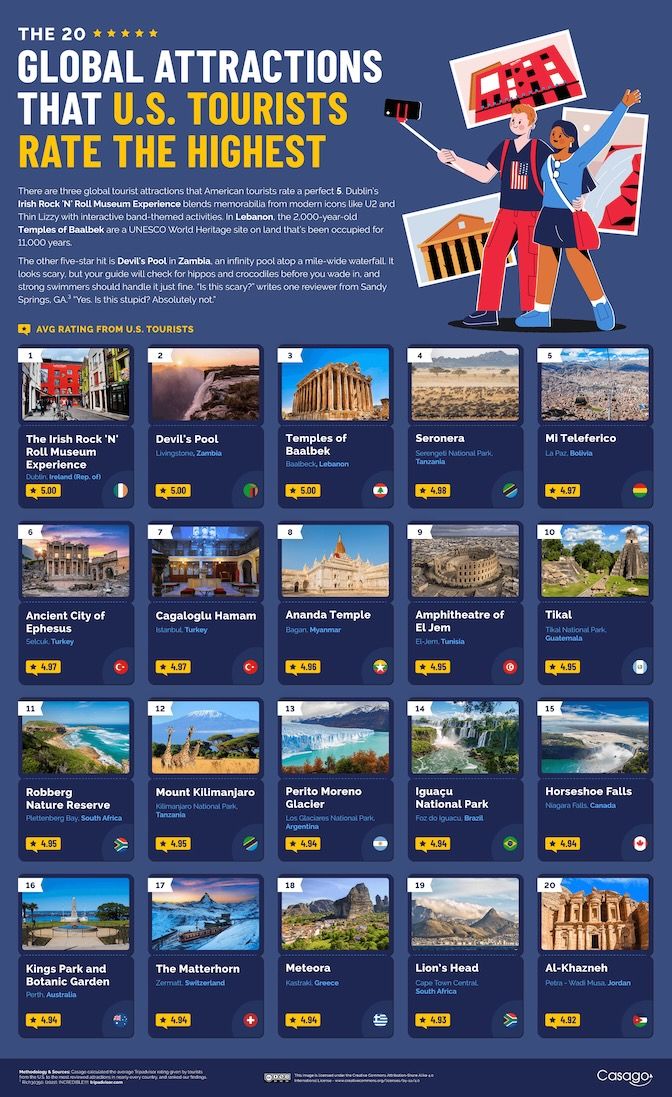 2
The Casago study also looked at the best rated attractions in each continent. Coming in second behind The Irish Rock 'N' Roll Museum Experience, the Matterhorn in Switzerland was ranked as one of the best attractions in Europe according to American reviewers, scoring an average 4.94 rating.
In North America, Tikal in Guatemala scored the highest with a rating of 4.95. Three of the best tourist attractions in North America are in the US — led by Central Park in New York City, with an average rating of 4.86. The National WWII Museum in New Orleans ranked ninth, followed by the Lincoln Memorial in the number 10 spot.
South America's top tourist attraction is the Mi Teleferico cable car system in Bolivia, with an average rating of 4.97, while the Temples of Baalbek in Lebanon was the top attraction in Asia, with an average rating of 5.0.
To read the study and see the complete list of global attractions that American tourists rate the highest, visit here.